Puff Pastry Hot Dogs are like bigger, more dinner-worthy versions of pigs in a blanket. Full size hot dogs are wrapped in puff pastry, baked and served with a homemade secret sauce for a simple, yet fun dinner.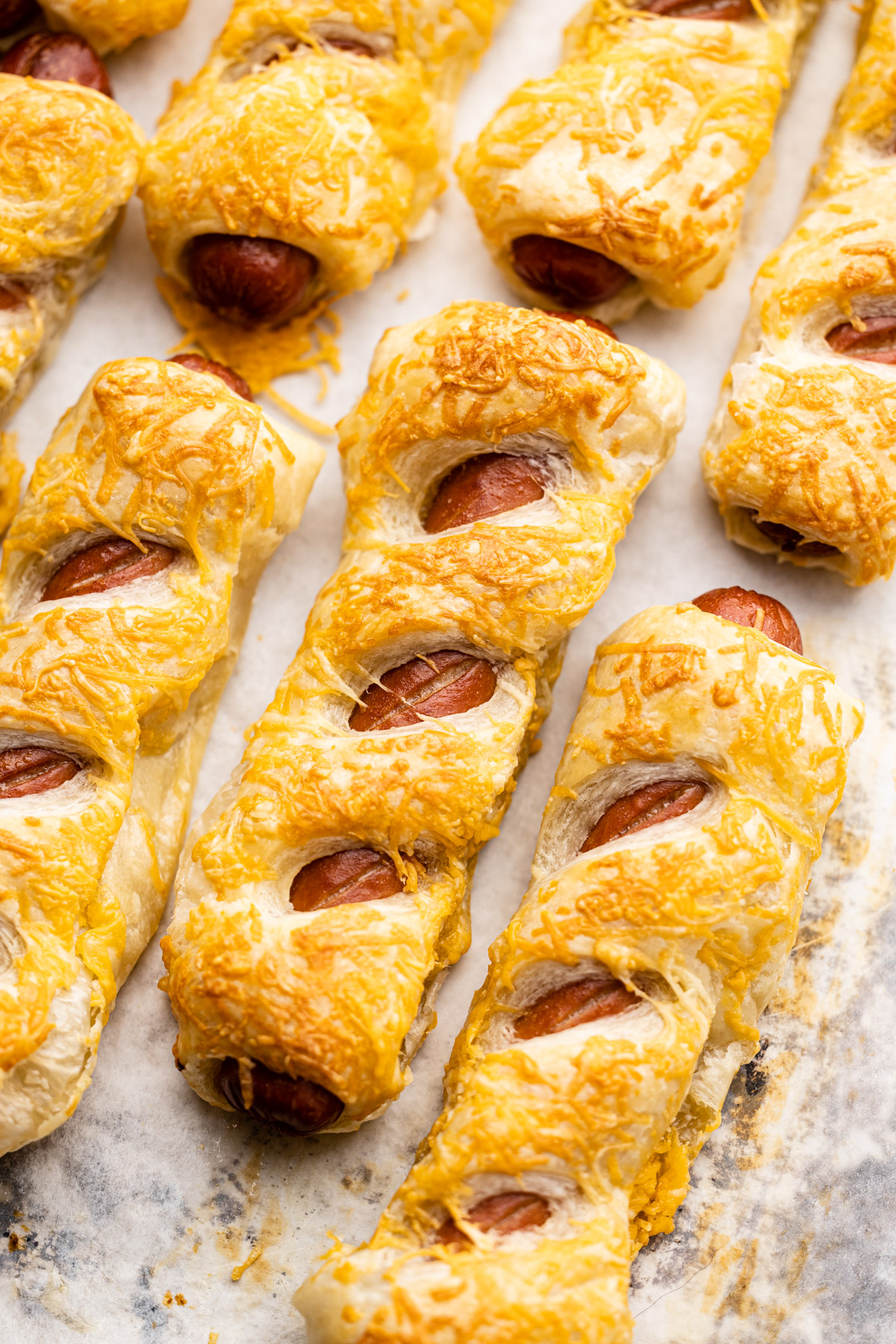 Puff Pastry Pigs in a Blanket
Last year I was creating my Puff Pastry Recipe over on my other website, Everyday Pie, and was in need of recipes to use up all my testing. And also, dinner. That's always needed. So I made a more dinner-worthy version of pigs in a blanket several times and it was hit. Obviously the kids loved it, but us grown ups did too. I served it with a quickly made "secret sauce". Or actually, in our house we call it pink sauce, which is just basically a sauce mixed together with all the quintessional condiments. Most times I served this meal, I threw in some quick tater tots and cut up some raw veggies and called it a day.
Yes, I always made this with homemade puff pastry, but it's of course totally fine (and encouraged) to make it with store-bought puff pastry, which is what the recipe calls for. Please be sure to review the section about different types of store-bought puff pastry, as they can vary in size and I have some helpful tips for that.
So let's get to making it! The text below offers some tips for making it, or you can scroll down to the bottom for the complete recipe.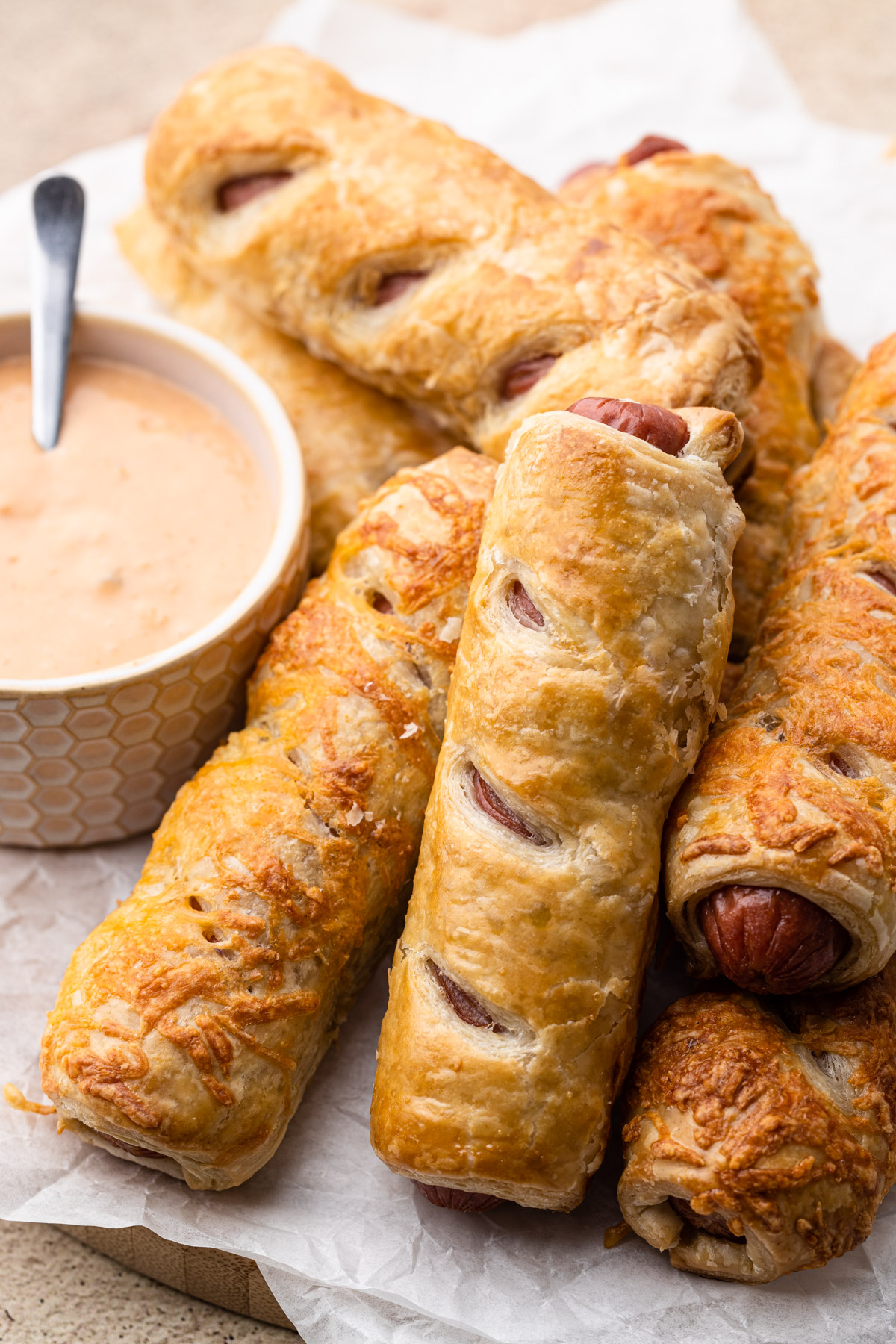 Ingredients Needed and Substitutions
Here is a brief overview of the ingredients needed for this recipe. The full recipe with quantities is listed below this text in the recipe card. If substitutions are available for this recipe, they'll be listed here. If you don't see a substitution you are looking for, please leave a comment below.
Useful Tools for Making It
Here are the tools used in this recipe. You won't necessarily choose to use them all, but sometimes tools make for quicker work in the kitchen! Some of these links may contain affiliate links.
How to Make Them
Honestly, this recipe is more of an inspiration and guide than it is a specific recipe with specific instructions that need to be followed since the type of puff pastry and size of the hot dogs you use will dictate specifics about the recipe.
Basically, you are going to unroll your puff pastry (or roll out, if you happen to be making the homemade version from Everyday Pie) and cut it. How big you cut it, and how many pigs in a blanket you end up getting is dictated by the type and amount of hot dogs you buy.
Then the puff pastry is cut into rectangles about 3x4" large. The exact size will be based on the length and width of the hot dog, though you don't need to actually measure it. Just eyeball it and cut the rectangle the to just shy the length of the hot dog, and about 1" on each side of the hot dog.
Next the hot dog will be rolled up in the puff pastry and sealed and baked!
Working with Store-Bought Puff Pastry
For the best results, follow the instructions on your specific puff pastry package as to how to defrost. Typically it suggests defrosting in the refrigerator overnight or for a few hours. Doing this will give you the best result. If you defrost at room temperature to speed it up, it will mean it might not be as flaky. That's not the end of the world, but it's something to note.
Once it's defrosted, unroll it. Typically puff pastry is pretty moist when it's defrosted. I actually don't recommend adding flour unless it's absolutely necessary. The reason for this is because moist puff pastry is actually easier to seal up than puff pastry that's dry with a ton of flour. So if you do need to use flour to prevent it from sticking to your surface, use it judiciously.
That being said, if you find your puff pastry is not moist enough and you can't get the pastry to seal, you can brush some of the egg wash on the puff pastry to seal it.
To Cheese or Not to Cheese
An extra (delicious) step to take is to roll the filled puff pastry dogs into shredded cheese. It's never a bad idea to add cheese because it's awesome, but also because it adds a further crunch factor to the pigs in a blanket.
But, it is totally options. So skip it if you don't want it.
If you are going to use it, it's best to use finely shredded cheese. I've made it with thicker shredded cheese and it just doesn't work as well.
Puff Pastry Baking Tips
Want your puff pastry to bake up nice and flaky? You'll want to chill them before baking! This is totally optional, but it's a step I always take before baking puff pastry. Chilling the pastry before baking makes the puff pastry bake up higher. I recommend about 10-15 minutes in the freezer before baking.
To bake, preheat the oven to 400ºF and set a rack in the middle position in the oven. This small step of baking it in the middle rack will ensure the puff pastry bakes throughout but doesn't brown too much on the bottom.
The puff pastry hot dogs are done when they have puffed up and are lightly golden all over.
Storage and Leftover Tips
As with most puff pastry recipes, these are best eaten right away. They have the right texture and mouthfeel right after baking. They can be served warm or at room temperature.
Leftovers can be stored in a covered container in the refrigerator for up to 3 days. They can be reheated in an oven or toaster oven at 350ºF until warmed through and crispy.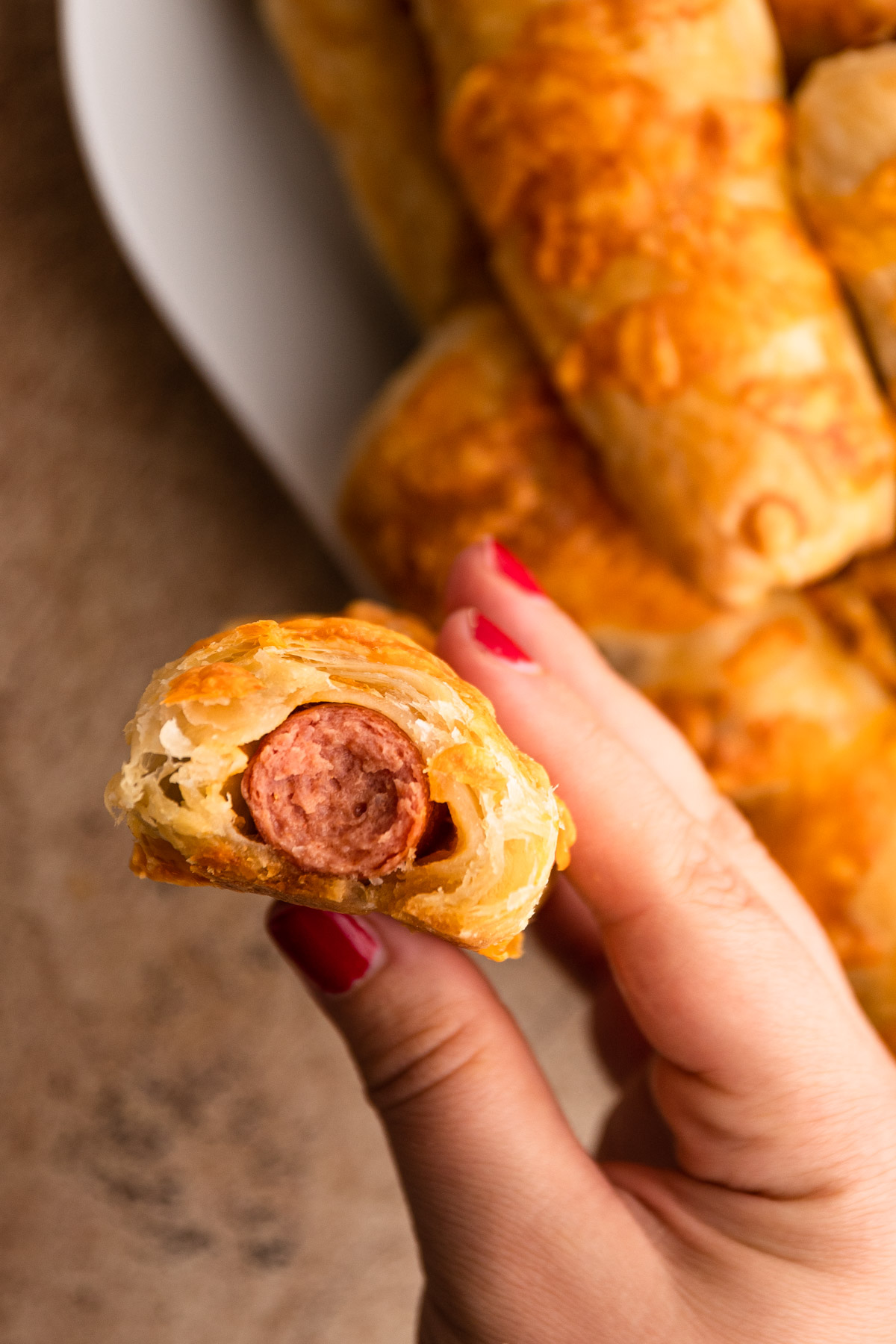 Making the recipe? Be sure to leave a comment with a star review on your experience! Have a question? Leave a comment below and I'll get back to you as quickly as I can!
Print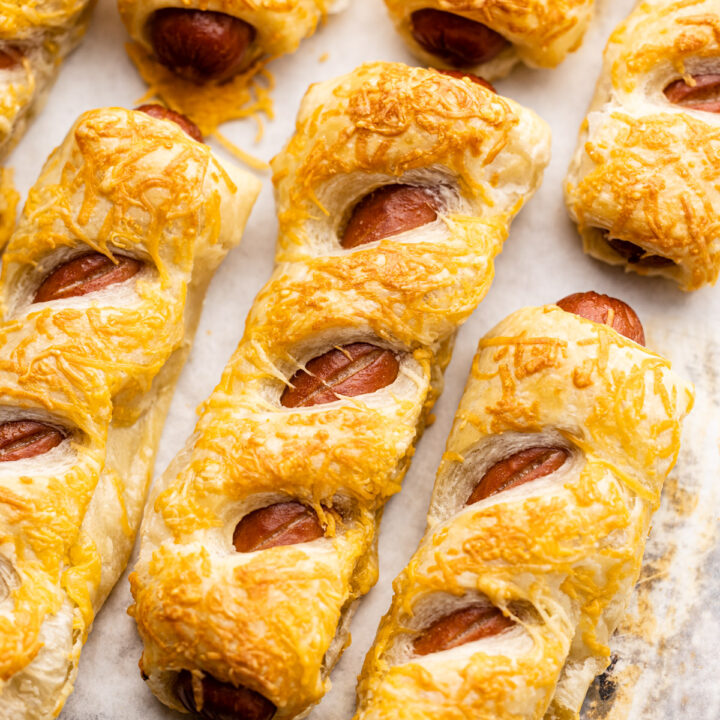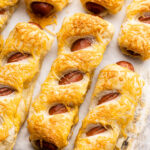 Puff Pastry Hot Dogs
Author:

Kelli Avila

Prep Time:

00:15

Cook Time:

00:25

Total Time:

40 minutes

Category:

Dinner
---
Description
Puff Pastry Hot Dogs are like bigger, more dinner-worthy versions of pigs in a blanket. Full size hot dogs are wrapped in puff pastry, baked and served with a homemade secret sauce for a simple, yet fun dinner.
---
1

large egg

1 teaspoon

water

1

(17-ounce) box puff pastry (or you can make your own)

6

-

8

hot dogs

1

cup

fine shredded cheddar cheese

2 tablespoon

mayo

2 tablespoon

ketchup

1 tablespoon

sweet pickle juice (see notes)

1 tablespoon

yellow mustard

¼ teaspoon

garlic powder
Pinch of salt and pepper
---
Instructions
Defrost frozen puff pastry according to package directions.
Add the egg and water in a small bowl and whisk together, set aside.
Line a 12x18" sheet pan with a piece of parchment.
Carefully unroll the puff pastry.
Using a pastry wheel or sharp knife cut rectangles in the pastry that are about 3.5" x 4". The exact size will depend on the size of your hot dog, so use that as your guide.
Place the hot dog off to the center of the pastry and wrap the pastry piece around the hot dog, sealing the edges.
Place the hot dog seam side down on the prepared baking sheet.
Repeat this process with all the hot dogs.
Chill the puff pastry hot dogs in the freezer for 15 minutes, or in the refrigerator for 30 minutes. This helps the pastry keep it's shape while it bakes.
Meanwhile, preheat the oven to 400 degrees.
Once chilled, remove the pastry hot dogs from the freezer and eggwash the pastry. Then take a sharp knife and cut three slits in the pastry.
If using cheese, place the cheese inside a shallow container. Press the egg wash side of the pastry into the container of cheese. Press the cheese into the pastry, and return the hot dog to the baking sheet.
Bake in the oven for 24-26 minutes, or until the pastries are lightly golden all over and puffed up.
Remove them from the oven, and let them cool slightly before serving.
Meanwhile make the pink sauce: add the mayo, ketchup, pickle juice, mustard, garlic powder, salt and pepper to a small bowl and whisk together. Taste and adjust seasoning.
Serve the puff pastry hot dogs warm with the pink sauce.
---
Notes
Hot dogs typically come in packages of 6 or 8. Use whatever makes the most sense for your family.
If you don't have sweet pickles (to use the sweet brine as called for in the recipe) swap it out for apple cider vinegar or malt vinegar.
Keywords: Puff pastry hot dogs