Without compromising on the traditional flavor, this Basil Spinach Pesto is perfect for pasta and more. This pesto recipe has a healthy twist by incorporating nutrient-rich spinach without anyone noticing.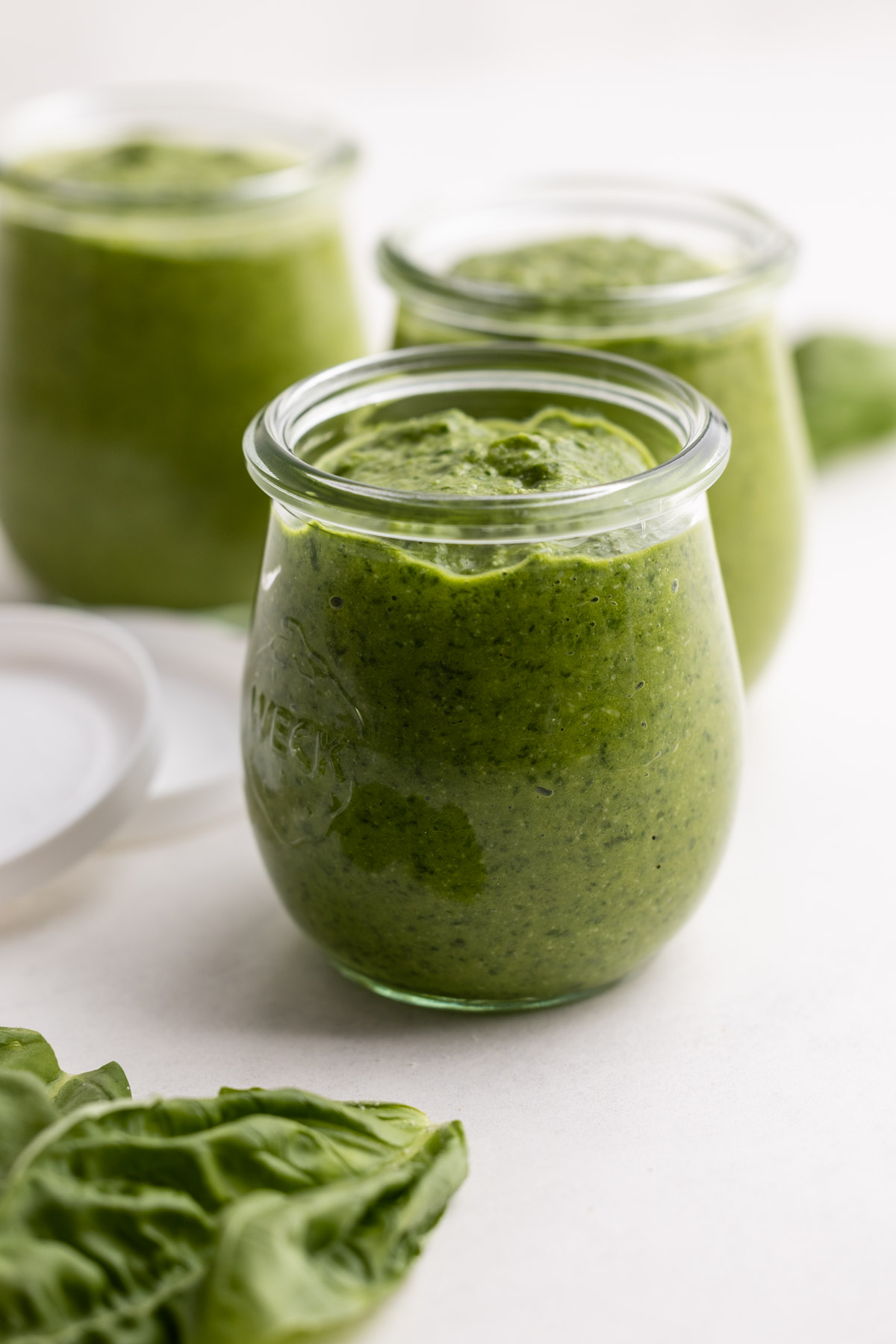 I'm pretty sure pesto is the undisputed queen sauce of the summer. At least if you have a garden overflowing with basil. In our house, pesto is a year-round thing because I make giant batches of it in the summer and freeze it for a punch of flavor even on the coldest winter days.
This recipe is my go-to, incorporating spinach for added nutrition without compromising the traditional basil pesto flavor. I am not against hiding veggies in my kids' dinner, and this is the perfect way to do it. I swear every time I serve pesto anything to my son Joaquin, he initially is like "No thank you, it's green" but after trying the bite he remembers he loves pesto and happily eats whatever it is.
This recipe is punchy with bright notes of lemon and garlic and the nutty addition of almonds. I add almonds because 1. I love them but 2. I always have a weird allergic reaction to pine nuts so I just naturally always swap them out but find the nutty addition works well in this recipe. You can of course use pine nuts if you want.
This yield on this recipe is on the larger side because I do often make it in big batches and freeze. More on that below.
So let's get to making it! The text below offers some tips for making it, or you can scroll down to the bottom for the complete recipe.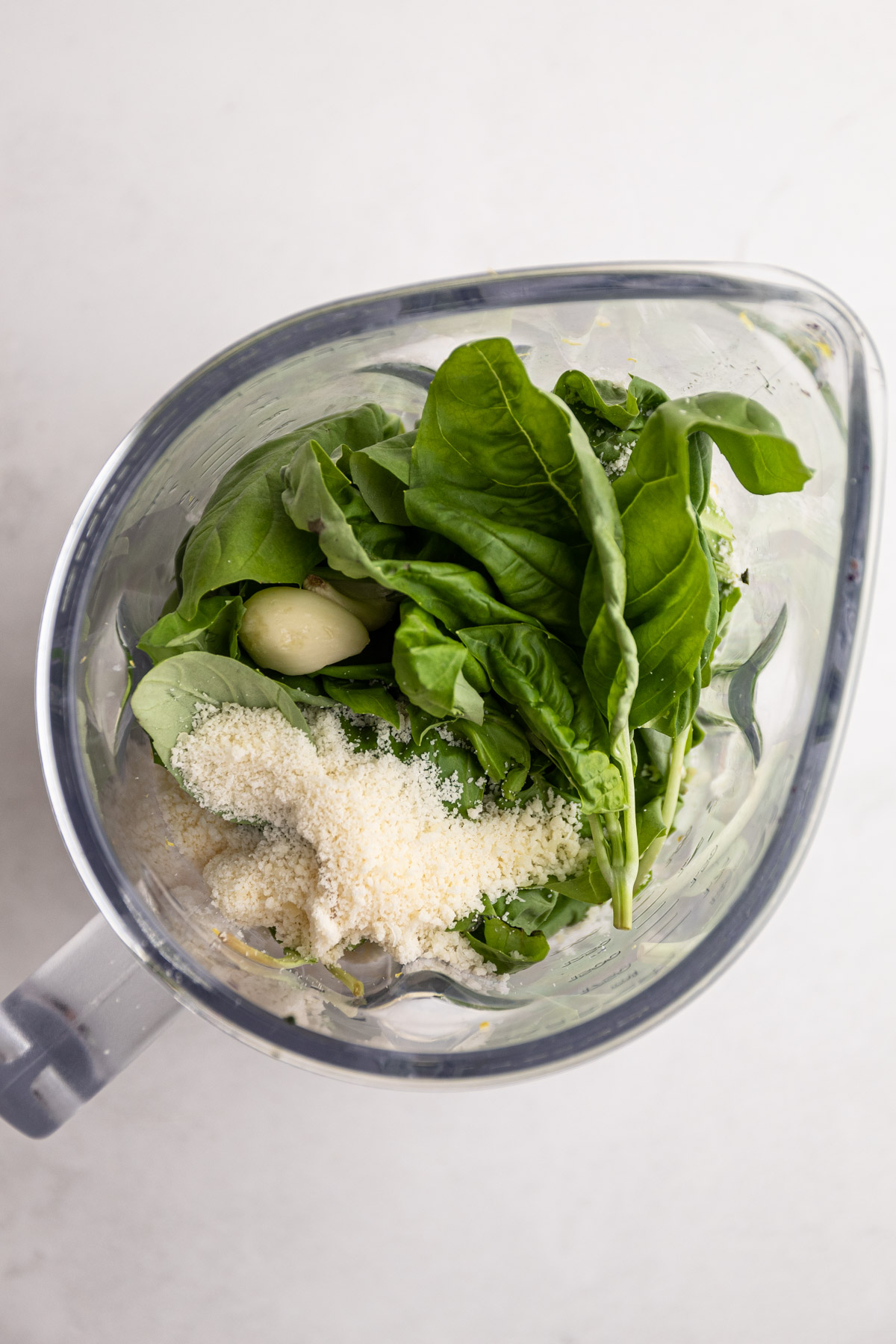 Ingredients Needed and Substitutions
Here is a brief overview of the ingredients needed for this recipe. The full recipe with quantities is listed below this text in the recipe card. If substitutions are available for this recipe, they'll be listed here. If you don't see a substitution you are looking for, please leave a comment below.
basil (like A LOT of basil)
baby spinach (you could also use baby kale or skip the alternative veggie and just add more basil)
parmigiano reggiano
slivered or sliced almonds (or use pine nuts)
olive oil
lemon
garlic
salt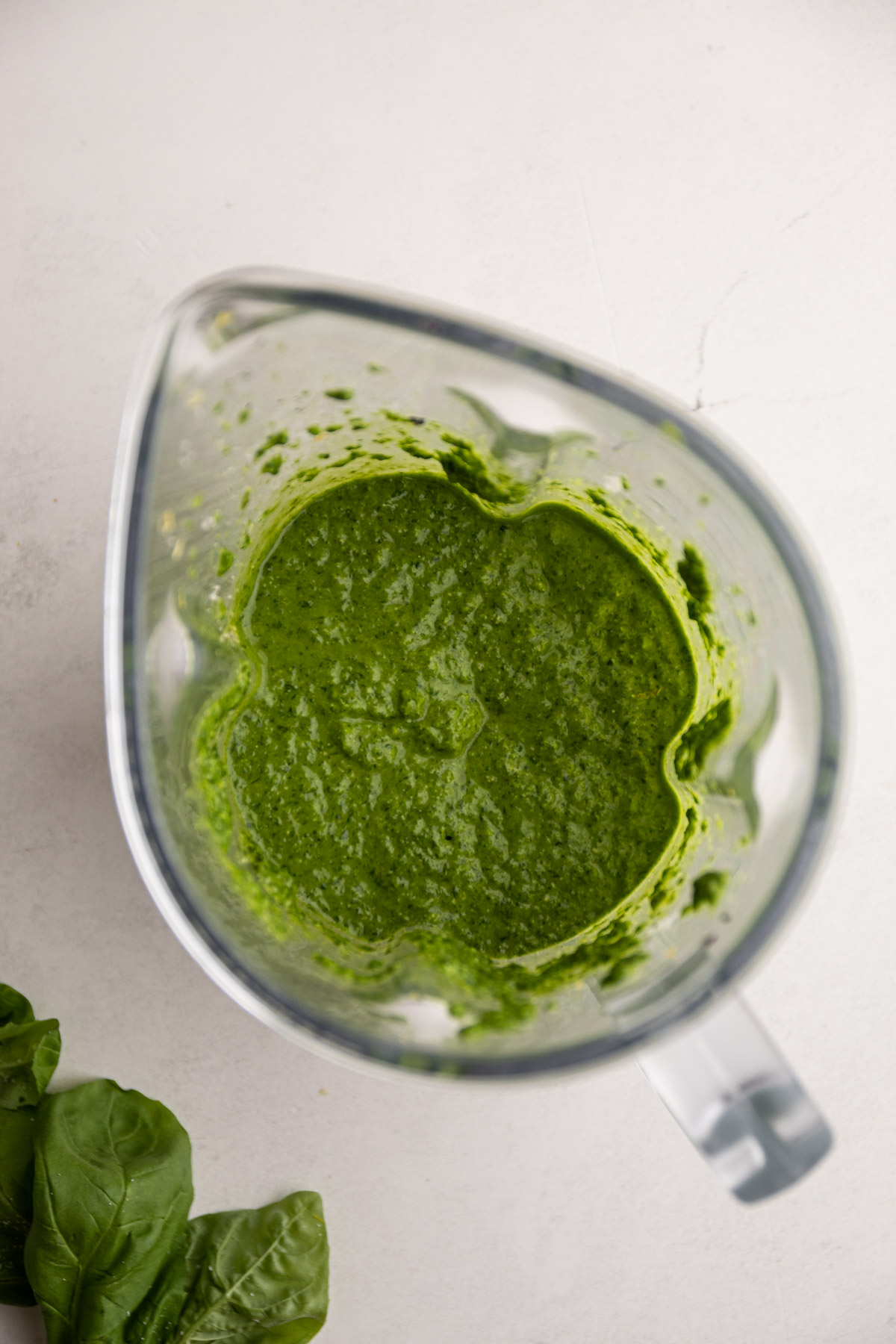 Making a Large Batch of Pesto
This recipe yields approximately 3 cups of pesto, which is a substantial amount. You may need to be strategic when blending it all together in your blender. I suggest adding half of the spinach and basil first, processing it, and then incorporating the remaining greens.
Speaking of blenders, this is a good time to point out that a stand blender is the best tool for the job. The delicate basil can become bruised in a food processor, causing it to turn brown. By using a blender, you can ensure that the sauce maintains its bright green vibrancy.
If you don't have the required amount of basil to make this large of a batch, you can simply halve or quarter the recipe. However, bear in mind that as the batch size decreases, it becomes more challenging to blend the ingredients due to the smaller quantity.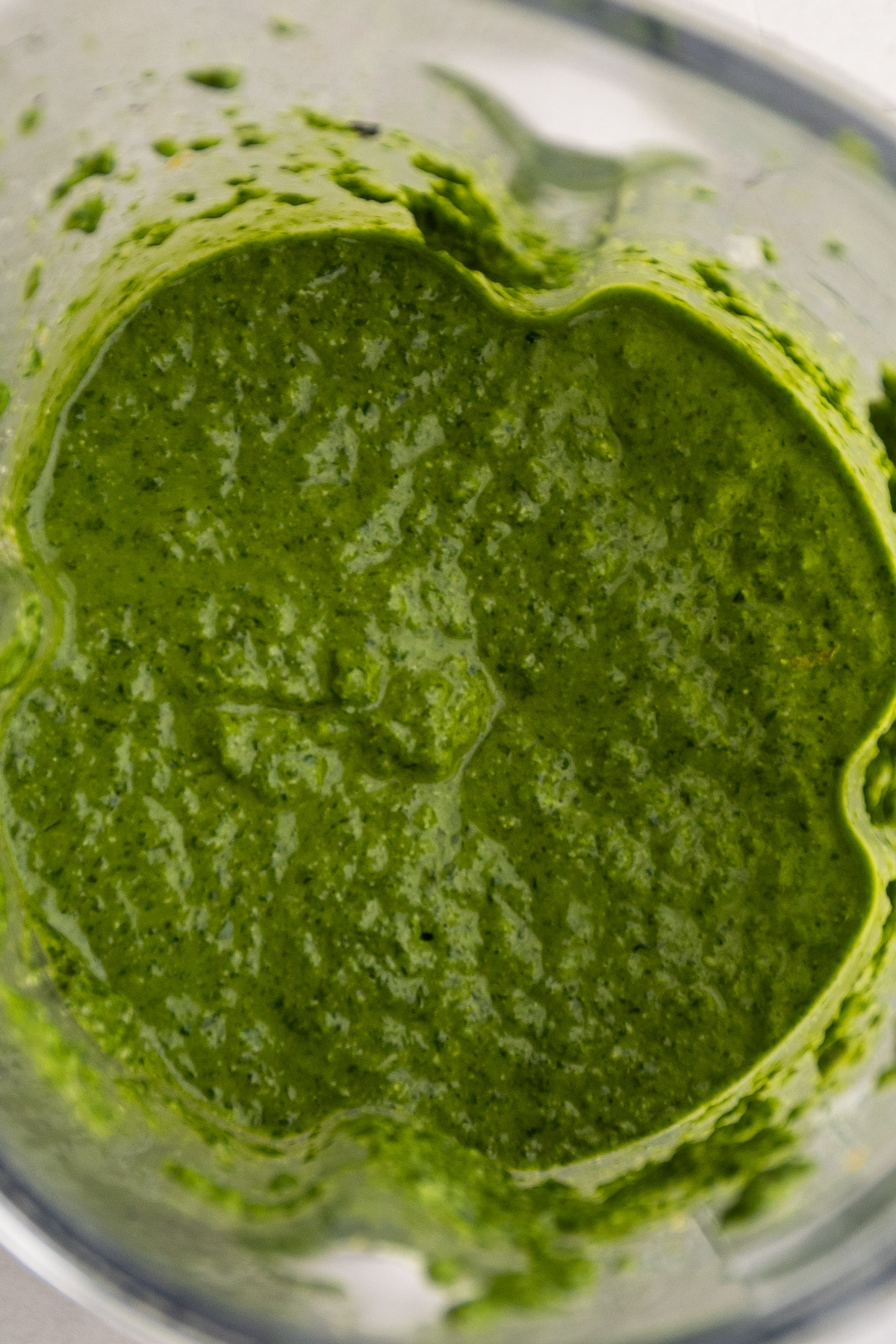 Preserving Pesto
If you want to preserve your pesto, the best way is to store it in the freezer. First, transfer the pesto to a storage container - glass containers are best because they don't absorb flavors or smells. Then, add a layer of olive oil on top of the pesto.
This will act as a barrier, preventing air from reaching the basil and keeping its natural bright green color intact. The spinach in the pesto also helps maintain its vibrant green color.
I like to store the pesto in small quantities in the freezer, that way I can pop them out throughout the year as needed. One tip to recommend is to save your empty glass spice jars and use those. They're the perfect size for a portion of pesto.
Pesto also keeps pretty well in the refrigerator too. This recipe stays vibrant and green for a week or more.
Using Basil Spinach Pesto
There are infinite ways to use this sauce, with the most obvious choice being pasta! Whenever I need a quick last-minute dinner, pesto pasta is perfect.
I also like to add this to meatballs, as a salad dressing, or as a spread for sandwiches.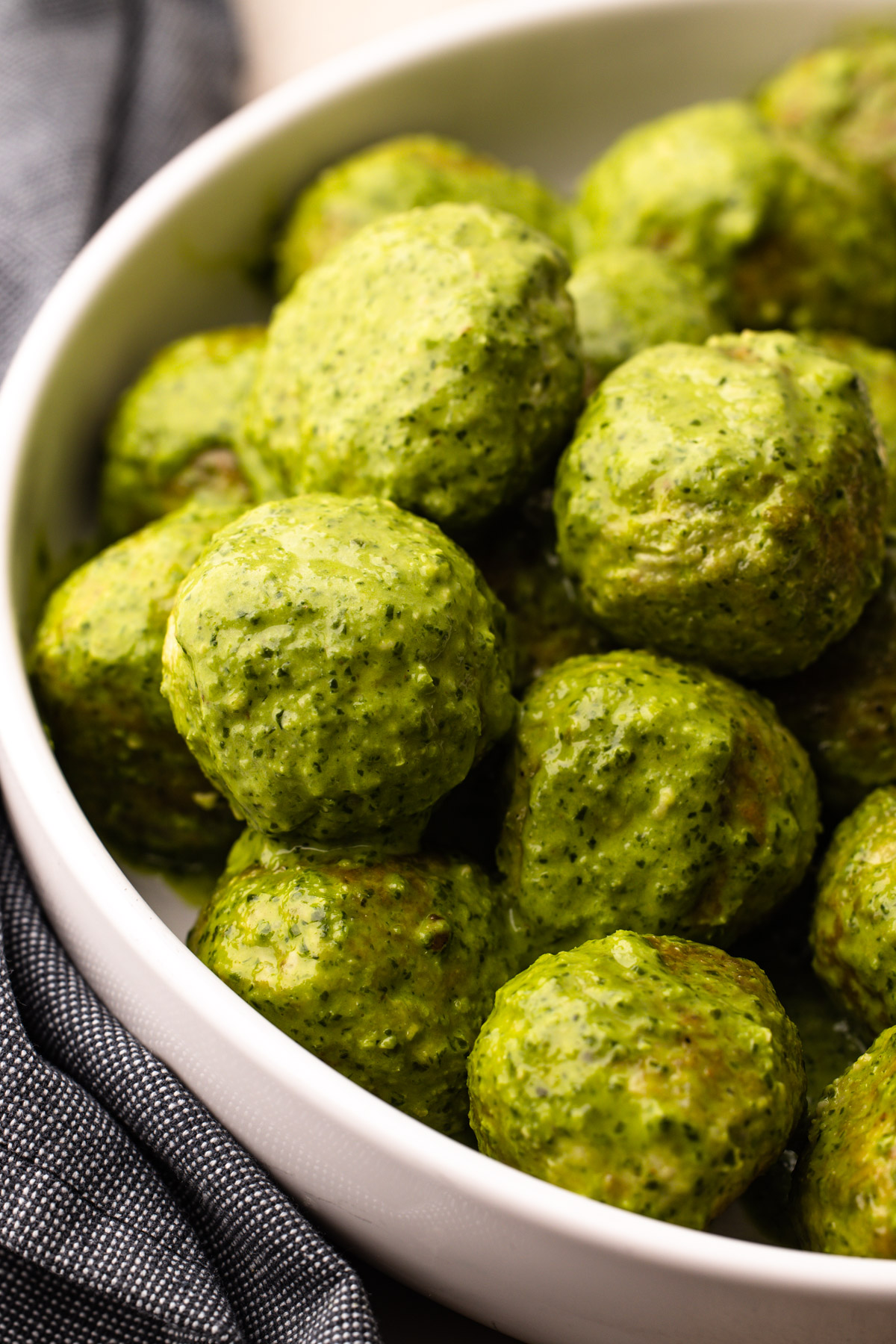 More Pesto Recipes
Print
Full Recipe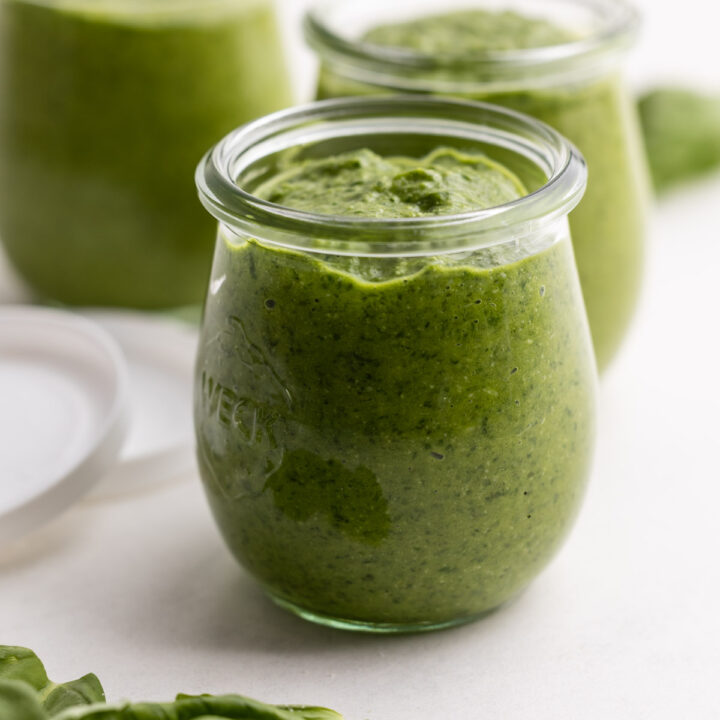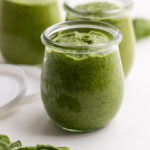 Basil Spinach Pesto
Author:

Kelli Avila

Prep Time:

00:05

Total Time:

5 minutes

Yield:

About

3 cups

1

x

Category:

Sauce

Method:

Blend
---
Description
This is a great way to add a dose of healthy greens to an already delicious pesto base. The spinach is undetectable as the flavor of basil overwhelms it so those who are picky about vegetables won't mind the addition. This version is heavy on the lemon flavor and this condiment is a versatile way to add flavor to so many dishes.
---
8

ounces

basil (if you are buying from the store, buy 2 of the big 4-ounce boxes of it)

4

ounces

baby spinach

½

cup

parmigiano reggiano, grated

⅓

cup

slivered or sliced almonds (or pine nuts)

½

cup

olive oil

2 teaspoons

lemon zest

¼

cup

fresh lemon juice

2

garlic cloves

1 teaspoon

salt (more to taste)
---
Instructions
Place everything in a blender and blend until a smooth consistency. You may have to stop the blender to push all of the basil and spinach towards the blade.
---
Notes
If all of the greens don't fit in the blender at once, add half at a time along with all the other ingredients.
This makes a big batch and keeps well in either the refrigerator. Put a splash of oil on top of the pesto when storing to make it airtight to prevent browning.
You can also substitute baby kale in place of baby spinach, or if you have an overabundance of basil you can use all basil.
Keywords: Basil Spinach Pesto