This Goat Cheese Salad is wholesome, sweet and simple to put together. Crisp green leaf lettuce is tossed in a simple red wine vinaigrette along with cranberry covered goat cheese, sliced shallots and crisp cucumbers.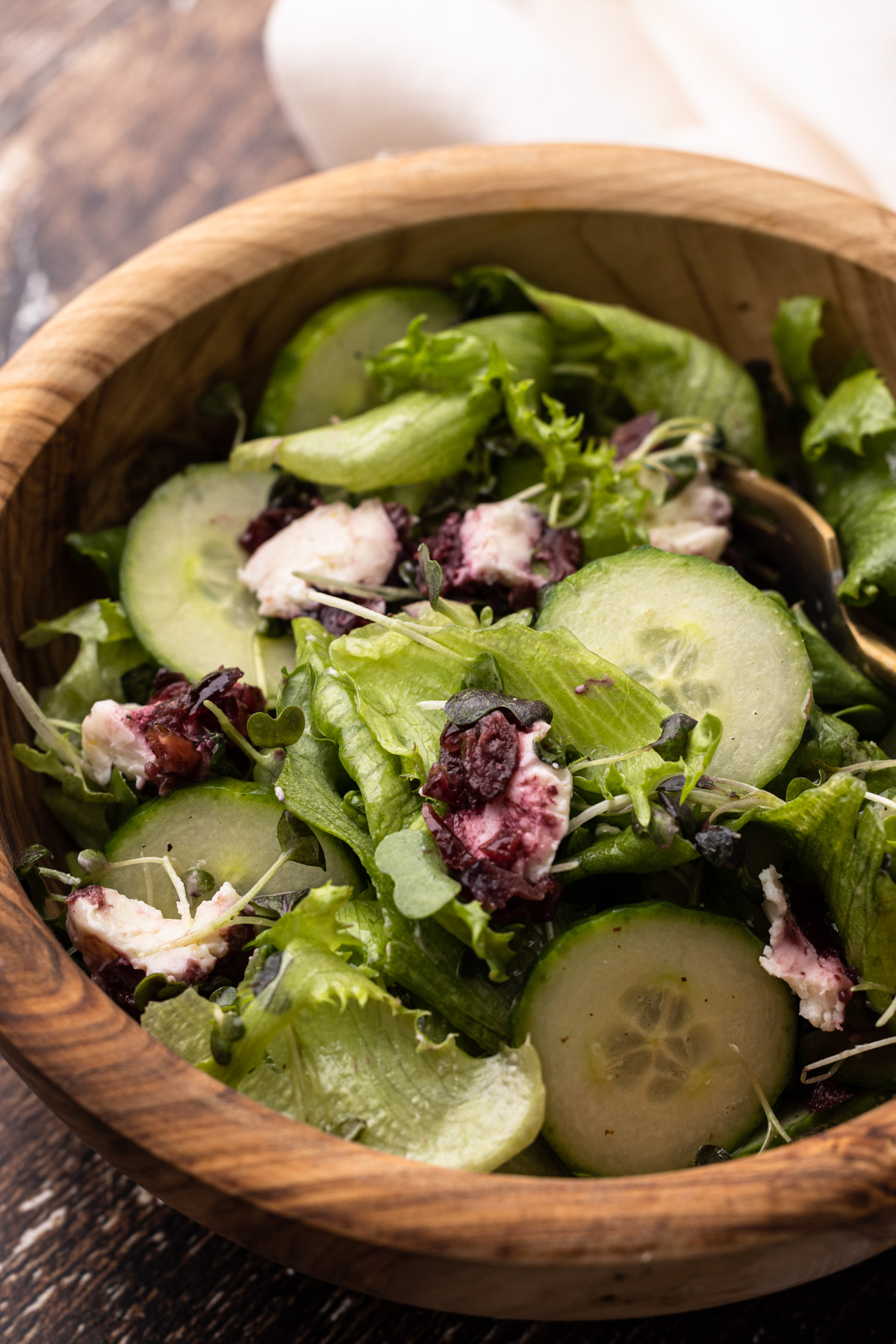 My husband John used to hate goat cheese, or so he thought. Then one day I made a quick green salad with some goat cheese covered with cranberries that the grocery store swapped with the plain goat cheese I had ordered. That was the day he realized he actually not only liked it, but loved it. Since then, he's told everybody how life changing this salad was for him. And of course, I get so much joy that he loves it!
We've had many versions of it over the last year. Half of my children also agree it's delicious (the other half...well, we still haven't gotten him to like salads other than the occasionally nibble on some plain lettuce), so this dish makes a frequent appearance on our dinner table these days.
The salad relies on cranberry coated goat cheese. It adds a sweet and tart punch to the creamy goat cheese and really makes the salad what it is, so try to find it if you can. Other than that specific ingredient, the salad is pretty simple, and open to the possibility of other changes, as we often do in our house.
So let's get to making it! The text below offers some tips for making it, or you can scroll down to the bottom for the complete recipe.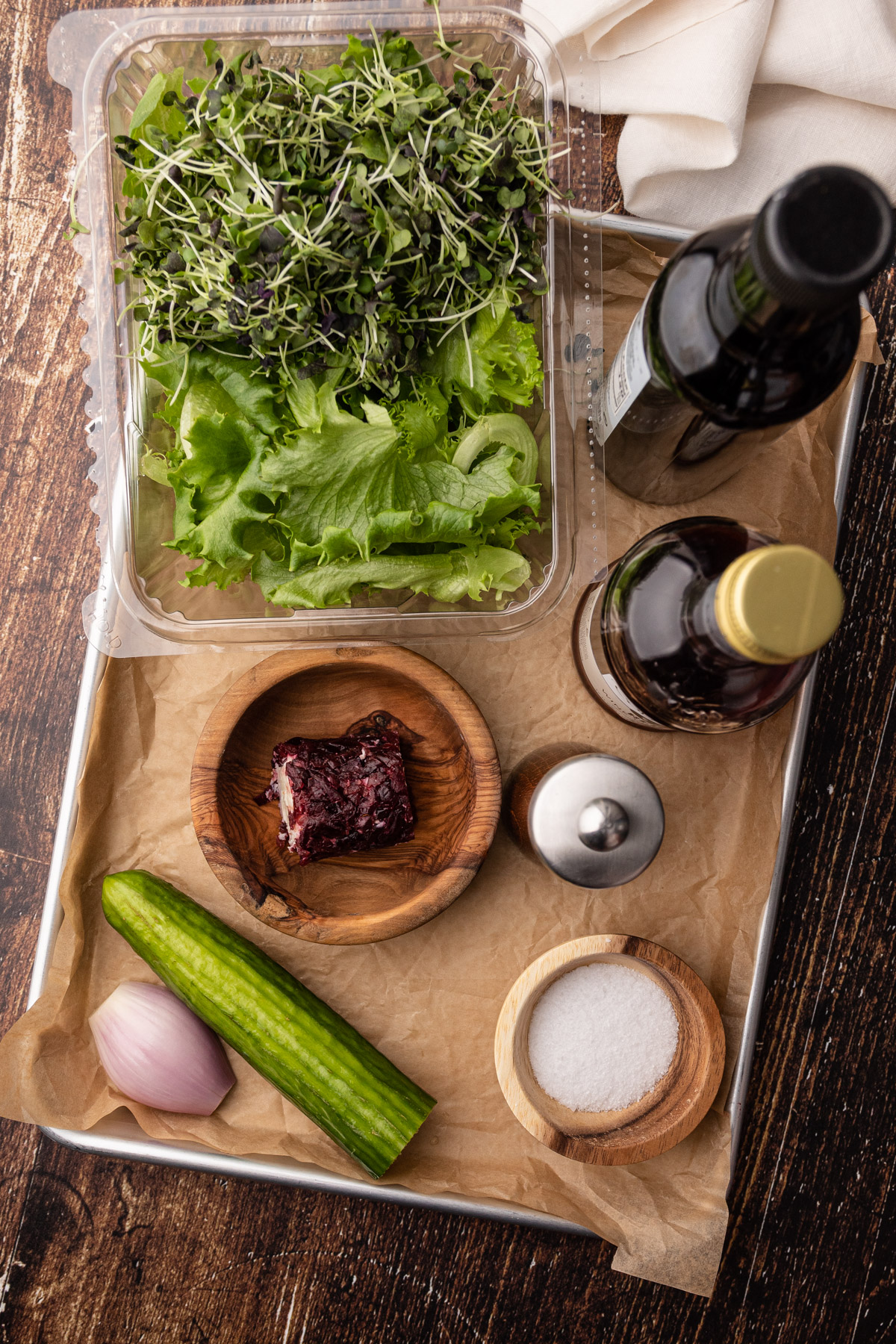 Ingredients Needed and Substitutions
Here is a brief overview of the ingredients needed for this recipe. The full recipe with quantities is listed below this text in the recipe card. If substitutions are available for this recipe, they'll be listed here. If you don't see a substitution you are looking for, please leave a comment below.
cranberry goat cheese (see notes below for swaps)
crisp green lettuce
arugula or micro greens (this is optional, but both of these slightly bitter and spicy lettuces adds another layer of flavor that is nice in this salad)
red wine vinegar
olive oil
salt and fresh ground pepper
sha

llot

(a small red onion can be substituted)

european cucumber (if you have traditional cucumbers be sure to peel and de-seed them)
Let's Talk About this Goat Cheese
So the goat cheese in question that we love in this salad is a cranberry coated goat cheese. A lot of supermarkets have their own brands, but we also love Vermont Creamery, if you can find that. It's a pretty common item to find in most grocery stores, just check the cheese department.
If you can't find it, you can still make this salad with a similar flavor profile by adding in dried sweetened cranberries and using regular goat cheese. I recommend soaking them in hot water before adding them, so they get nice and soft.
How I Make Salads at Home
I try to serve a salad most nights of the week in my home, but they're very often not fancy. I'm not opposed to good quality bottled dressings, but I also like to throw together a really quick vinaigrette directly in the bowl I'm going to serve the salad in.
This serves a few purposes: the first being that I won't dirty another bowl or cup to make the dressing. And it just makes it feel that much easier to achieve even when dinners feel so hurried after a long day of school and work.
Second, I often throw in some onions or other hearty veggies directly in the dressing to "marinate," even if it's only for a few minutes. I love to do this with onions, as it breaks them down ever so slightly. Also works well with cucumbers. And both of which are in this salad.
Third, by making the dressing directly in the bowl, it means the dressing is in the bottom of the bowl and can stay underneath the lettuce. This means I can make the salad and set it on the table whenever without worrying that by the time the rest of the dinner is ready the lettuce is soggy. Right before we eat we can toss the dressing in with the salad so it's still perfect and crunchy!
I take this approach with this Goat Cheese Salad and basically any simple salad I make at home: whisk the dressing, build the salad on top, toss right before serving.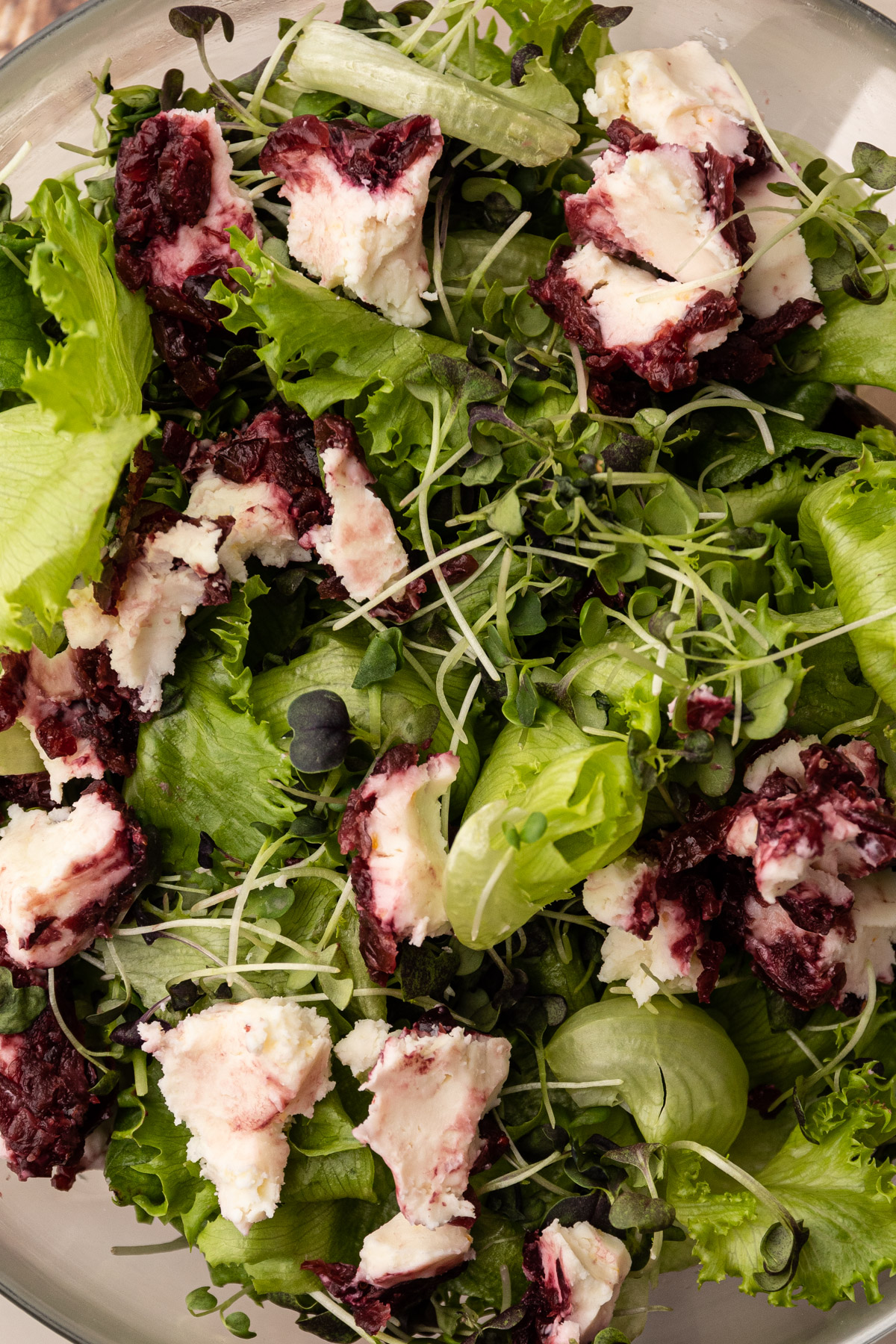 Always Salt the Greens
One of the biggest takeaways I learned while working the garde manger station in restaurants is how important it is to salt the salad greens before dressing it. Most people think that because a salad dressing is seasoned, it will season the lettuce greens. But with all of cooking, it's important to build layers of seasoning and flavor, and adding salt and pepper directly to the undressed greens does just that. Trust me on this, ok?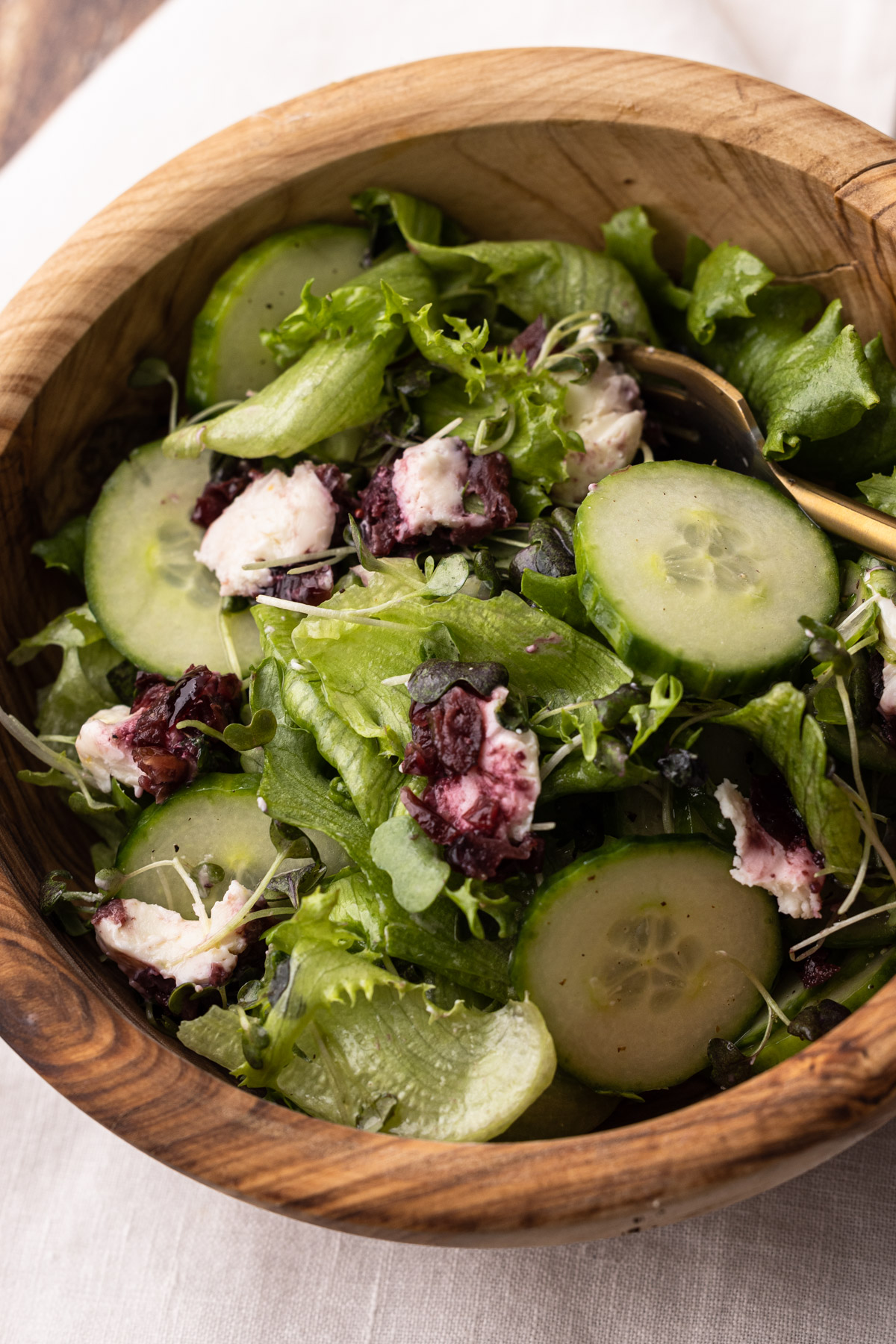 Can This Salad Be Made Ahead?
Unfortunately, this salad is something that will not keep well. Assemble and serve right away. Leftovers will turn soggy. However by using my method to build the salad from the dressing up, you can make it slightly ahead by about an hour or so.
Making the recipe? Be sure to leave a comment with a star review on your experience! Have a question? Leave a comment below and I'll get back to you as quickly as I can!
Print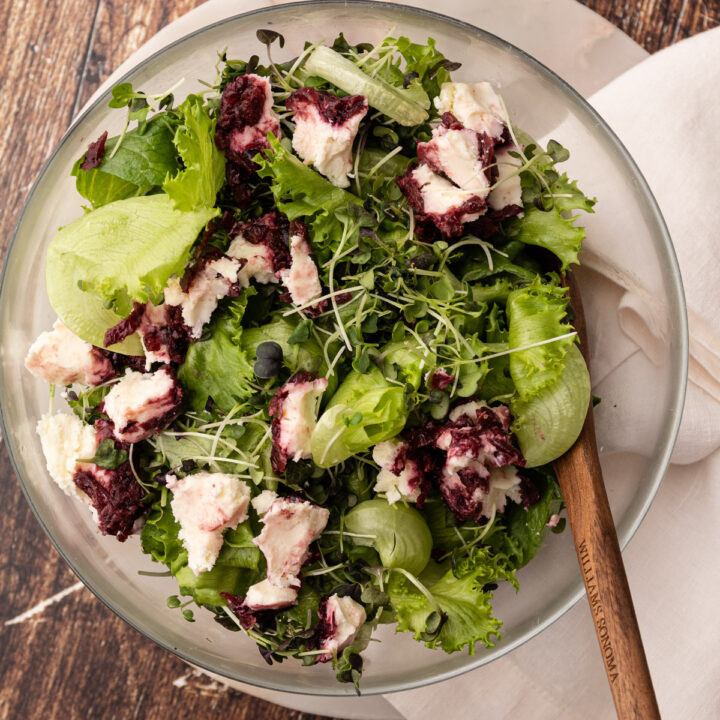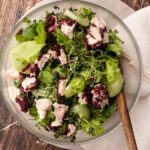 John's Goat Cheese Salad
Author:

Kelli Avila

Prep Time:

00:10

Total Time:

10 minutes

Yield:

Serves 4

Category:

Salad
---
Description
This Goat Cheese Salad is wholesome, sweet and simple to put together. Crisp green leaf lettuce is tossed in a simple red wine vinaigrette along with cranberry covered goat cheese, sliced shallots and crisp cucumbers.
---
1 tablespoon

red wine vinegar

2 tablespoons

olive oil

1 teaspoon

kosher salt

½ teaspoon

ground black pepper

1

small shallot, halved and thinly sliced

½

small european cucumber, sliced thin

2

cups

crisp lettuce (green leaf is my choice here)

1

cup

arugula or micro greens (see notes)

2

ounces

cranberry coated goat cheese (see note for replacement)
---
Instructions
Add vinegar, olive oil, salt and pepper to a bowl and vigorously whisk until it comes together. Add the shallot into the dressing and let it macerate for five minutes.
Add the cucumber on top of the shallots, then top it with the crisp lettuce and arugula, and finally crumble the goat cheese on top.
Sprinkle a good pinch of salt and pepper on top of the lettuce.
When ready to serve, toss the salad together.
---
Notes
If you can't find cranberry goat cheese, substitute regular goat cheese and add dried sweetened cranberries to the salad instead. I recommend soaking them in hot water for a few minutes before adding them so they get nice and soft.
Have a question or looking for tips? The text written above the recipe is always a great first place to start! 
Keywords: Goat Cheese Salad