This No-Boil Baked Ziti offers that classic Italian taste we all love. Marinara, ground beef, and three types of cheese mix and perfectly melt together, but with a streamlined process that'll make getting this beloved pasta dish on the table fast.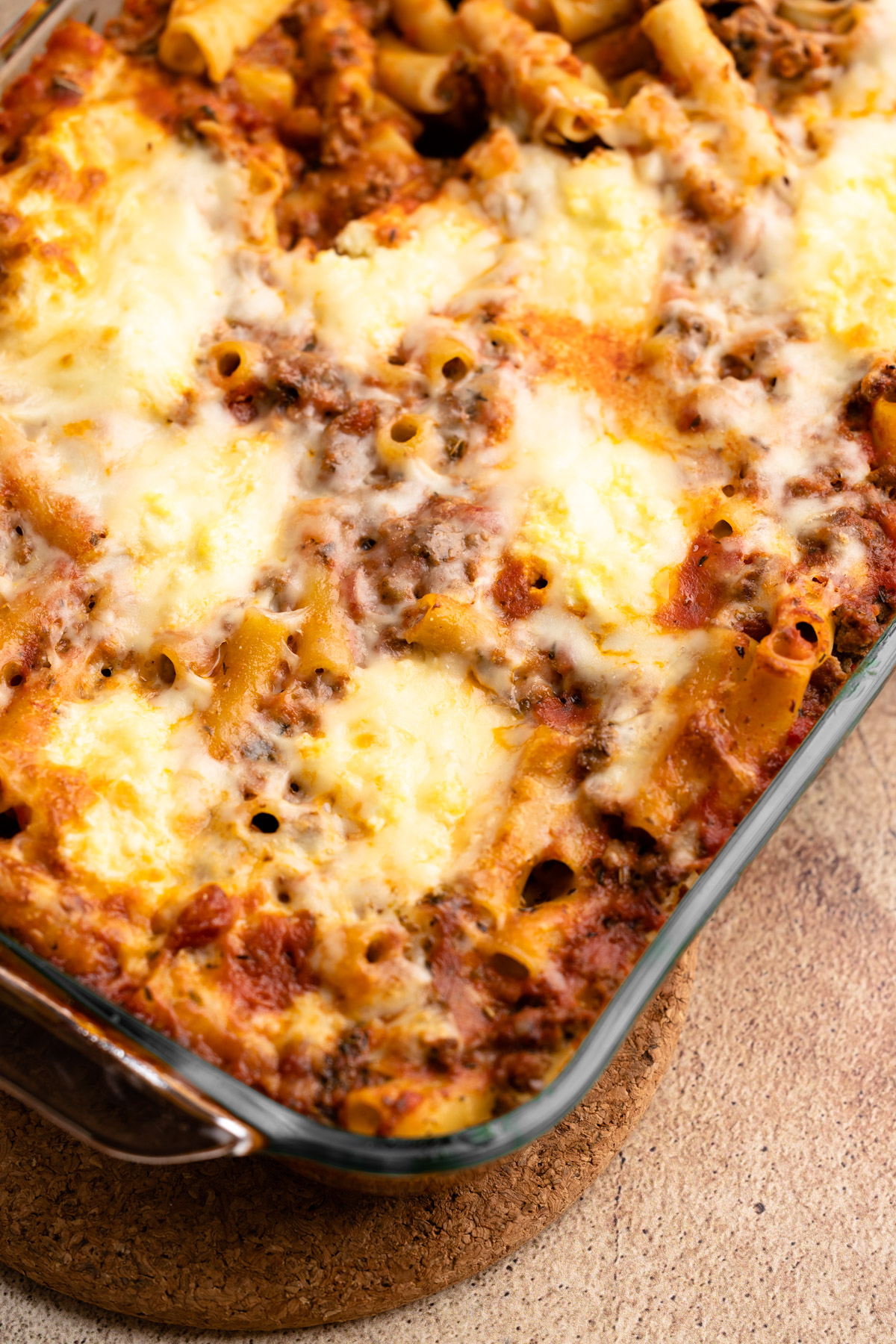 The Easiest Baked Ziti
There is nothing more comforting than a piping hot plate of pasta, completely slathered in marinara and all kinds of cheese, right? Well, how about one that is so simple to prepare it practically makes itself? This easy peasy No-Boil Baked Ziti skips the step of separately preparing the pasta and instead, everything is all baked up together at once. That means hands off-cooking, less dishes and a very hearty dinner everyone will love.
This version of baked ziti has a lot of the classic components such as a marinara sauce (go ahead and buy it to save yourself that step of making it), some ground beef (though there is flexibility here), ziti (obviously) and tons of cheese (of the ricotta, parmesan and mozzarella variety). It's a true Italian-American classic!
So let's get to making it! The text below offers some tips for making it, or you can scroll down to the bottom for the complete recipe.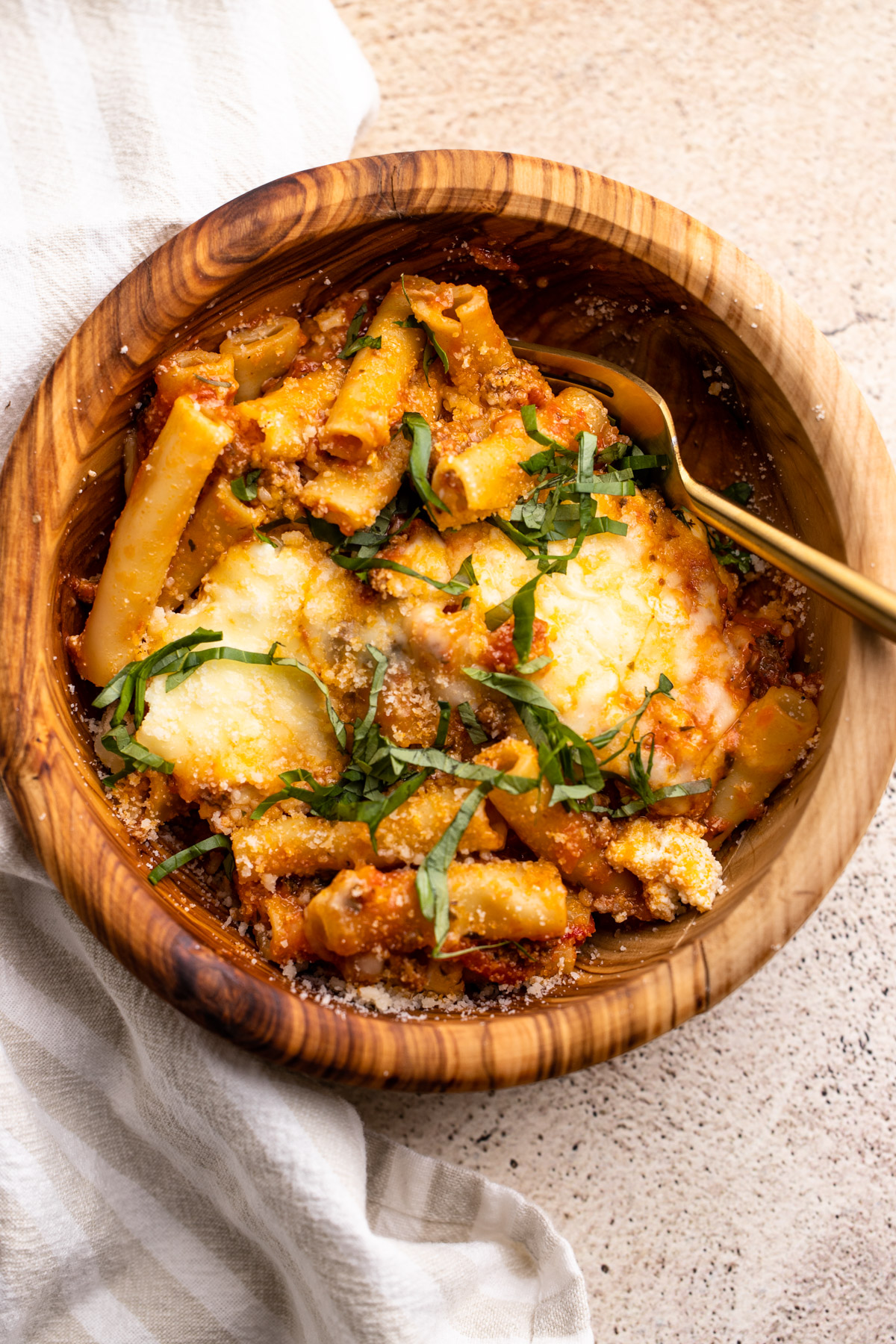 Ingredients Needed
Here is a brief overview of the ingredients needed for this recipe. The full recipe with quantities is listed below this text in the recipe card. If substitutions are available for this recipe, they'll be listed here. If you don't see a substitution you are looking for, please leave a comment below.
ziti (I have tested this with several brands of ziti, but I have not tried this with any other pasta shape, so I cannot confirm how this bakes up with anything other than ziti)
store-bought marinara sauce (since we're all about simple here, use a high-quality marinara sauce that you like but if you really insist, you can obviously use homemade too)
ricotta cheese
mozarrella cheese
ground beef (or use ground turkey or ground sausage)
parmesan cheese
egg (this is used as a binder for the ricotta cheese, but if there is an allergy, it can easily be left out)
water (or if you have it, chicken stock is great to add here to boost the flavor)
Italian seasoning
How a No-Boil Baked Pasta Dish Works
Cooking traditions (and pasta package instructions) direct us to always cook pasta in large amounts of salted water to ensure the best possible pasta. However, over the many years I've been a cook (both in professional and home settings), I've often been curious if these long-standing traditions really make that much of a difference, and if things can be done differently.
It is said that pasta cooks correctly because it reduces the amount of starch on the pasta and maintains the heat better for which to boil the pasta in.
But long ago, I began cooking my pasta in much less water, and often so little as not needing to even drain it. Because that starchy water is not a problem to put down the drain, but instead it adds value in terms of flavor and viscosity to the sauce with which we add the pasta.
And let's not forget, it allows us busy cooks to skip a step, making cooking easier on those busy weeknights.
These ingredients in this baked ziti dish are added to a baking dish altogether, covered tightly with foil, and baked for about 40 minutes. The pasta absorbs the water and marinara sauce during this time, resulting in a perfectly cooked noodle and a delicious surrounding sauce.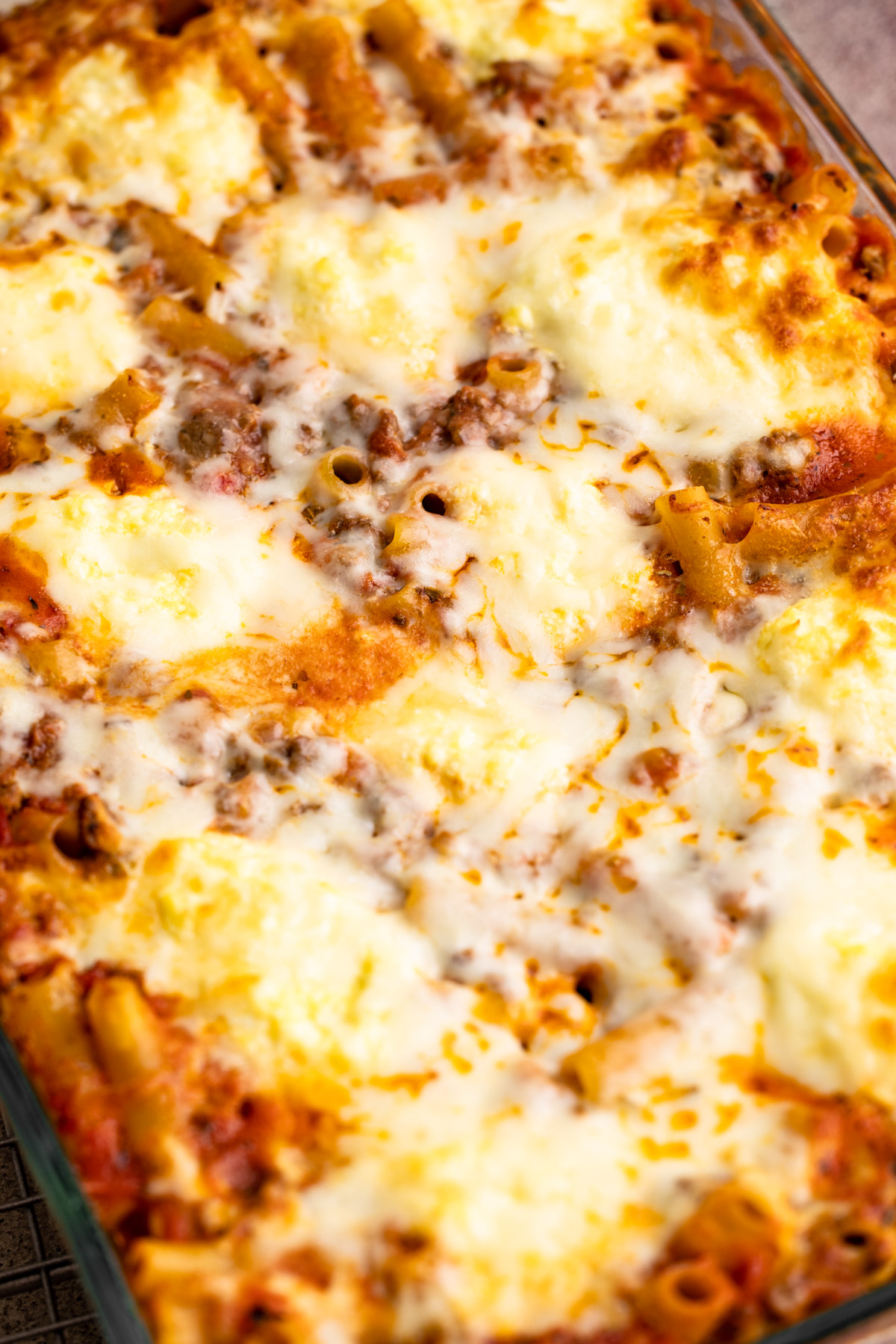 How to Add Just Enough Water
The only trick to making this no-boil baked pasta dish to work is to add just enough water. You don't want to add too little and have your noodles not cook, and you don't want to add too much, because then the noodles will be overcooked.
The recipe calls for adding 2-½ to 3 cups of water to the baking dish. Start by adding the smaller amount and seeing if nearly all dried pasta is covered. Reference the photo above, or the video below, for an example. If your pasta is not covered (which can happen with different brands of noodles or baking dishes) add in a bit more water until it is.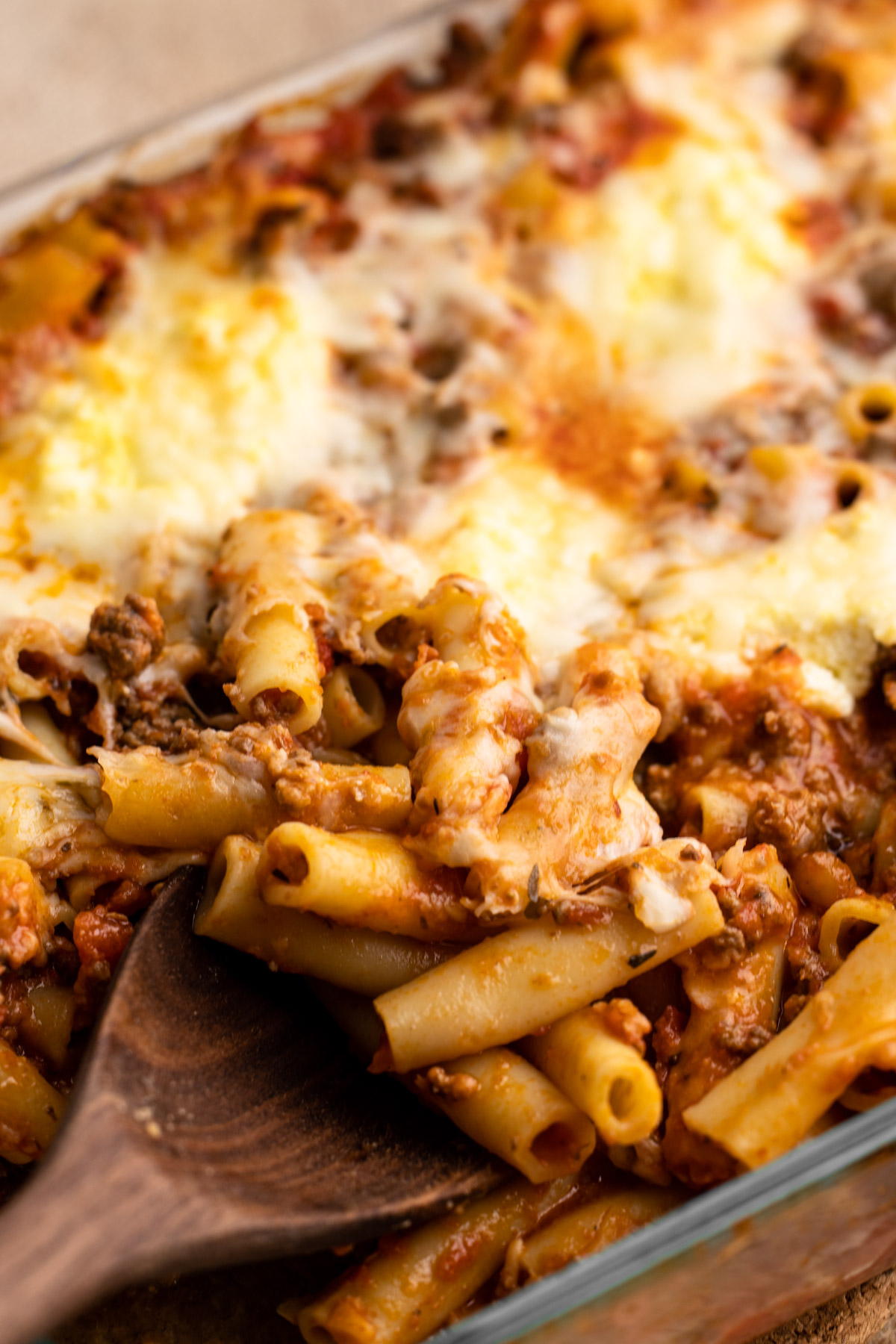 Serving this No Boil Baked Ziti
Like all Baked Ziti, this dish is delicious straight from the oven. But, it does need about 10 minutes to slightly cool down and absorb a bit more of the liquid before serving.
This dish also reheats and freezes well! Whether frozen or not, reheating it will make for a slightly more cooked noodle just because it's being heated again.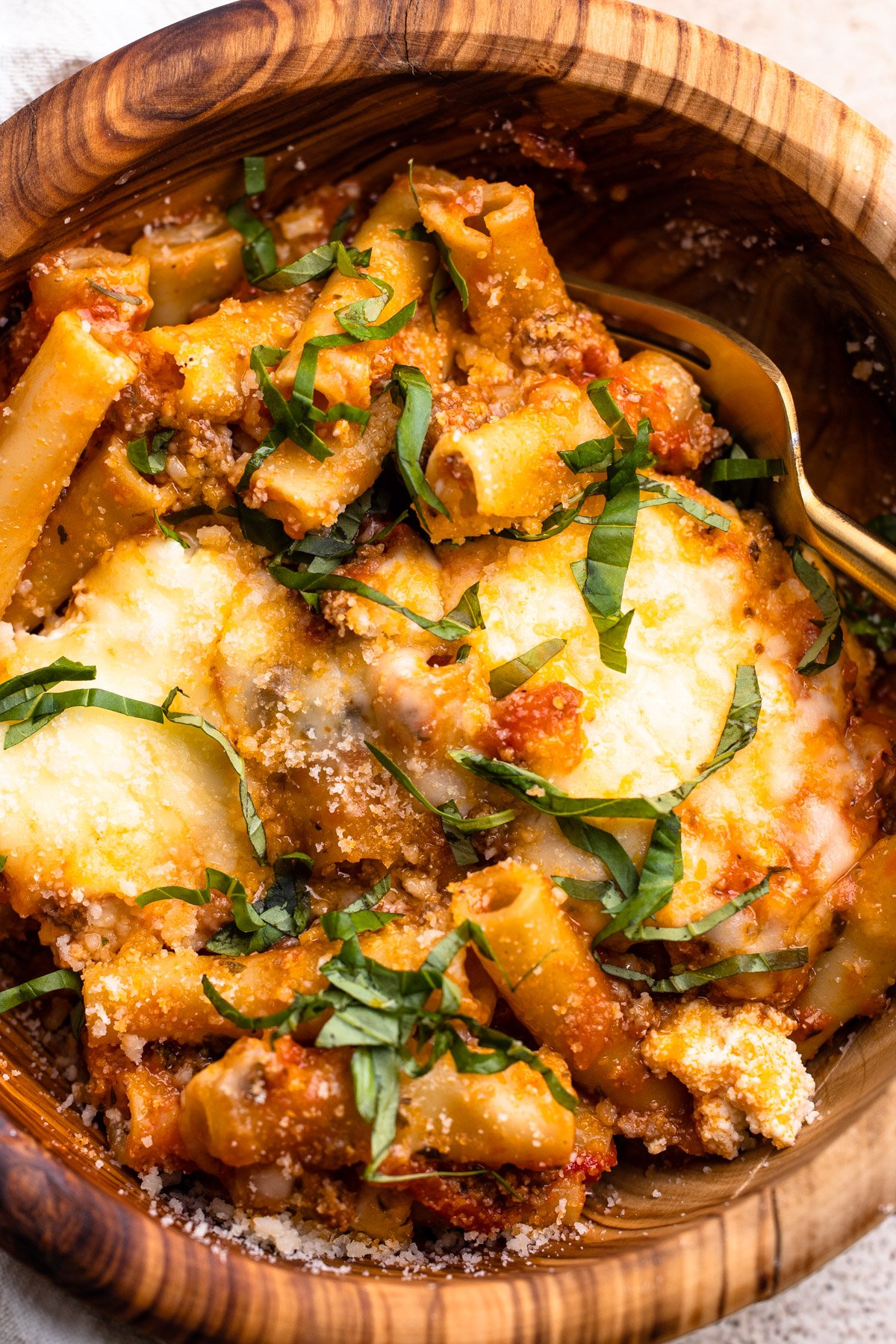 Storing Leftovers
To store leftovers, let the baked pasta cool completely. Transfer to an airtight container and store in the refrigerator. It's best used within 1-3 days.
To freeze, place completely chilled pasta in a freezer-safe container with a tight-fitting lid. It's best to use within 1-2 months after freezing.
To reheat, you can heat it in an oven-safe container in the oven or toaster oven. I love using Glass Pyrex Containers because they double as storage and baking dishes. Or, you can reheat briefly in the microwave until warmed through. It's best to add a few tablespoons of water to the dish when reheating it.
To reheat from frozen it should be defrosted in the refrigerator overnight before reheating.
Watch It: How to Make a No-Boil Baked Ziti
More Pasta Recipes
Making the recipe? Be sure to leave a comment with a star review on your experience! Have a question? Leave a comment below and I'll get back to you as quickly as I can!
Print
Full Recipe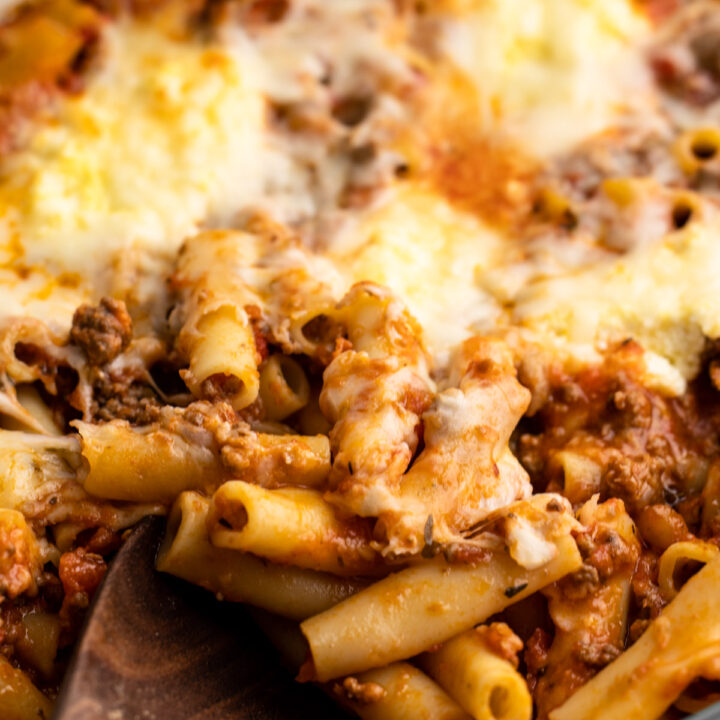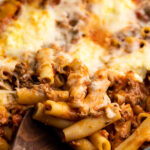 No Boil Baked Ziti
Author:

Kelli Avila

Prep Time:

00:08

Cook Time:

00:50

Total Time:

58 minutes

Yield:

Serves

6

-8

1

x

Category:

Dinner

Method:

Bake
---
Description
This No Boil Baked Ziti has a classic taste, with marinara, ground beef and three types of cheese all baked up together, but with a streamlined process that'll make getting this beloved pasta dish on the table fast.
---
1

cup

ricotta cheese

¾

cup

grated parmesan cheese, divided

1

egg

1

lb

. ground beef, ground turkey or ground sausage, cooked (see notes)

1

lb

. ziti

1

(32 ounce) jar of marinara sauce (or

3

-

½

cups homemade)

2

-

½

to 3 cups water or chicken broth (see note)
Pinch of salt

1 tablespoon

Italian seasoning

2

cups

mozzarella cheese, divided
---
Instructions
Preheat the oven to 400ºF.
Add the ricotta, ½ cup of parmesan, and the egg to a small bowl and whisk together until well combined.
Place a 9x13 baking pan on a rimmed baking sheet. Add the cooked ground beef, uncooked ziti, marinara, 2-½ cups water, pinch of salt, Italian seasoning and 1 cup of shredded mozzarella to the baking pan. Mix until well combined. Make sure most of the pasta is submerged. If not, add up to ½ cup more water until it is.
Dollop heaping tablespoons of the ricotta mixture into the ziti ingredients. Sprinkle the remaining ¼ cup parmesan on top.
Cover the baking dish tightly with aluminum foil, and transfer the rimmed baking sheet and baking pan to the oven.
Bake for 40 minutes.
Remove the foil from the pan, sprinkle the remaining 1 cup of shredded mozzarella on top of the pasta dish and return to the oven to bake for 10 more minutes, or until the cheese is melted as desired.
Let cool for 10 minutes before serving. The sauce will thicken up during this time. Serve with additional parmesan cheese if desired.
---
Notes
Use a good quality store-bought marinara (I love Rao's) or use homemade! Just make sure it's well seasoned.
Baking this in a baking pan on top of a baking sheet is to prevent anything from bubbling over and scorching the bottom of your oven. While nothing ever bubbled over during the testing phase, it's better to be safe than sorry with baked pasta dishes!
Depending on the type of pan you use, and the type of pasta, you may not need all 3 cups of added water/chicken broth. Start with 2-½ cups, and after everything is mixed together, see if all the pasta is submerged (a few pieces barely sticking out is ok). If needed, add more water to ensure the pasta is submerged, up to 3 cups total.
Keywords: No Boil Baked Ziti