These Salted Potatoes are a unique twist on the starchy side dish staple. This salt-crusted potato (also known as Papa Salada) hail from Colombia, and are a perfect complement with grilled meats and seafood.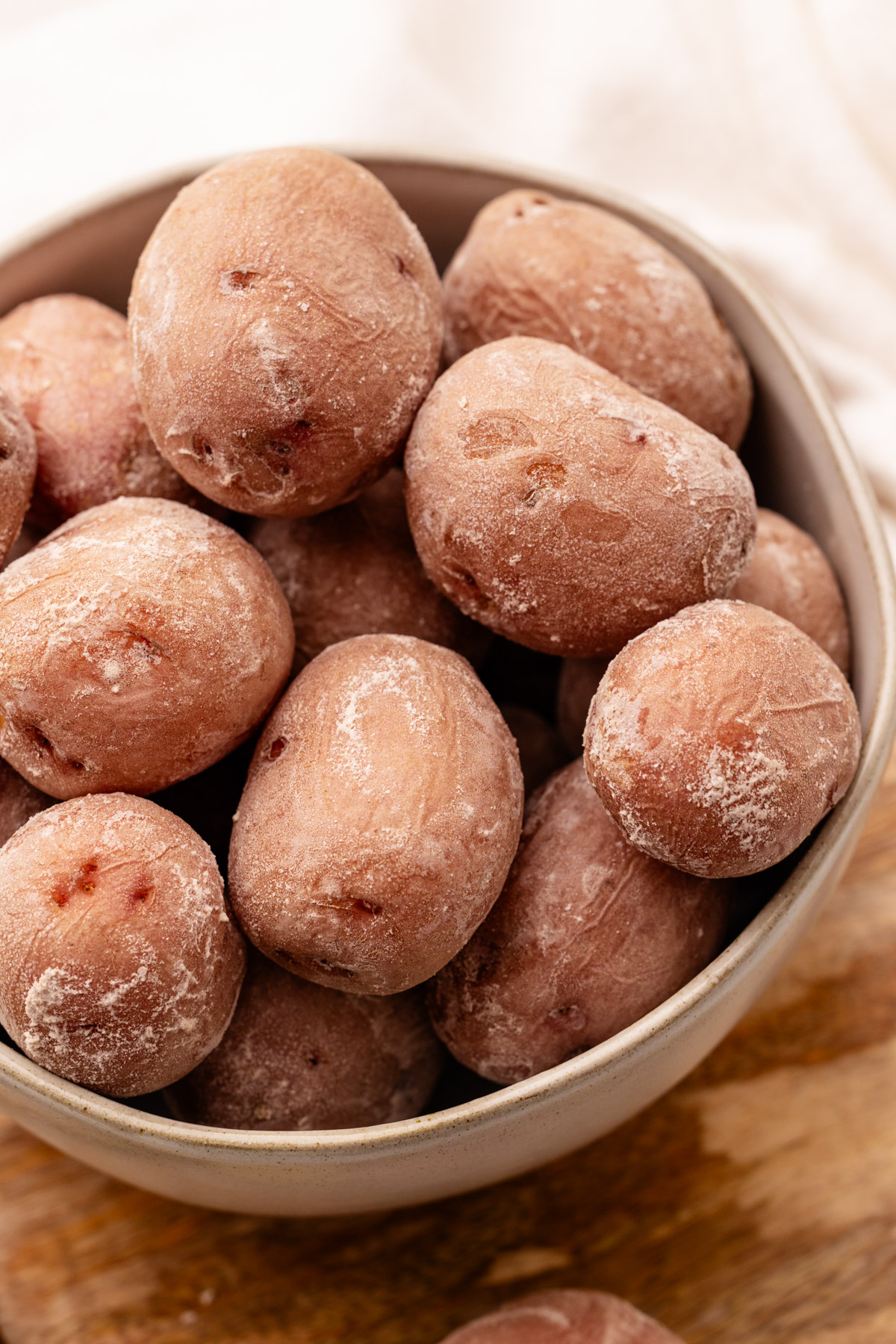 Papa Salada, which translates to Salted Potatoes in English, is a popular Colombian side dish my husband first introduced me to at a cookout we hosted. I was hooked from the first bite. Now, these Salted Potatoes make frequent appearances on our cookout menu, with a variety of salsas and all the grilled meats.
Making Papa Salada is a little bit magical. The potatoes are cooked in salted water, until it all evaporates, leaving the exposed salt crystals clinging to the skins of the potatoes. Through the process of osmosis, some of the moisture is drawn out, resulting in a more concentrated, starchy flavor. Additionally, the skin of the potato becomes thinner and crispier, giving it a satisfying "snap" when bitten into.
It is an absolute must to serve Papa Salada with some sort of dipping sauce, and in our house, it has to be Ají Colombiano (fresh tomato jalapeño salsa). It's also common to serve it with salsa rosado (pink sauce), which is a mix of mayo and ketchup with a splash of vinegar.
So let's get to making it! You can jump around the article using the menu below, or you can just head right to the bottom for the complete recipe.
Jump to: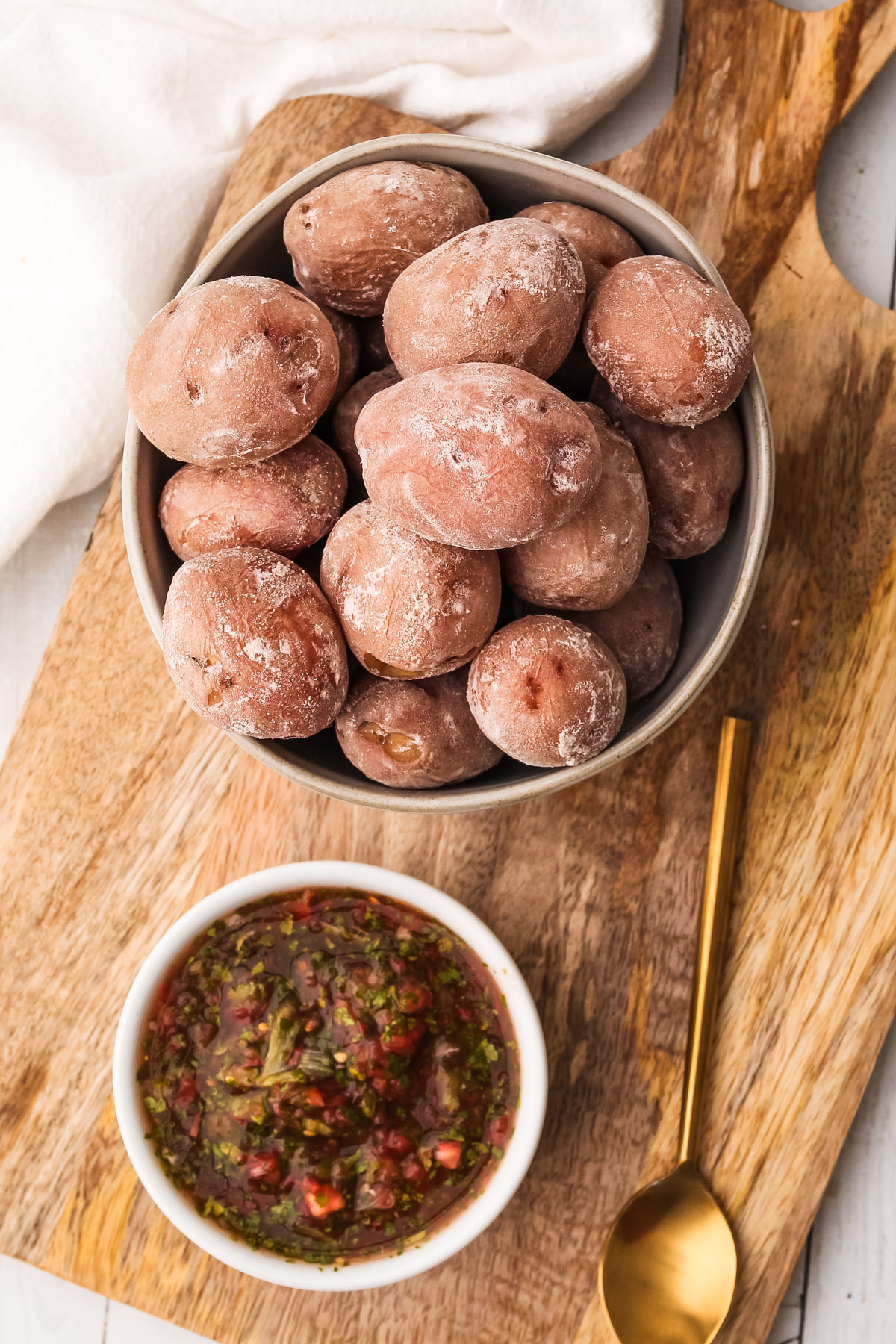 The Two Ingredients Needed for Papa Salada
The name says it all: salted potatoes. And those are the two ingredients needed to make this dish! But let's talk a bit more about the type and quantities of each because it's important.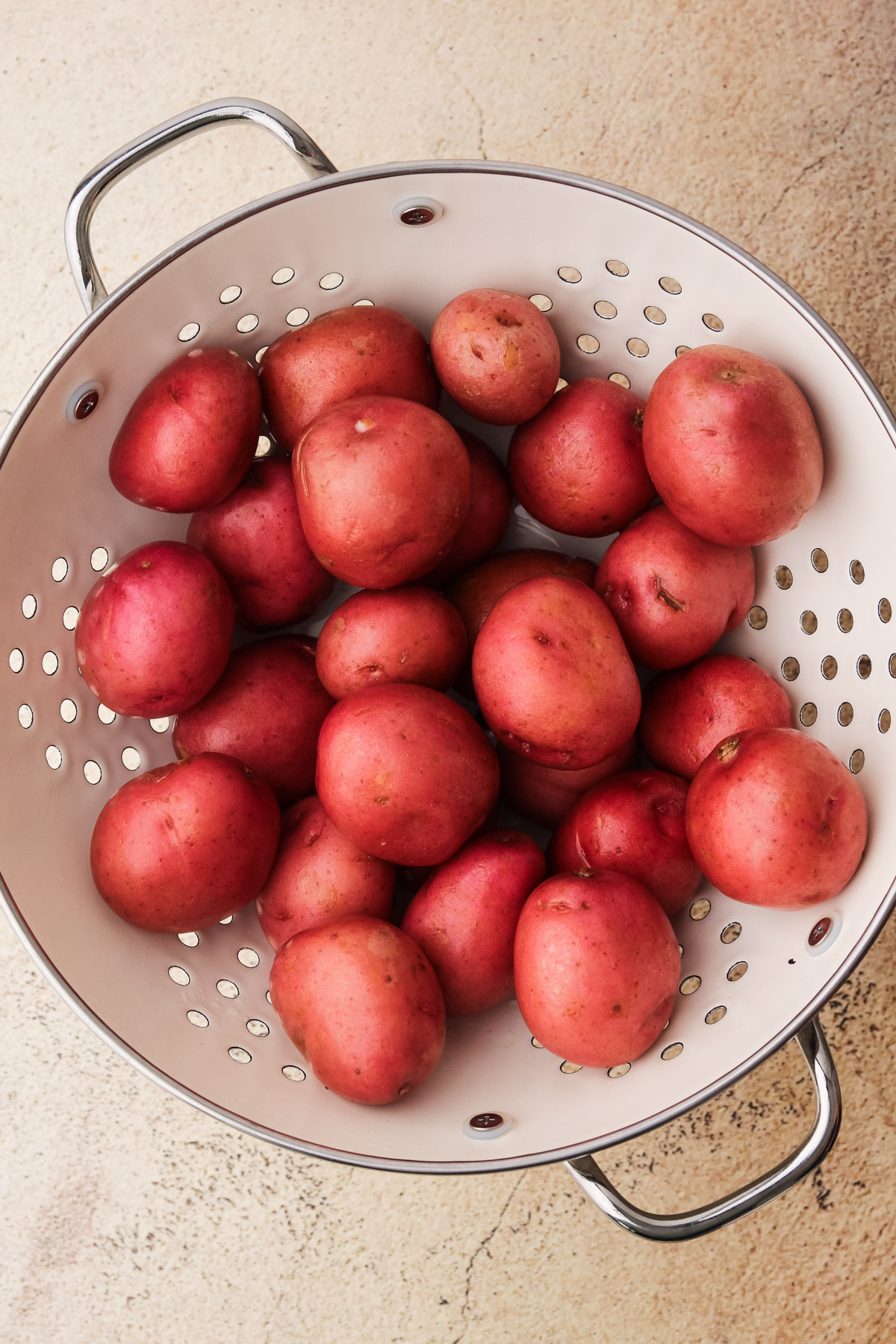 The Potatoes
My husband John tells me that when people make this dish in Bogotá they use a very specific creamy small potato. Unfortunately, it is not available here in the US. As a substitute, we prefer to use small "waxy" or "creamy" potatoes. They are often packaged in 24-ounce bags, which is exactly what this recipe calls for. It's ideal if the potatoes are around the same size, but some variation is okay.
Do not peel the potatoes, but make sure they are scrubbed really well and any growths or "eyes" are removed.
The Salt
I have found that using fine-grain salt, such as fine sea salt (I like to use Redmond's or a pink Himalayan sea salt) works best for this dish. The fine grain distributes better on the potatoes and has a superior mouthfeel.
When I was creating this recipe, I experimented with the amount of salt to add. My Colombian in-laws don't measure the salt when making this dish, but I discovered that my Papa Salada turned out better when I measured the salt. Sometimes I added too much salt, making the dish too salty to eat. Therefore, I suggest adding 2 teaspoons of salt per 24 ounces of potatoes. However, it's important to note that the salinity of different types of salt can vary. Two teaspoons of fine sea salt equals about 13 grams. If you use kosher salt, like Diamond Crystal salt, you'll notice that 2 teaspoons weigh less than 13 grams. So, if you use a different type of salt, I recommend weighing it to 13 grams for the best outcome.
How to Make Papa Salada
This is a quick overview of the steps needed to make this recipe. If you are looking for the full recipe, keep scrolling!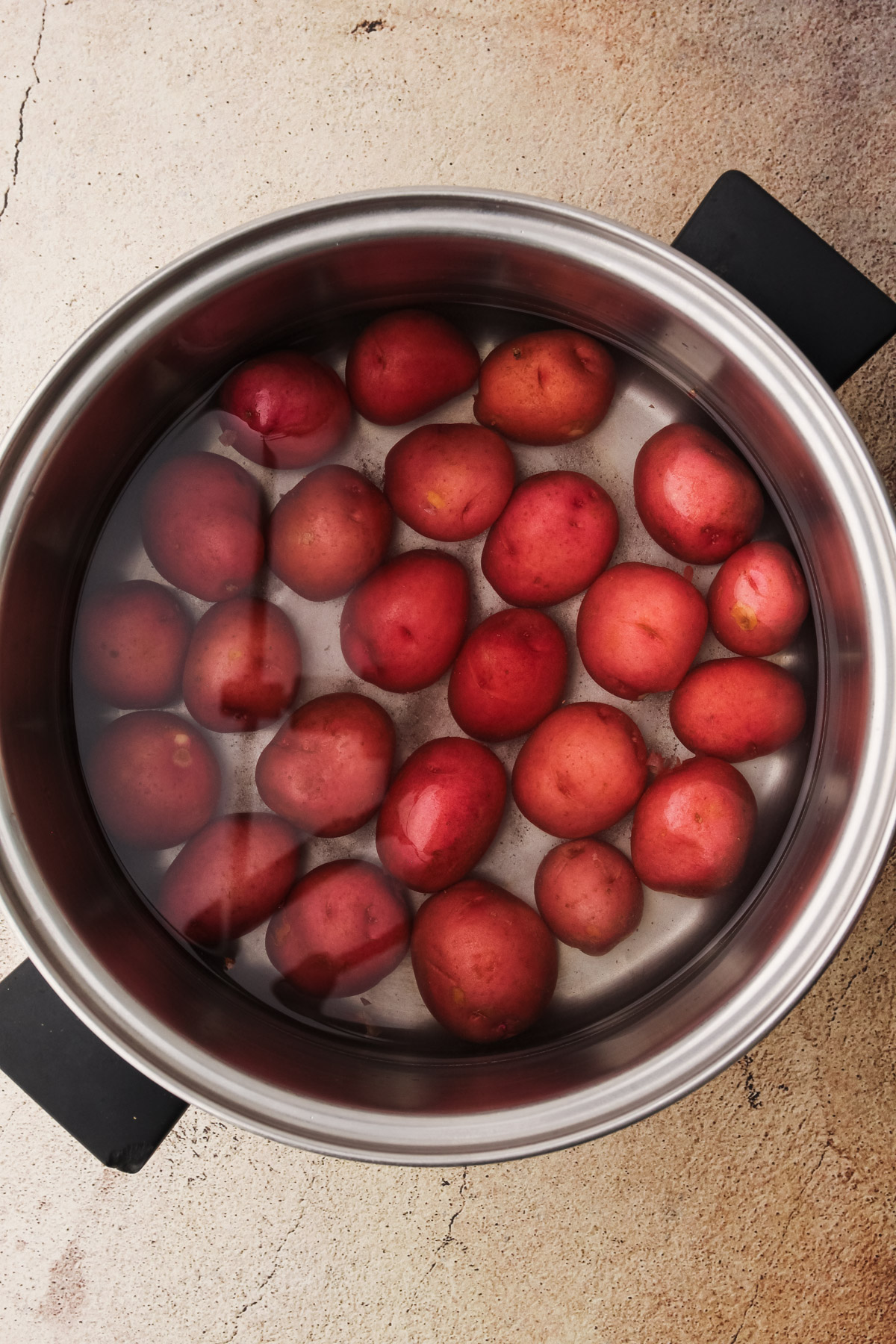 Step 1: Add the salt, potatoes, and enough water to cover by 1".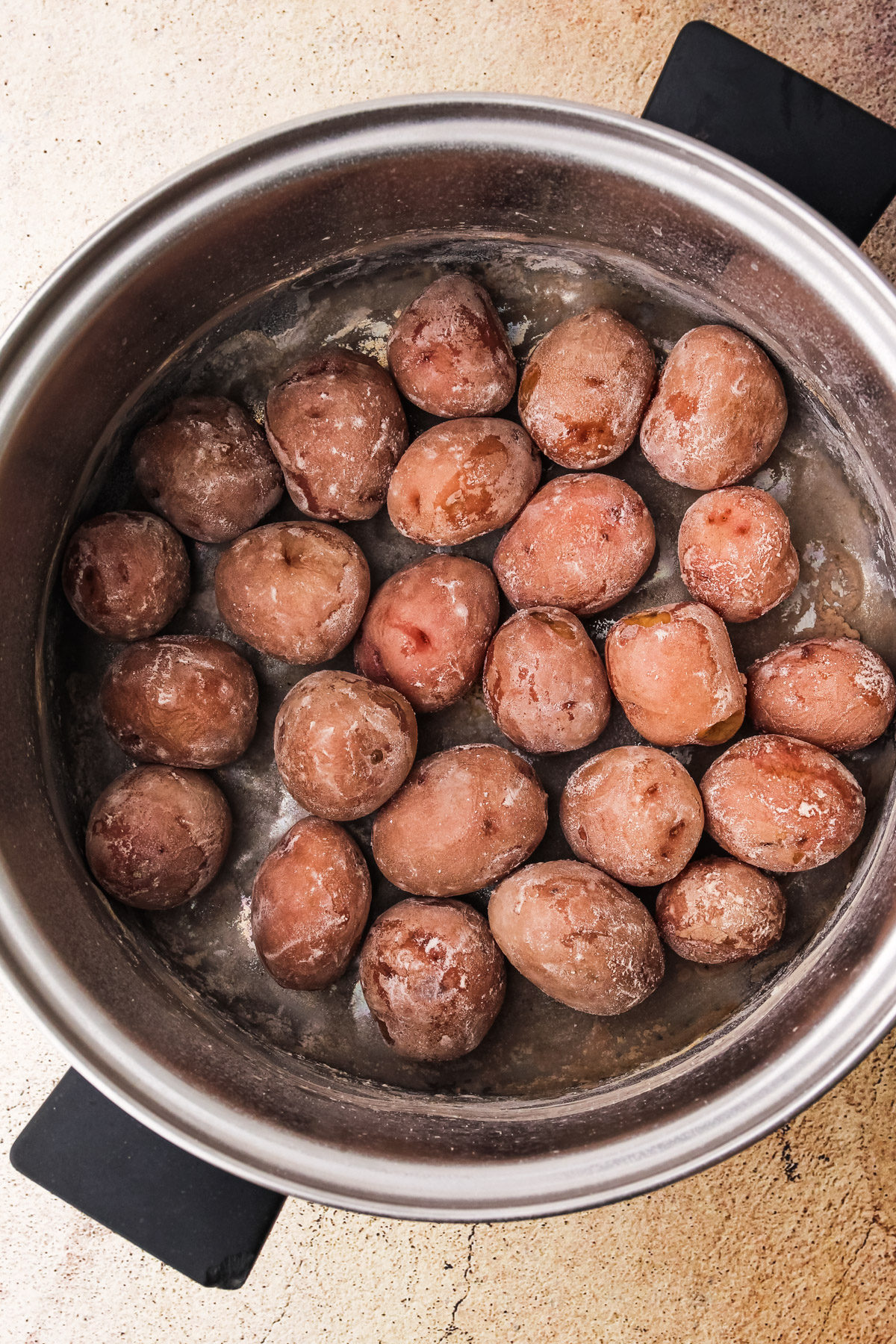 Step 2: Cook the potatoes at a boil until all the water has evaporated.
This recipe really is as simple as cook until all the water is evaporated. But the amount of time that it takes will vary depending on a lot of factors, such as the type of pan you use. So keep a close eye on the potatoes as they are cooking to ensure they don't continue to cook after all the water has evaporated, aka burn.
This dish usually takes about 30 minutes for me to cook, but I keep my ears open when I'm cooking it if I'm not close by because the pan starts to sizzle when the water is close to being evaporated.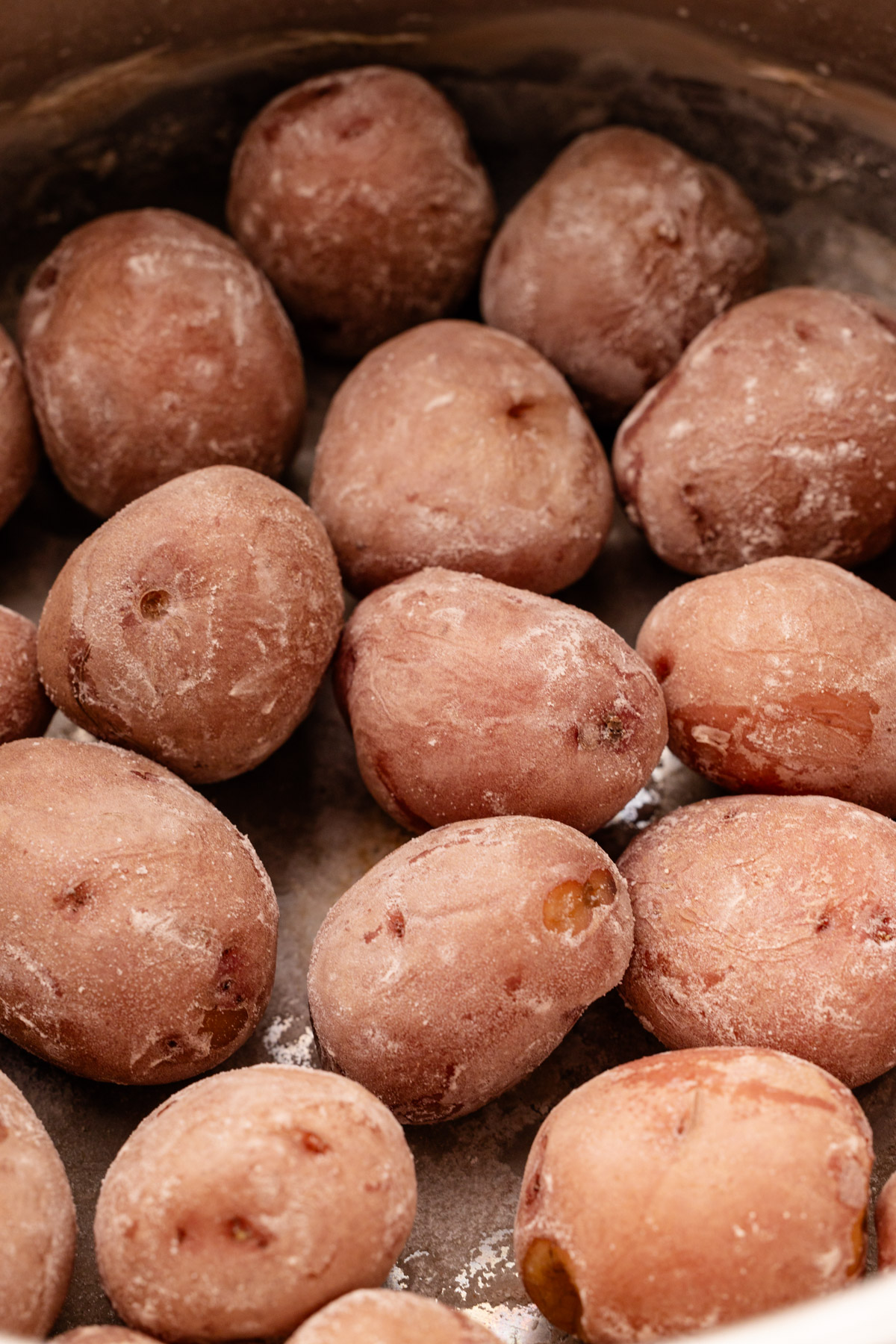 Kelli's Best Tips
This may be a simple recipe, but that doesn't mean I haven't screwed it up many times. Follow these tips to avoid my mistakes!
If possible, make only one layer of potatoes when cooking this dish. This ensures that all the potatoes are cooked evenly and consistently. The size of your pot will determine if this is possible.
Salt: Use the correct salt (fine sea salt), and weigh it if possible. For me, this dish can be totally ruined if the salinity level tips too high, so I'm always careful about adding just the right amount of salt to the dish.
Don't burn it: I've done this far too many times, and have even ruined one pan because of it. So set a timer and keep your senses open (especially your ears to listen for the evaporation) to shut off the heat right as the water evaporates
Let it rest: My favorite part of this dish is the "snap" the crust of the potatoes gets. This develops after the water has evaporated and the potatoes slightly cool down right in the pot they were cooked in. Allow the crust to develop for 3-5 minutes after the potatoes have been pulled from the heat. Then transfer the potatoes to a serving dish.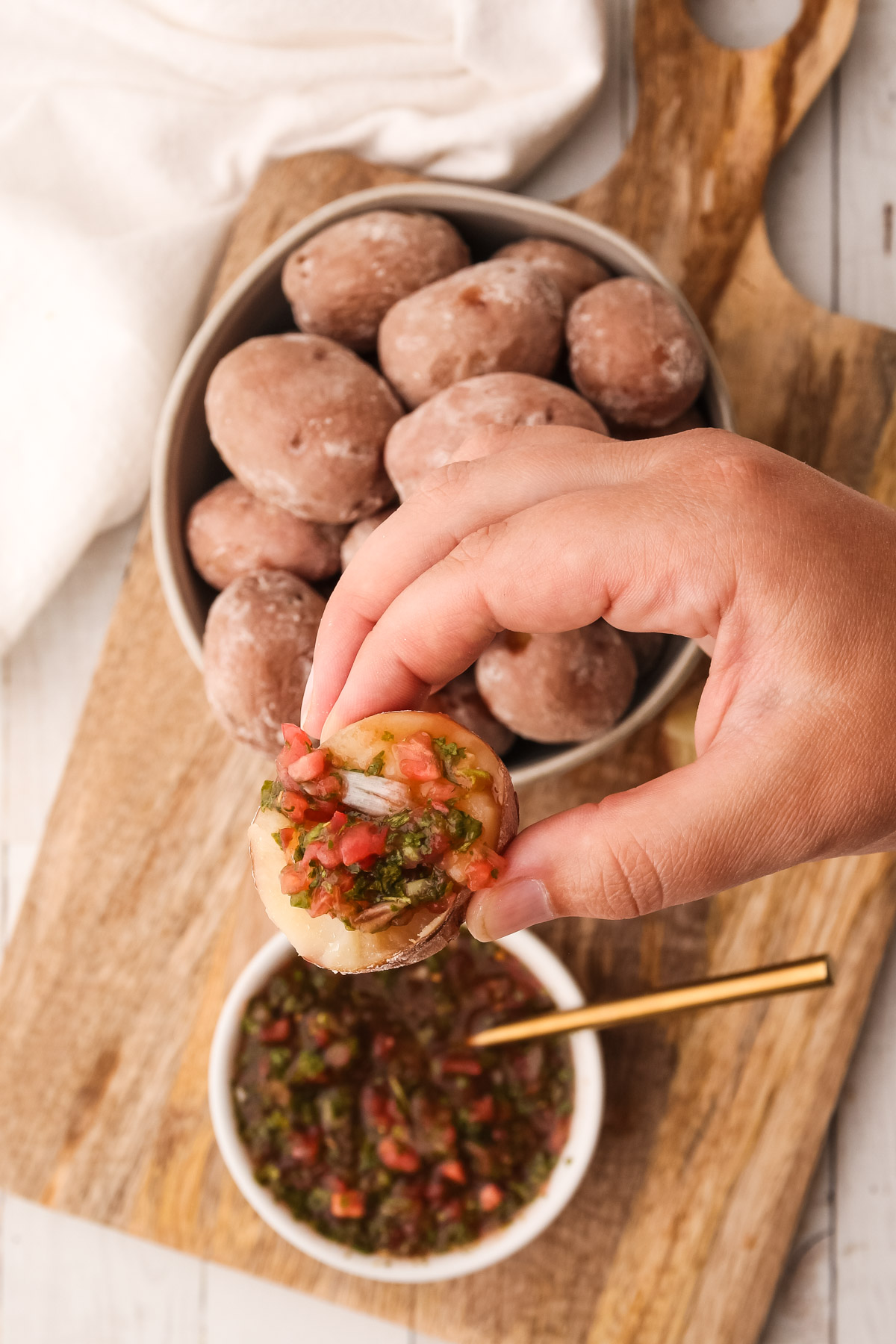 Serving and Storing
Serve these potatoes immediately after they've "rested", while still hot. They will not keep.
These salted potatoes are perfect to serve with grilled meats. The starchy potatoes help balance out the umami in the grilled meats, and the accompanying Aji or sauce helps bump up the flavor.
However, if you do have leftover potatoes, store them in an air-tight container. They won't have the salt crust any longer, but we often fry up leftovers for a "french fry" type potato.
More Side Dishes
Making the recipe? Be sure to leave a comment with a star ⭐️ review on your experience! Have a question? Leave a comment below and I'll get back to you as quickly as I can!
Print
Full Recipe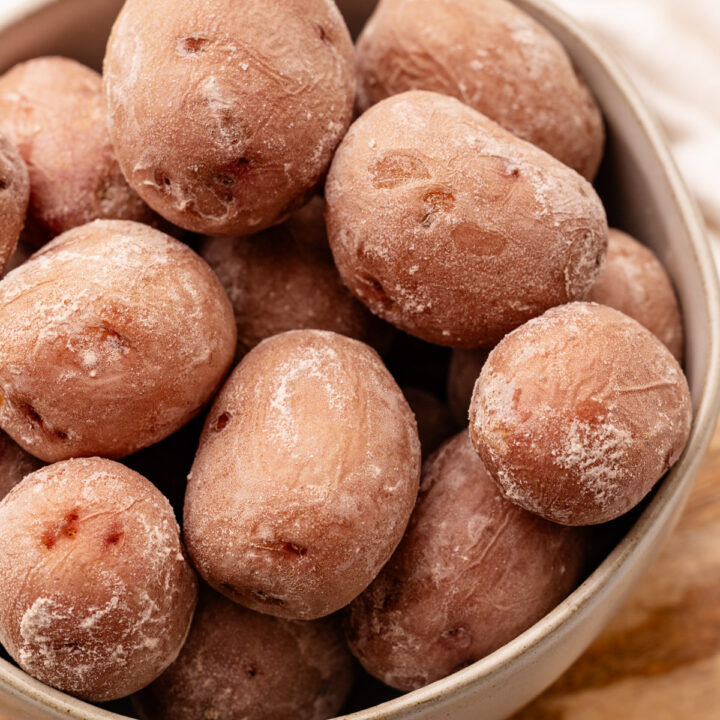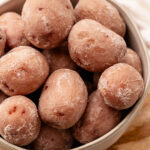 Salted Potatoes (Papa Salada)
Author:

Kelli Avila

Prep Time:

00:05

Cook Time:

00:30

Total Time:

35 minutes

Yield:

Serves

4

-6

1

x

Category:

Side Dish

Method:

Stovetop

Cuisine:

Colombian-American
---
Description
These Salted Potatoes are a unique twist on the starch staple. This salt-crusted potato (also known as Papa Salada) hail from Colombia, and are a perfect side dish to serve with grilled meats and seafood.
---
24

ounces

small waxy potatoes (see note)

2 teaspoons

(

13 grams

) fine sea salt
Water, to cover
---
Instructions
Scrub the potatoes clean then add them to a large stock pot.
Add enough water to cover the potatoes by 1 inch.
Add in the salt, and stir to combine.
Turn the heat to medium-high and bring the potatoes to a boil. Continue cooking until nearly all of the water evaporates. Watch closely so they don't burn. Towards the end of the evaporation, the pan will start to sizzle. Shake the pot once or twice to ensure they don't burn.
Remove the pan from the heat once all the water has evaporated, and let the potatoes sit to dry out for 2-3 minutes.
Shake the pot to distribute the salt evenly.
Serve the potatoes immediately with Aji.
---
Notes
Use the small "waxy" or "creamy" potatoes that are often found packaged in 24-ounce bags. Yellow or red is fine! They are sometimes labeled creamer potatoes.
If you are using a salt other than fine sea salt, it is a good idea to weigh it to ensure it is 13 grams. Types of salt crystals (like sea salt vs. kosher salt) have different weights and salinity levels.
Serve these potatoes immediately, while still warm.
Store leftover potatoes in an airtight container. They won't have the salt crust any longer, but we they can be repurposed and fried up to make a crispy fried potato (which is our favorite way to use up leftovers).
Keywords: Salted Potatoes, Papa Salada