Celebrate strawberry season with these Buttermilk Strawberry Muffins. Assembled in one bowl and quick to make, they are a welcome addition to the breakfast table.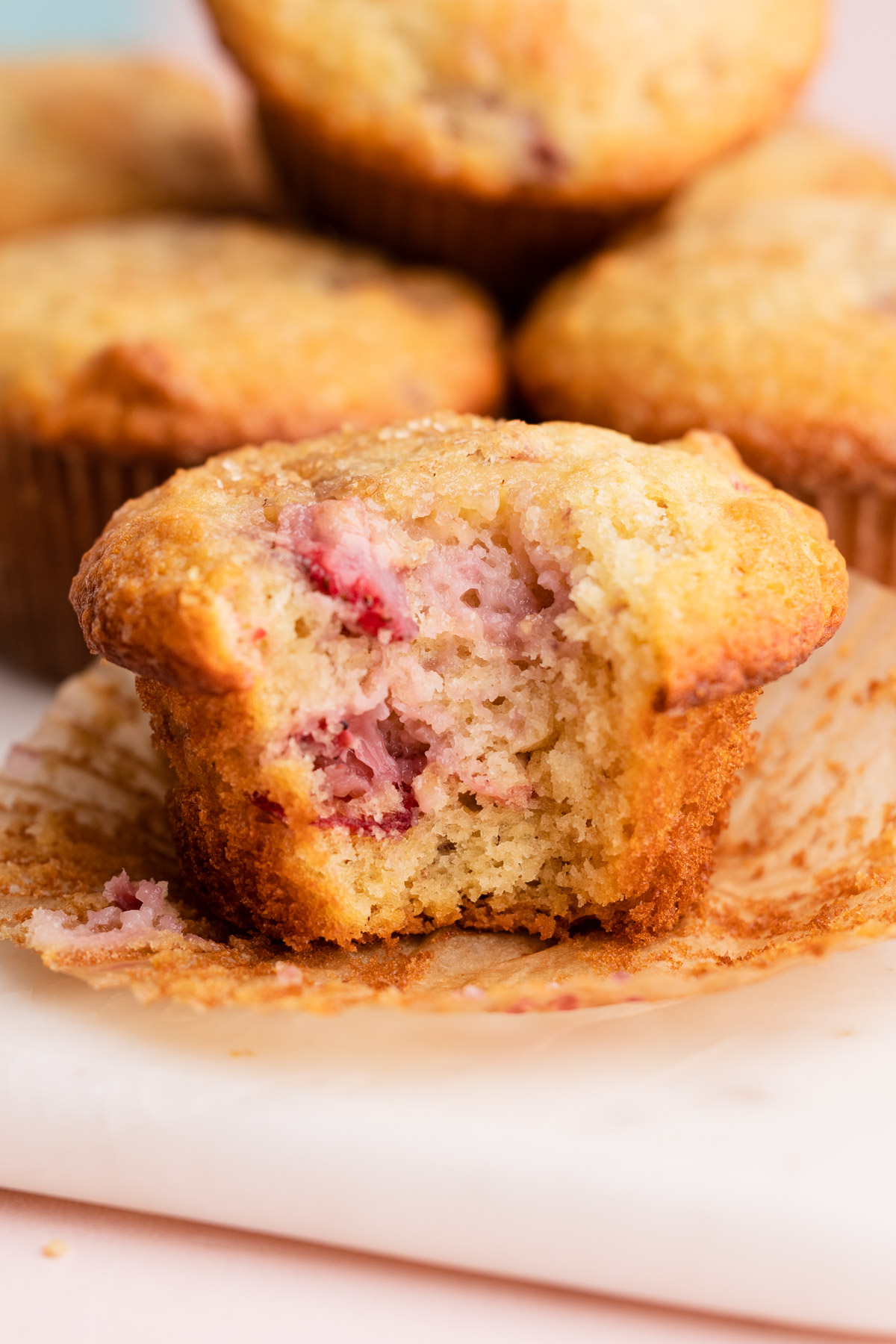 These strawberry muffins are a great way to celebrate spring's arrival of the red berry. The buttermilk adds a wonderful tang to accompany the sweet strawberries (and helps tenderize the muffin too). The muffin calls for both fresh and freeze-dried strawberries (more on that below) to pack a lot of strawberry flavor. You can make it with all white flour, or optionally add in some almond flour for an extra punch of protein to start the morning off right.
These muffins are perfectly sweet, come together in one bowl, and freeze really well.
So let's get to making it! The text below offers some tips for making it, or you can scroll down to the bottom for the complete recipe.
More of a visual learner? Check out the video of me making it (below near the recipe) to see just how it's done!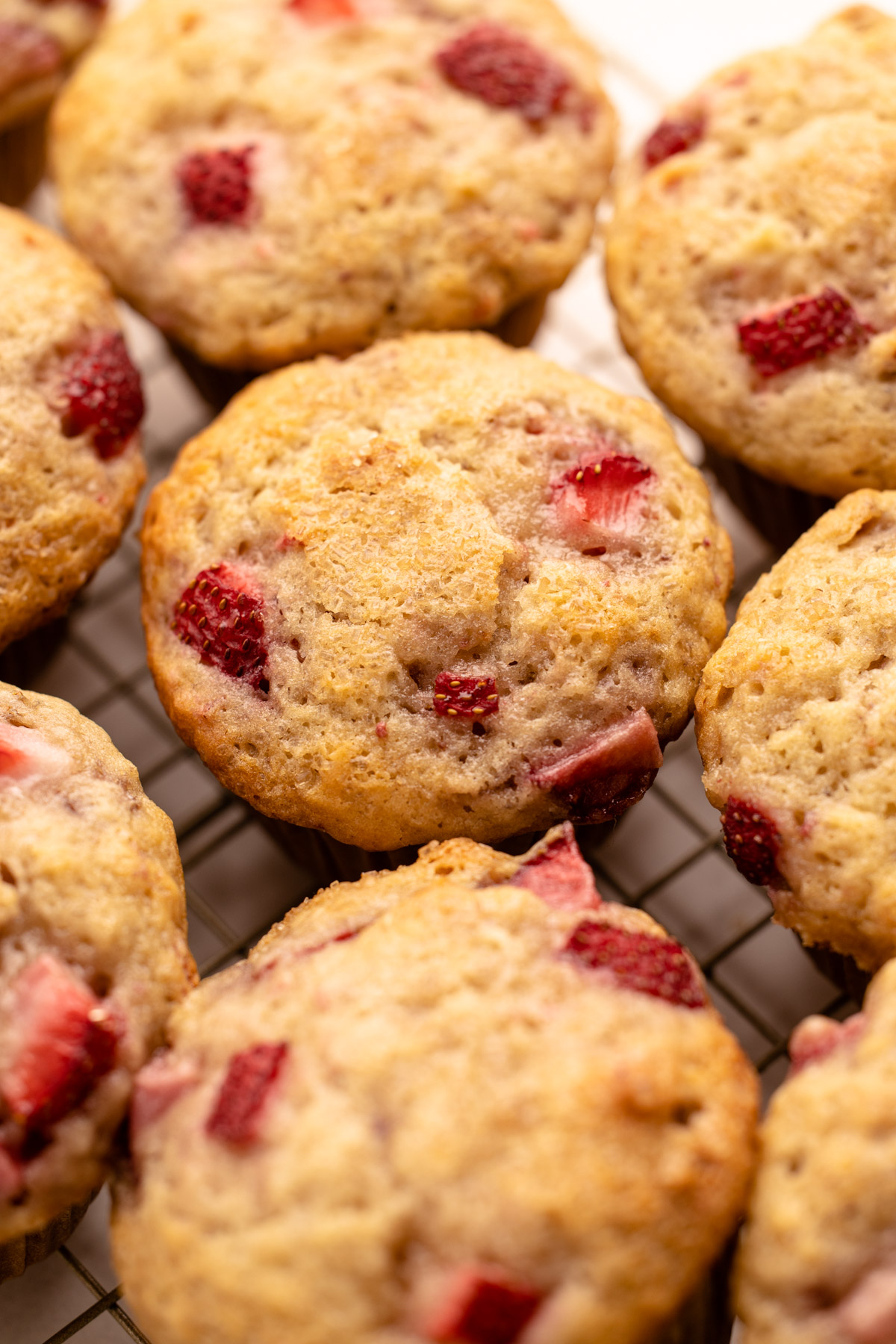 Ingredients Needed and Substitutions
Here is a brief overview of the ingredients needed for this recipe. The full recipe with quantities is listed below this text in the recipe card. If substitutions are available for this recipe, they'll be listed here. If you don't see a substitution you are looking for, please leave a comment below.
fresh strawberries (buy the ripest you can find)
freeze-dried strawberries (see more on these below)
buttermilk (if you don't have buttermilk, you could substitute thinned out greek yogurt in equal quantities)
light olive oil (I like to use this in all baking recipes in place of canola oil or vegetable oil since it's healthier but doesn't add any taste to the end result, but you can substitute it with any flavorless oil)
vanilla + almond extract (the almond extract really boosts up the strawberry flavor so I don't recommend you skip it, but if need be, it can be omitted)
all-purpose flour (and optionally you can add in almond flour for an extra punch of protein, see more of this below)
baking powder + baking soda
kosher salt
coarse sugar (this is for sprinkling on top of the muffins before they are baked)
Optional Flours
Muffins are typically served with breakfast (at least in my house), and as a mom, I'm always thinking of ways to bulk up their first meal of the day with foods that will fuel them until the next meal. While this recipe calls for all-purpose flour, there is some room in the recipe to add in more nutrient-dense flours in place of some of the white flour.
Typically I take out ½ cup (or 60 grams) of the white flour and replace it with ½ cup of almond flour. This adds additional protein and healthy fats.
Or you could swap out up to 1 cup of all-purpose flour for 1 cup of whole wheat flour or spelt flour to add additional fiber!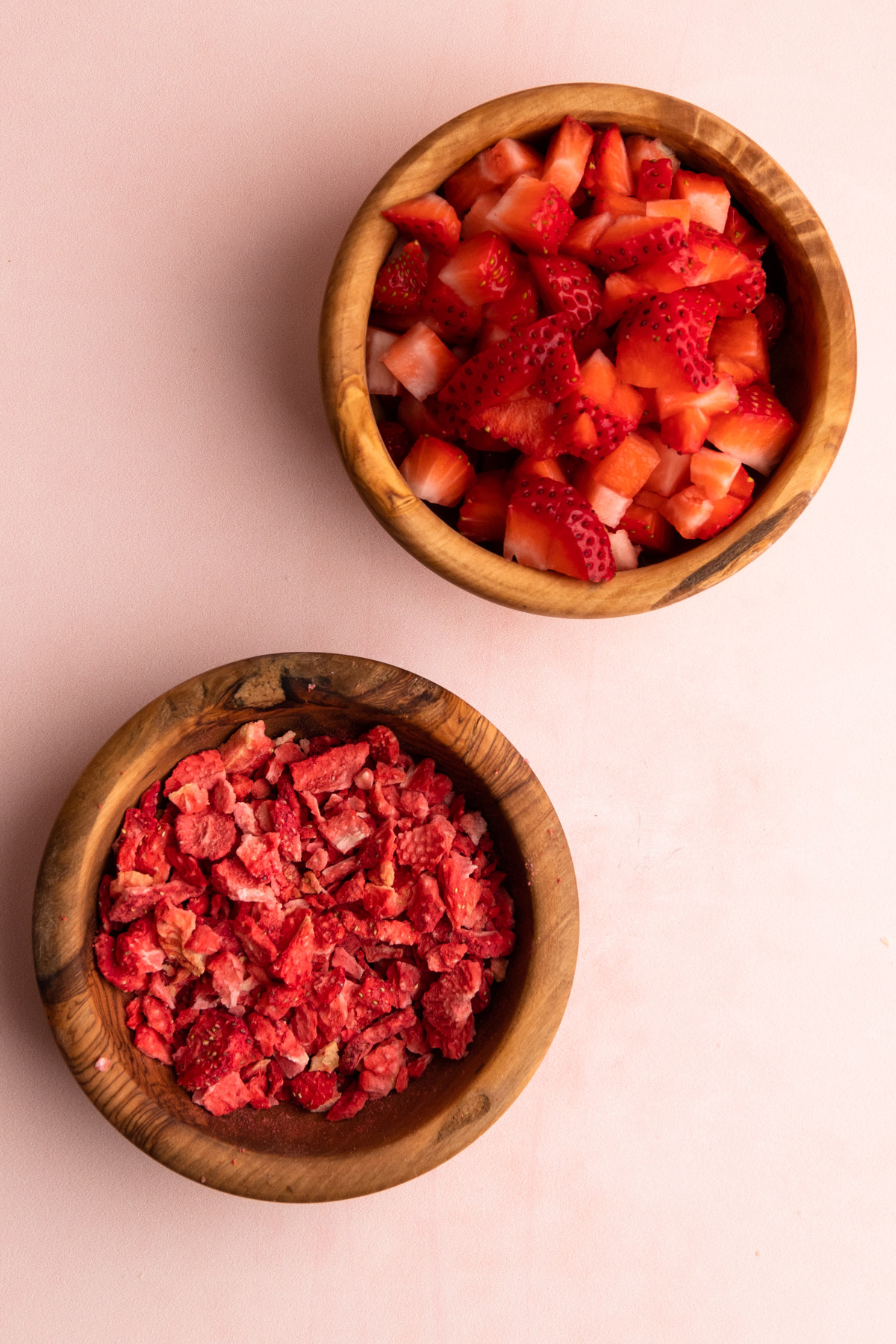 Why Two Types of Strawberries are Used
The recipe calls for both freeze-dried strawberries and fresh strawberries. They are both essential for getting the best flavor and texture in these muffins.
Freeze-dried fruit is amazing because it adds flavor without adding moisture to a recipe. This is key in these strawberry muffins to get the maximum strawberry flavor without making the muffins too soggy.
I'm assuming that you'll be using ripe, juicy, and flavorful strawberries which will have the most delicious impact. But if you aren't (because sometimes we get an off bunch) then the flavor from the freeze-dried strawberries will ensure you still get a delicious strawberry flavor in the muffins.
See my point here? Two types of strawberries are better than one.
Never bought freeze-dried strawberries before?
Freeze-dried strawberries can be commonly found in most grocery stores. They are typically found near other dried fruit or nuts. I buy mine from Whole Foods or Trader Joe's.
You can also buy freeze-dried strawberries online.
How to Use the Them in this Recipe
The recipe calls for the freeze-dried strawberries to be crushed. You can easily do this by squeezing them while they're in the bag. I don't recommend using a food processor or food chopper, because you don't want the strawberries to turn into a powder. If it does turn into a powder, it will change the colors of the muffins. It's not the end of the world, but not the intention of this recipe.
How to Make it a One-Bowl Muffin Recipe
Many quick bread and muffin recipes can easily be made using only one bowl. The trick is to add the dry ingredients that need to be evenly distributed (we are talking about the baking soda and baking powder) in with the wet ingredients, and then, after they are all mixed thoroughly together, add in the flour.
And as always, once you add your flour into the wet ingredients, do not over mix it. Overmixing will result in gluten build-up, resulting in a tough muffin. For this recipe I don't fully mix the flour together before adding the strawberries, to ensure a tender crumb.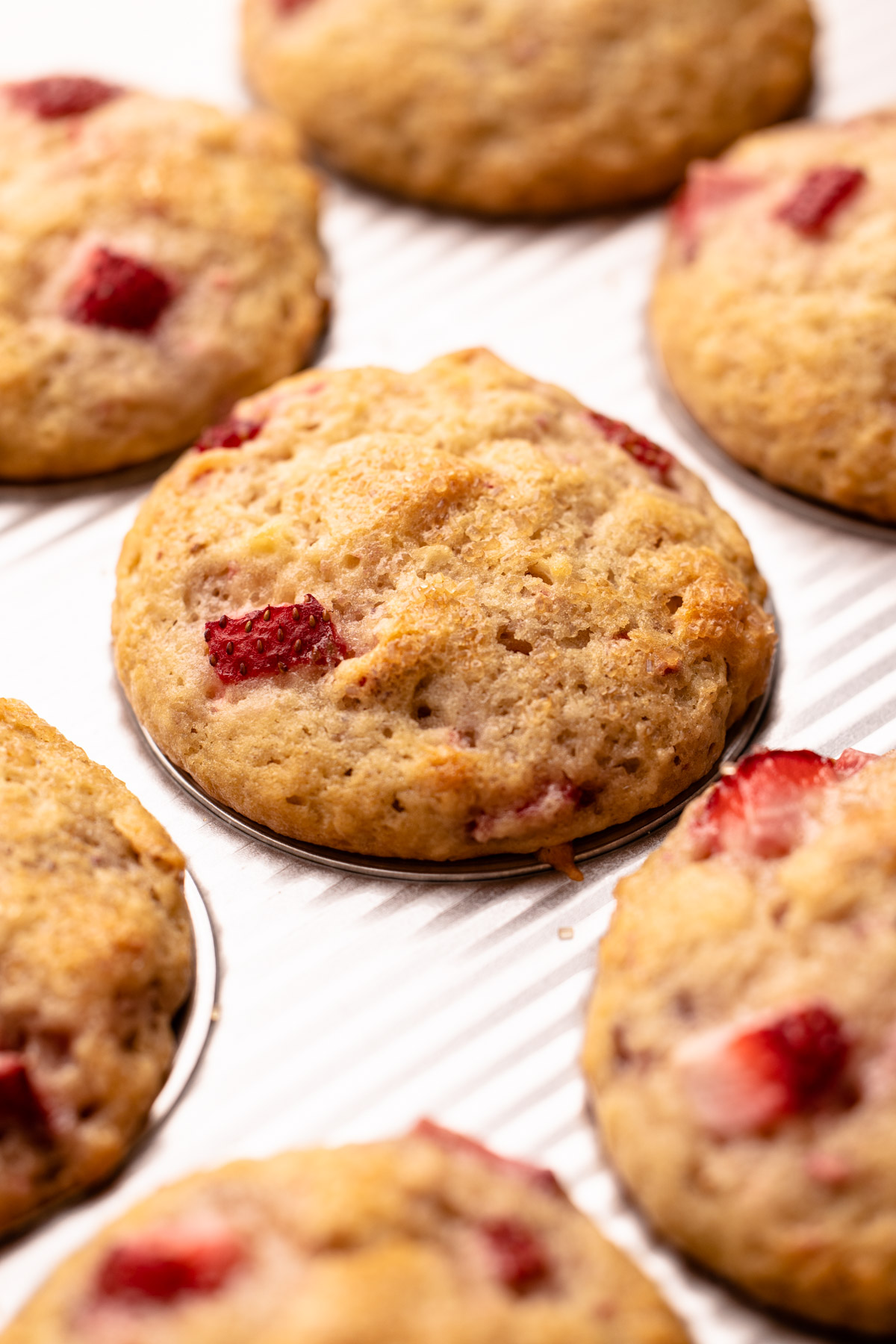 Tips for Making Big, Tall Strawberry Muffins
We are all after super tall fluffy muffins like the ones we see in a bakery, right?
Well for years I've been trying to develop a recipe that does this, but it never came out quite as tall as I wanted, no matter what type of muffin I was trying to make. I had heard that some bakeries space out their muffins when they bake, which I had never done in any of the bakeries I've worked at, so I was a bit skeptical. Then I saw my friend Sam, from Buttermilk by Sam do it with her muffins, so I thought I'd give it a shot. I'm so glad I did because it really does make a difference!
But, it's also an extra annoyance when it comes to baking to have to deal with two muffin tins. So I'll completely leave it up to you. If you want extra tall muffins, use two 12 cup muffins tins, and space out the muffins (see the photo above for a visual explanation)
But let's take it one more step further. For truly extra tall muffins, overfill the muffin tins, with a heaping ¼ cup of batter. Because if you want your muffins to be extra tall, they're going to need more batter! If you do this, you will only have enough batter for 11 muffins. I thought about reworking the recipe then to automatically make extra super tall muffins and still make 12, but after already making this recipe a good 8 or 9 times, I decided to not mess with perfection and leave it at 11 if extra tall muffins are wanted.
Just want regular sized breakfast portion muffins? Fill one 12 cup muffin tin with ¼ scoop of batter and you'll be good to go. And this is what the recipe instructs, with a note about extra big + tall muffins.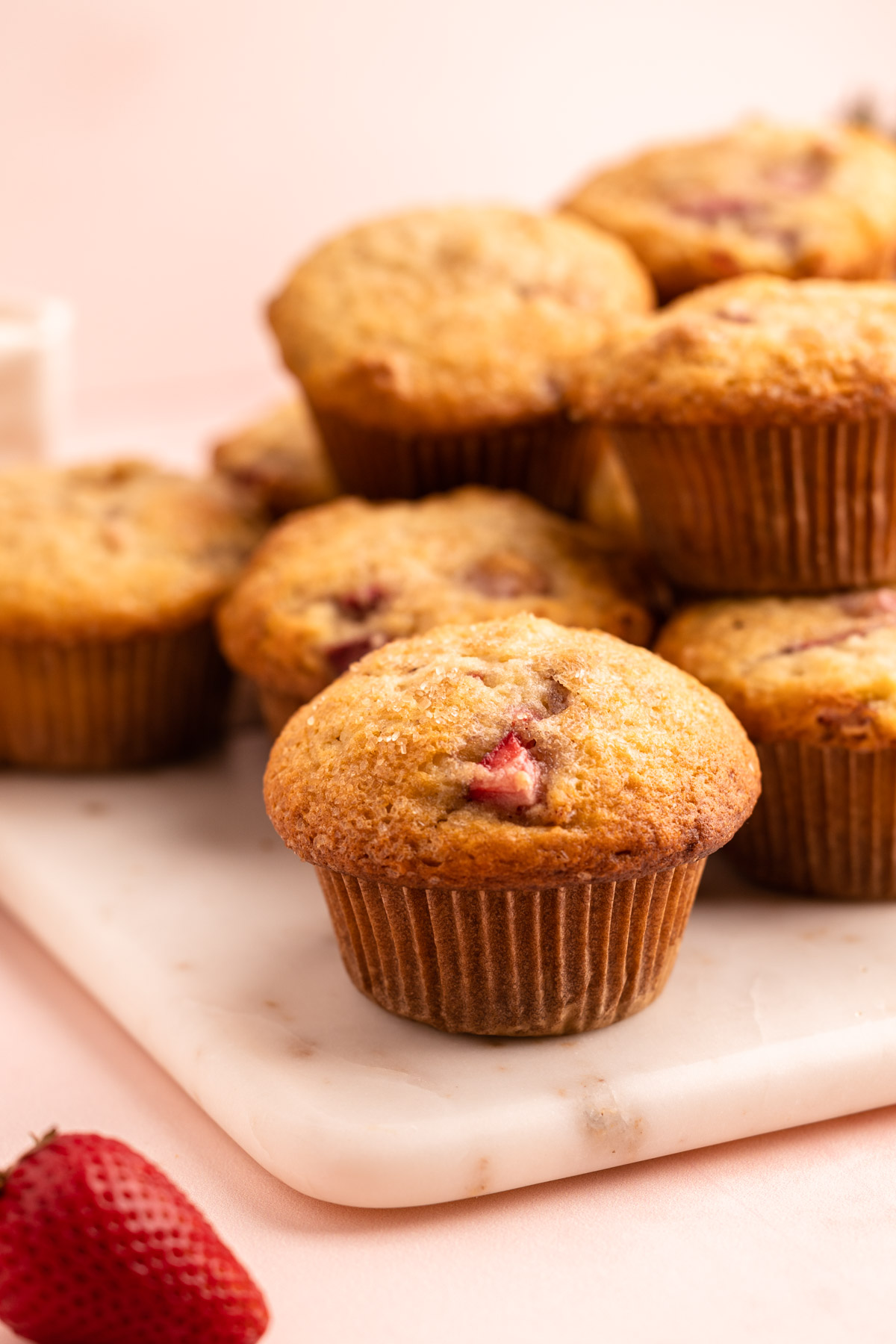 Storing Muffins
These muffins will keep well, covered in an air-tight container for a 1-2 days at room temperature, depending on the temperature in your home. As the days go on, they will become more moist.
They also freeze extremely well, which is the preferred storage method. Store in an airtight container or plastic bag in the freezer for up to 3 months. When ready to eat, let it defrost at room temperature for a few hours.
More Muffin Recipes
Making the recipe? Be sure to leave a comment with a star review on your experience! Have a question? Leave a comment below and I'll get back to you as quickly as I can!
Print
Full Recipe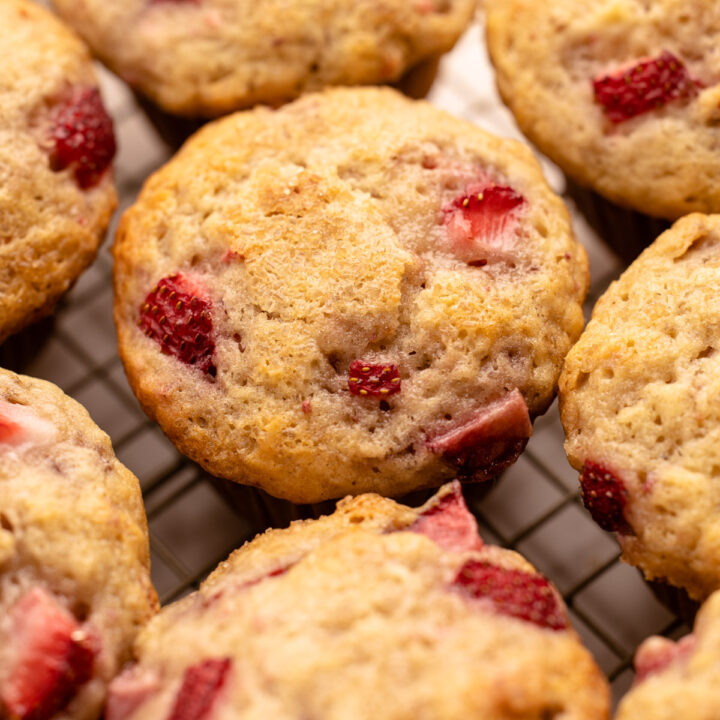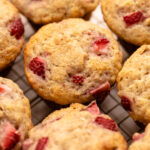 Buttermilk Strawberry Muffins
Author:

Kelli Avila

Prep Time:

00:10

Cook Time:

00:18

Total Time:

28 minutes

Yield:

11

or

12

muffins

1

x

Category:

Breakfast

Method:

Bake
---
Description
Celebrate strawberry season with these Buttermilk Strawberry Muffins. Made in one bowl and quick to make, they are a welcome addition to the breakfast table.
---
⅔

cup

granulated sugar

¼ teaspoon

kosher salt

2 teaspoons

baking powder

1 teaspoon

baking soda

2

eggs

¾

cup

buttermilk

½

cup

light olive oil (or other neutral oil)

1 teaspoon

vanilla extract

½ teaspoon

almond extract

2

-

¼

cups

(270 grams) flour (can sub in 1 cup whole wheat or spelt flour or ½ cup almond flour)

½

cup

crushed freeze dried strawberries (about .5 ounces)

1

cup

(about 5 ounces) finely diced ripe strawberries
Coarse sugar, for sprinkling
---
Instructions
Preheat the oven to 350ºF and place parchment paper liners in a 12 cup muffin tin (see note for extra big and tall muffins)
Add sugar, salt, baking powder, and baking soda to a large bowl and whisk together. Then add the eggs, buttermilk, olive oil, vanilla extract and almond extract to the bowl and whisk together until well combined.
Add in the flour and freeze-dried strawberries and fold together until almost fully combined. Fold in the fresh strawberries.
Scoop ¼ cup batter into each muffin cup.
Sprinkle about 2 teaspoons of coarse sugar on the top of each.
Bake in the preheated oven for 18-20 minutes or until a toothpick inserted in the middle comes out clean.
Let cool slightly before serving.
Notes
Weighing your flour is the most accurate way to measure. If you aren't going to weigh it, make sure to spoon it into the cup, and then level it off. If you scoop the flour out with the measuring cup and then level, it could change the outcome of the final product.
To crush the freeze-dried strawberries either crush them with your hands while they are still in the bag, or roll them with a rolling pin. They shouldn't be a powder, just crumbled.
Want extra big and tall strawberry muffins? Check out the paragraph written above about scooping the muffins with extra batter and spacing them out on two muffin trays.
Keywords: Buttermilk Strawberry Muffins