Tender chunks of beef braise all day with potatoes and carrots in a rich stout broth. This Slow Cooker Irish Beef Stew is perfect for early spring, when the days are still chilly, and is a must-make on St. Patrick's Day.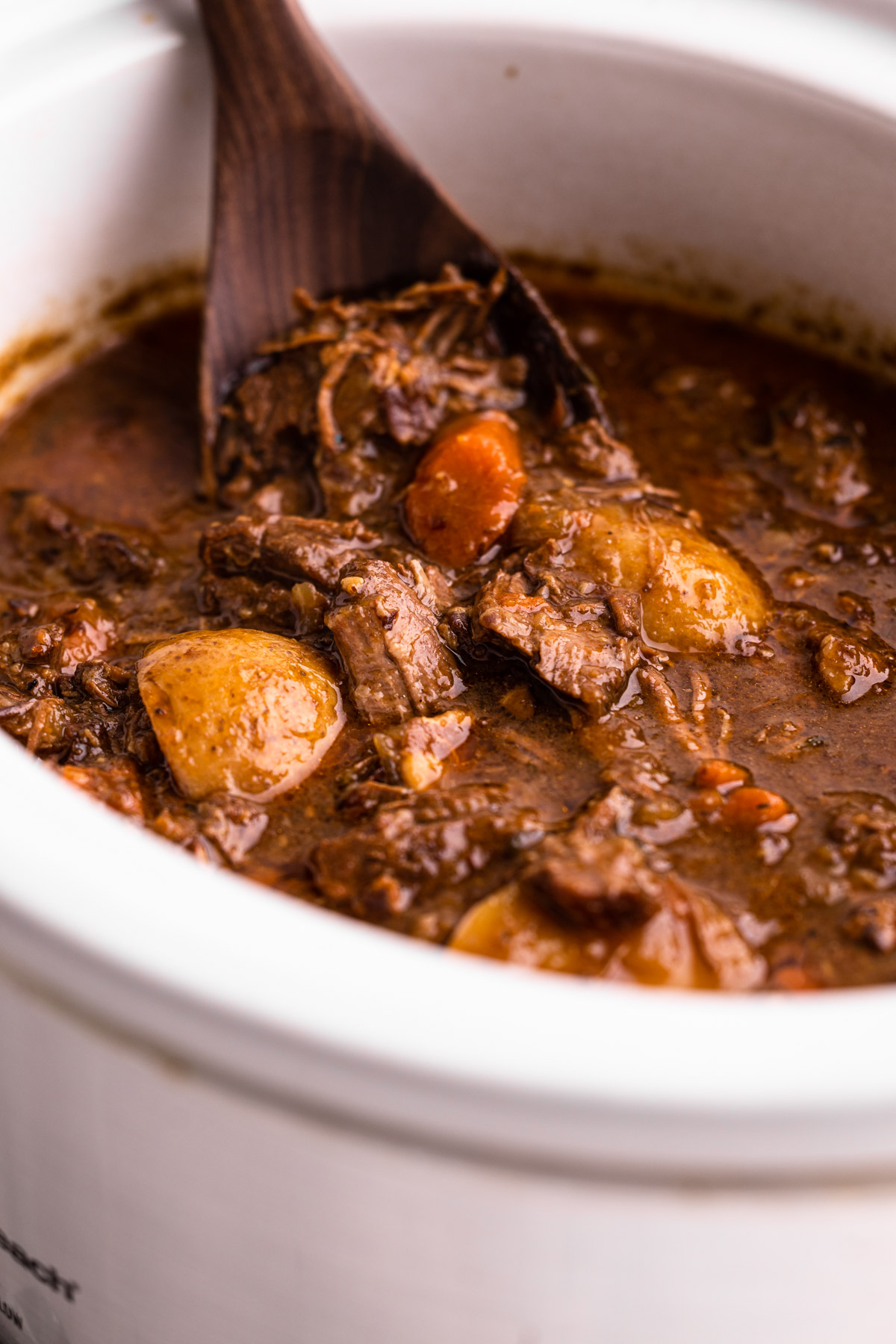 Guinness Beef Stew (Slow Cooker)
A truly hearty dinner, this Guinness Irish Stew showcases stout-braised tender beef in a rich and savory gravy, slowly cooked up all day with potatoes and carrots. Each comforting bite will warm you from the inside out.
This stew is perfect for St. Patrick's Day, or really any day you want a comforting and filling meal.
While this recipe does require the bacon and beef to be browned up first on the stove, once that step is complete, the stew goes into the slow cooker to do it's thing for half the day, resulting in a pretty simple, and full-flavored dinner.
So let's get to making it! The text below offers some tips for making it, or you can scroll down to the bottom for the complete recipe.
Ingredients Needed and Substitutions
Here is a brief overview of the ingredients needed for this recipe. The full recipe with quantities is listed below this text in the recipe card. If substitutions are available for this recipe, they'll be listed here. If you don't see a substitution you are looking for, please leave a comment below.
brisket or boneless chuck roast (see note below for other meat options)
bacon (this can be omitted if need be)
onion + garlic
Irish stout (Guinness is perfect here!)
baby potatoes
carrots
flour
tomato paste
fresh thyme leaves (in a pinch dried thyme can be used)
beef broth
honey (regular sugar or brown sugar can be substituted here)
The Best Cut of Meat for Irish Stew
The best cut of meat for this slow cooker Irish stew is one that can withstand a long cooking time. Generally speaking, this means a tough cut of meat that will tenderize once braised. Here are my top choices in order:
brisket
chuck roast
rump roast
bottom round roast
Overview of Steps
This is an overview of the steps and some explanation behind why the recipe calls for each of them. If you are looking for the full recipe, keep scrolling!
Cook bacon and brown meat.
Sweat down onions and deglaze the pan.
Add all ingredients to the slow cooker.
Cook on low for half of the day.
Why Browning the Meat Matters
I'm sure you've probably heard this a million times, but browning the meat really plays a vital role in the flavor of this dish. So while it may seem tempting to just dump all the ingredients into the slow cooker and skip the step of browning the meat, I must implore you to follow the steps as listed for three reasons.
The first, is that cooking the bacon (obviously) and browning the meat imparts a ton of deep flavor into this dish. As the flour coated meat cooks, the chemical properties of the meat change, and create new flavor chemicals that really make this stew stand out.
Second, the flour that is added to the meat helps thicken the stew. So skipping this step would result in a very thin stew, which I don't recommend.
And finally, the Guinness is added in and cooked initially that way we can ensure all of the alcohol cooks out. If you don't do this, the alcohol might never reach the temperature needed to truly burn out the alcohol in the stew. Which is fine for grown ups, but not so much for the rest of the family (see more on that below).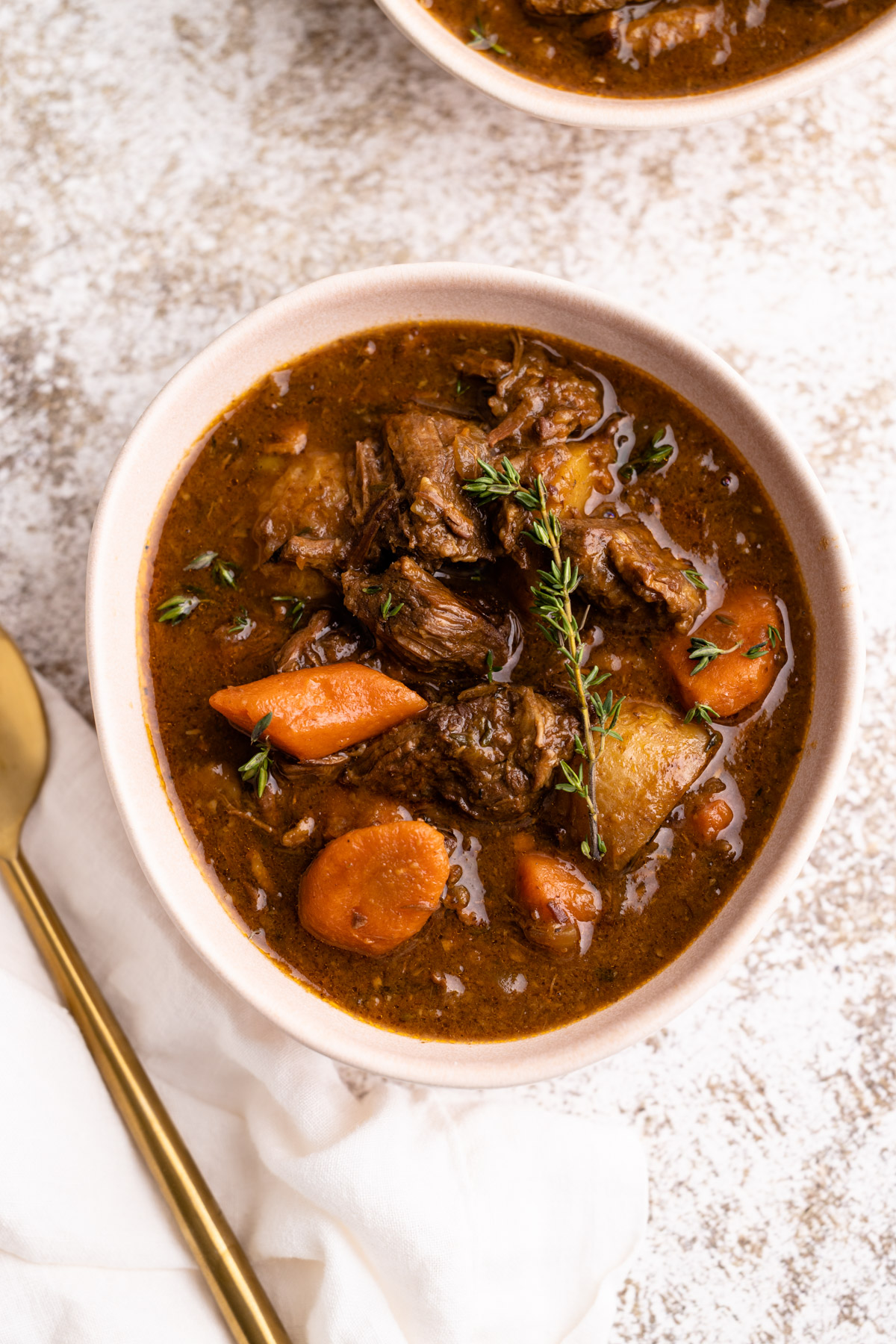 Is it Okay to Feed this to Kids?
I mean, ultimately whether or not to give your children this Guinness Beef Stew is a personal decision. However, the there is no alcohol remaining in the stew, since the alcohol is cooked out. So it's "safe" to give to kids.
You can also temper the amount of Guinness you add to the stew. My kids were not crazy about this stew when I added a full can of stout, so the next time I made it I add only 1 cup of stout, which still gave it that flavor I was looking for but didn't overwhelm the stew with a Guinness taste. So, adjust accordingly. If you really wanted to, you could replace the stout with beef broth and not add it at all, though the stew won't be as flavorful.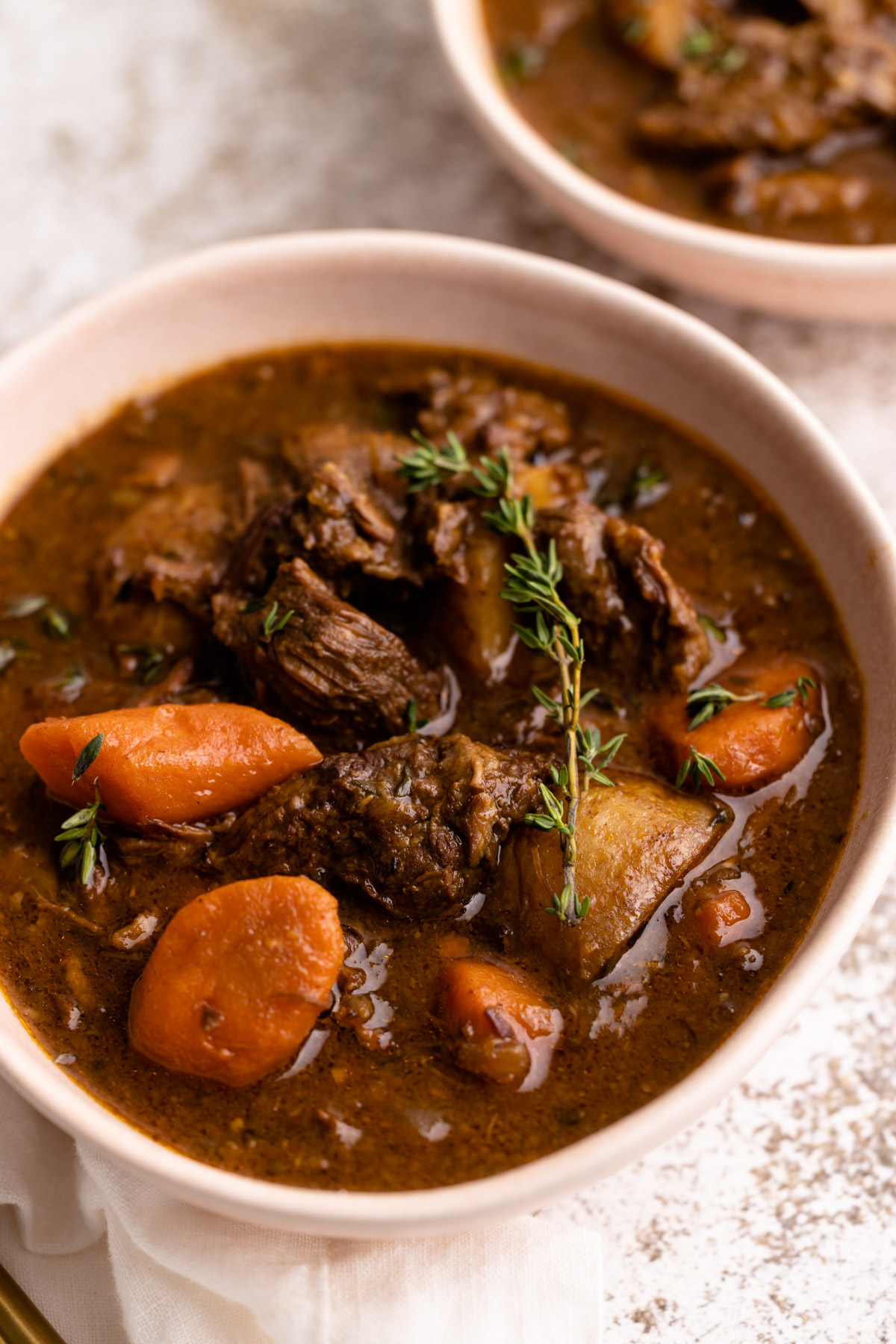 Freezing Instructions
Stews notoriously freeze really well, and this Irish beef stew is no exception!
To freeze this stew, let it cool down completely (first at room temperature, and then in the refrigerator). Then transfer the beef stew to an air tight container or plastic bag and freeze for up to 3 months.
To reheat, let it defrost overnight in the refrigerator and then place the defrosted stew in a pot on the stovetop to heat up.
---
Making the recipe? Be sure to leave a comment with a star review on your experience! Have a question? Leave a comment below and I'll get back to you as quickly as I can!
Print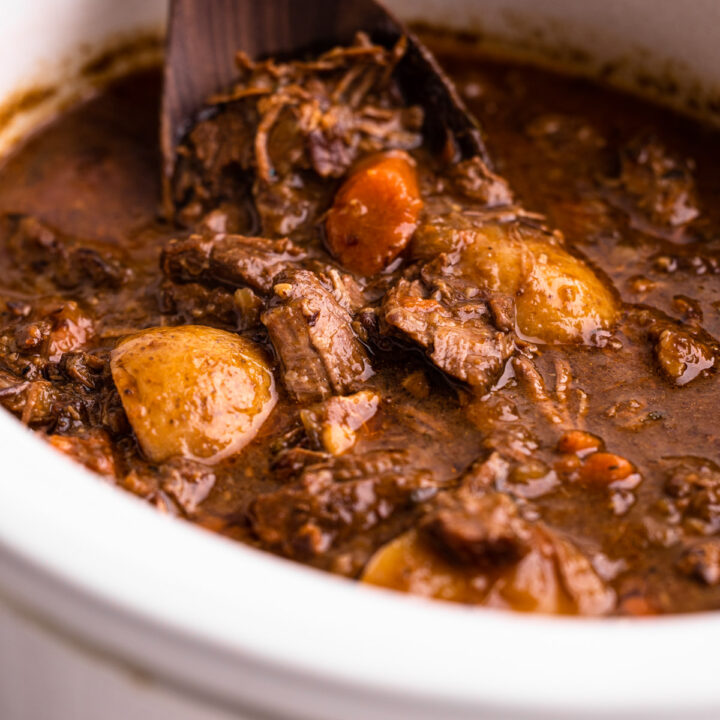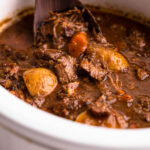 Slow Cooker Irish Beef Stew
---
Description
Tender chunks of beef braise all day with potatoes and carrots in a rich stout broth. This Slow Cooker Irish Beef Stew is perfect for early spring, when the days are still chilly, and is a must-make on St. Patrick's Day.
---
2

pounds

brisket or boneless chuck roast, cut into 1" pieces

3 tablespoons

flour

4

slices bacon, diced

1

medium yellow onion

1 teaspoons

salt

3

cloves garlic, minced

2 tablespoons

tomato paste

2 tablespoons

fresh thyme leaves

1 teaspoon

ground black pepper

2

cups

beef broth

1

cup

Guinness or other stout beer (see note)

1 tablespoon

honey

12 ounces

mini potatoes, halved

4

medium carrots, peeled and cut into

2

" pieces
---
Instructions
Add diced beef to a large bowl. Sprinkle the beef with a big pinch of salt, and then add the flour. Toss to coat until the flour is evenly distributed on the meat. Set aside.
Heat a dutch oven over medium high heat. Add bacon, and cook until crispy, about 7 minutes. Remove bacon and place inside of a large slow cooker.
In batches, brown the meat on all sides. Once done, remove beef and place inside of the slow cooker.
Lower the heat to medium. Add in the onions and cook until they are beginning to soften, about 5 minutes. Add in the salt, garlic, tomato paste, thyme and pepper and cook for 30 seconds until the red paste has turned a rusty color.
Deglaze the pot with the beef broth, stout and honey. Bring the mixture up to a boil, and then shut off the heat.
Carefully pour the mixture into the slow cooker. Add in the potatoes and carrots and stir the mixture with a wooden spoon until it's well combined.
Cook on low for 7-9 hours, or until the meat is tender and falling apart.
Taste and adjust seasoning, adding additional salt and pepper if necessary.
Serve warm with extra fresh thyme leaves.
---