This Cheesy Chicken and Orzo Bake, made with broccoli, havarti and dill is a one-pot meal made in about 30 minutes and perfect for busy weeknights.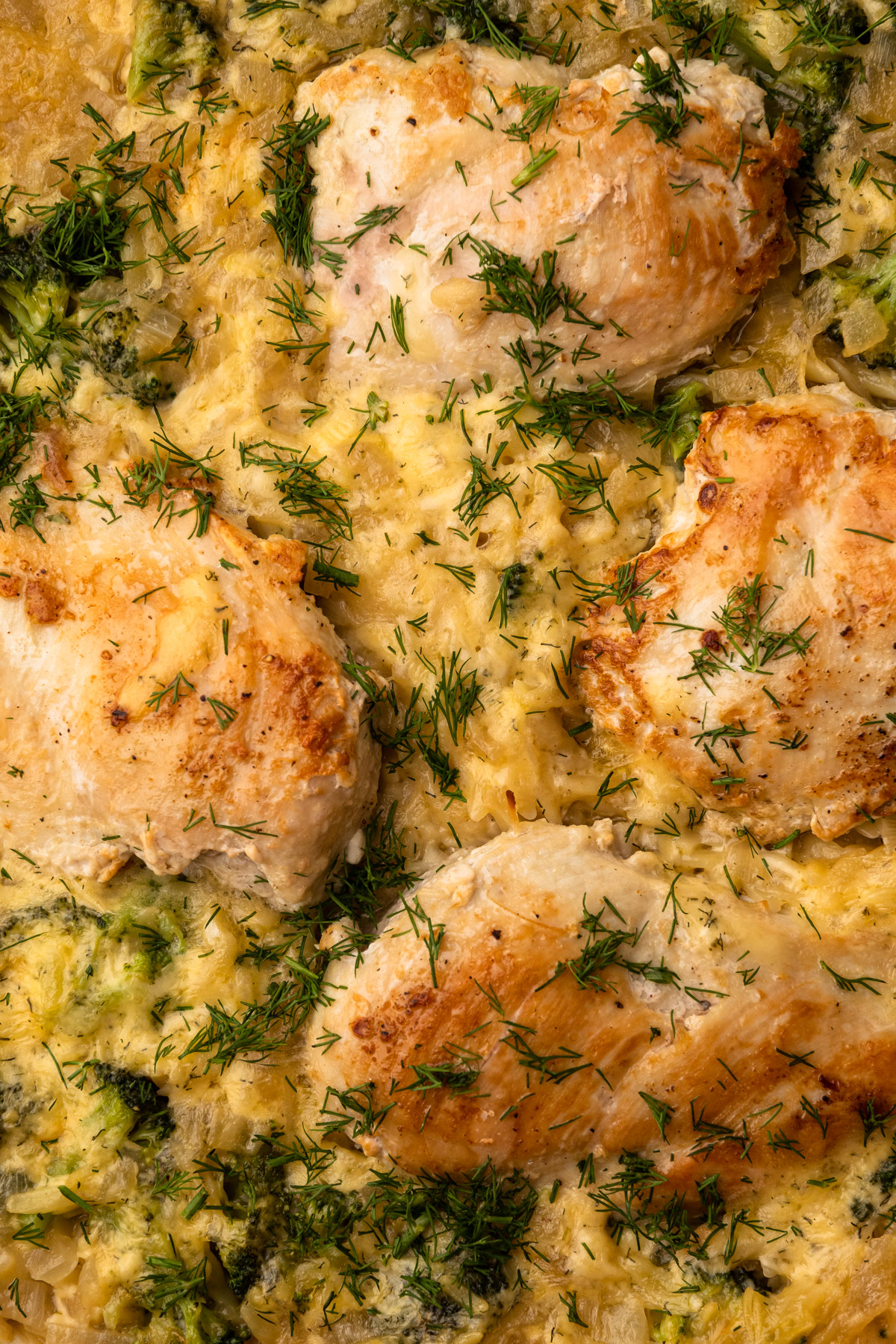 Broccoli, Chicken and Orzo Casserole
This Cheesy Broccoli Chicken and Orzo dish has been bouncing around in my head for a while. First off, our family already loves the chicken and broccoli combo and anytime I can get my anti-veggie kids to eat veggies constitutes a win. But I wanted to make it one pan, with a quick cooking pasta (enter the orzo) and had recently found a havarti dill cheese I knew I needed to use ASAP. And that's really the simple story of how this dish was born!
It took a few tries to get the recipe right, but gosh did the finish dish not disappoint: it's a skillet pasta dinner that is well-balanced (with starch and veggies and protein!) and skips the step of separately preparing the pasta and instead, everything is all cooked together in the same pan. That means hands-off cooking and fewer dishes in just about 30 minutes.
There is plenty of wiggle room for swaps in this meal (change out the veggie / change out the cheese / change out the protein) so this recipe is definitely one to have on hand.
So let's get to making it! The text below offers some tips for making it, or you can scroll down to the bottom for the complete recipe.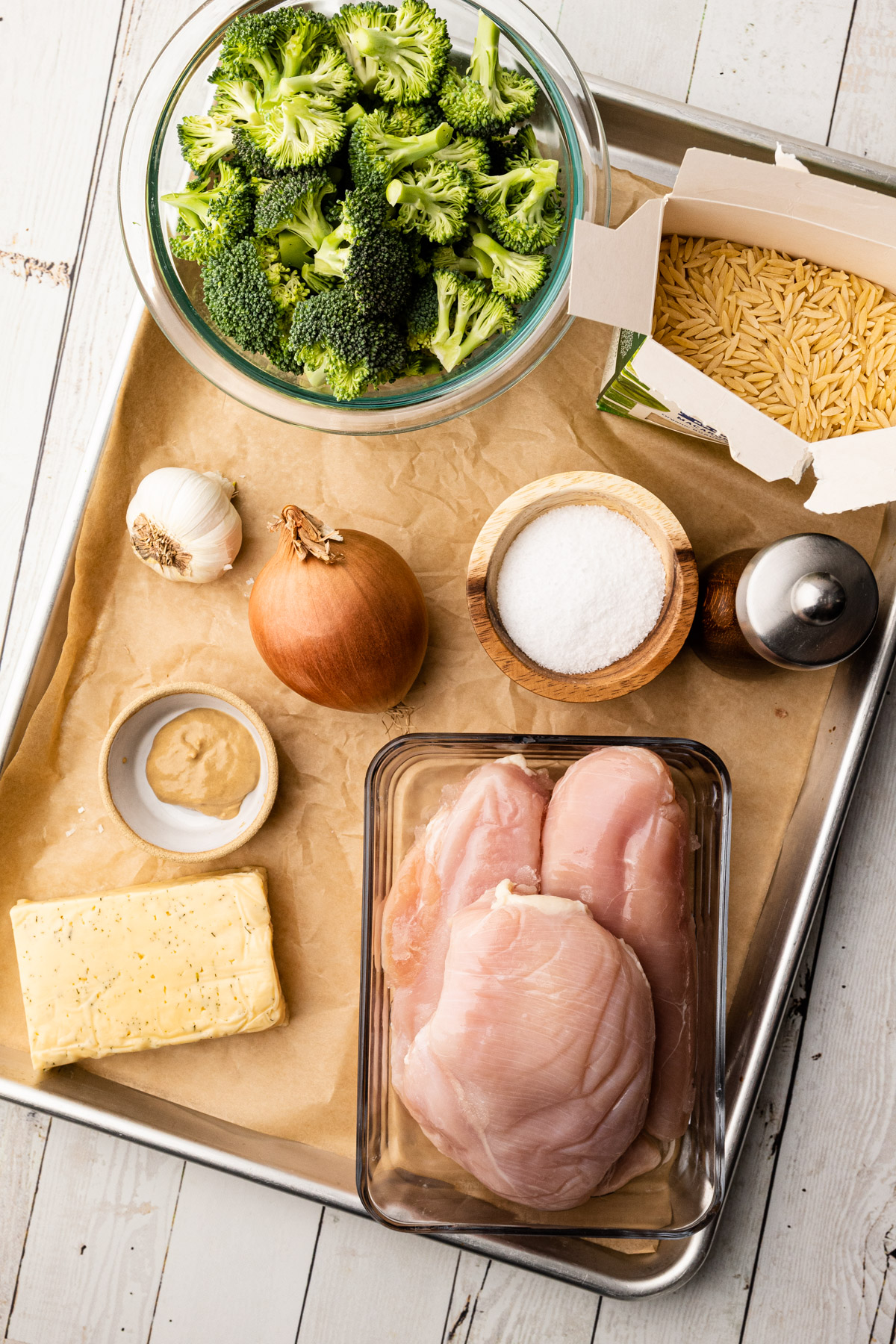 Ingredients Needed
Here is a brief overview of the ingredients needed for this recipe. The full recipe with quantities is listed below this text in the recipe card. If substitutions are available for this recipe, they'll be listed here. If you don't see a substitution you are looking for, please leave a comment below.
chicken breasts or chicken thighs (This dish can be made with either...over time our family decided we prefer it with chicken thighs, but it's truly a matter of preference and I go into this in more detail below)
onion +

garlic

unsalted butter
dijon mustard
orzo pasta
chicken stock
coarse kosher salt (I use Diamond Crystal coarse kosher salt in my recipes, if you use Morton's kosher salt or fine salt you will likely need to decrease the amount of salt called for)
broccoli florets (fresh or frozen both work well)
havarti cheese (I saw this harvarti dill at the store and I immediately wanted to use it in this dish...if you can't find harvarti, cheddar is a great swap, though in that case I'd suggest skipping out on the fresh dill for garnish)
fresh dill (completely optional but lovely when paired with the havarti!)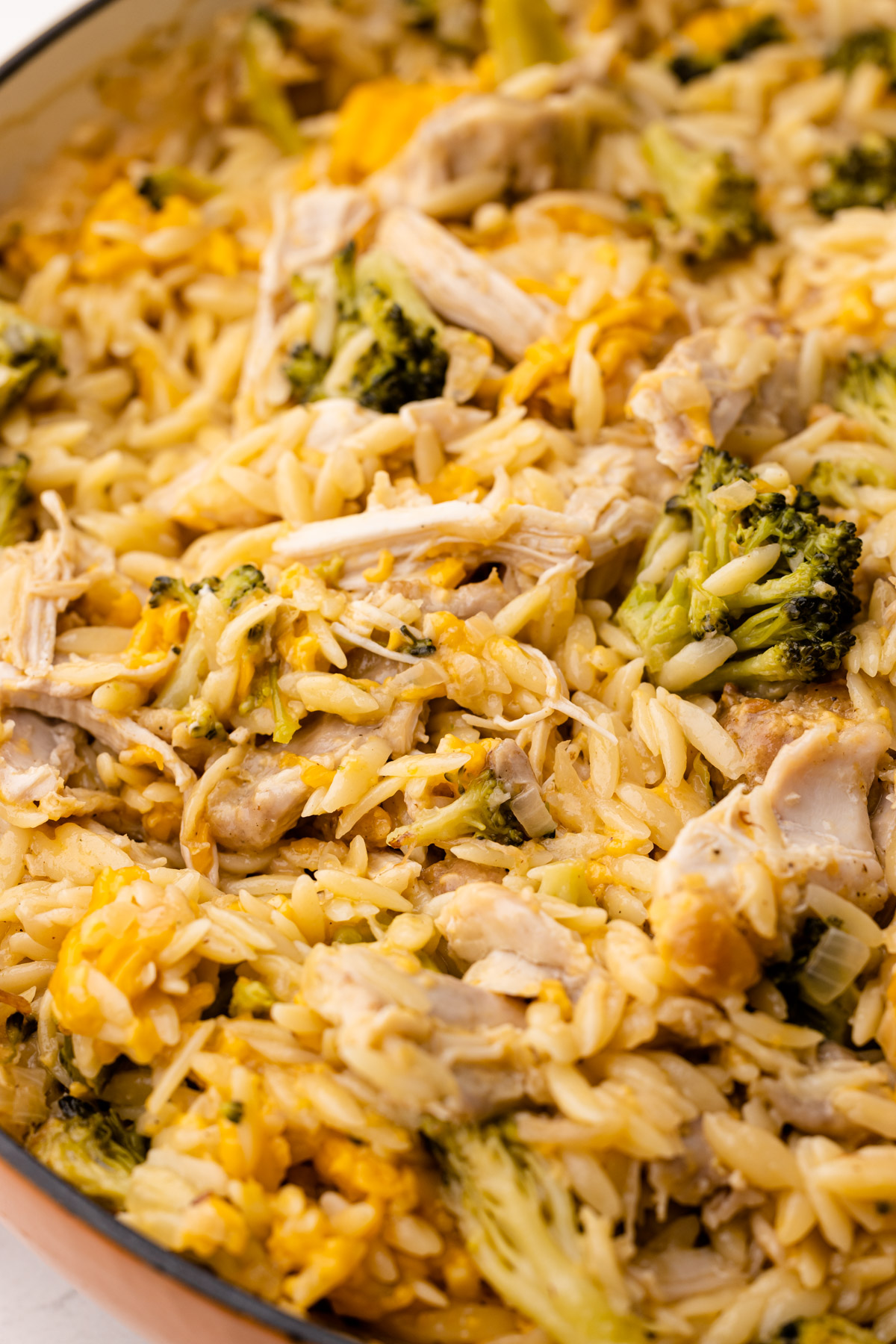 Chicken Breasts v. Chicken Thighs
White or dark meat...everyone has their preference. The good news is that both work here. When I first developed this dish I started making it with chicken breasts (as seen in most photos here). I also tested it several times with chicken thighs, per the request of my husband who prefers the dark meat.
There isn't much difference when it comes to cooking expect to say that chicken breasts need more "babysitting" because there is one big rule when it comes to cooking it and that is--don't overcook them. Overcooked chicken is so tough and just not good.
The best way to tell if your chicken is done is with an instant-read thermometer. If you don't have one already, it's worth the minor investment.
Additionally, if you have an extra few minutes of time I like to season the chicken before cooking it (especially chicken breasts) and take the time to let the chicken get a nice sear on the first side when it's cooked. Searing the meat gives it a deeper, more complex flavor.
When I made the dish with chicken thighs, I ended up shredding the meat and mixing it all together so the chicken was with the orzo and broccoli. Or, it can be served separately on the side. Above is a photo I snapped of the dish made with chicken thighs (and cheddar cheese as opposed to the havarti) as an alternative.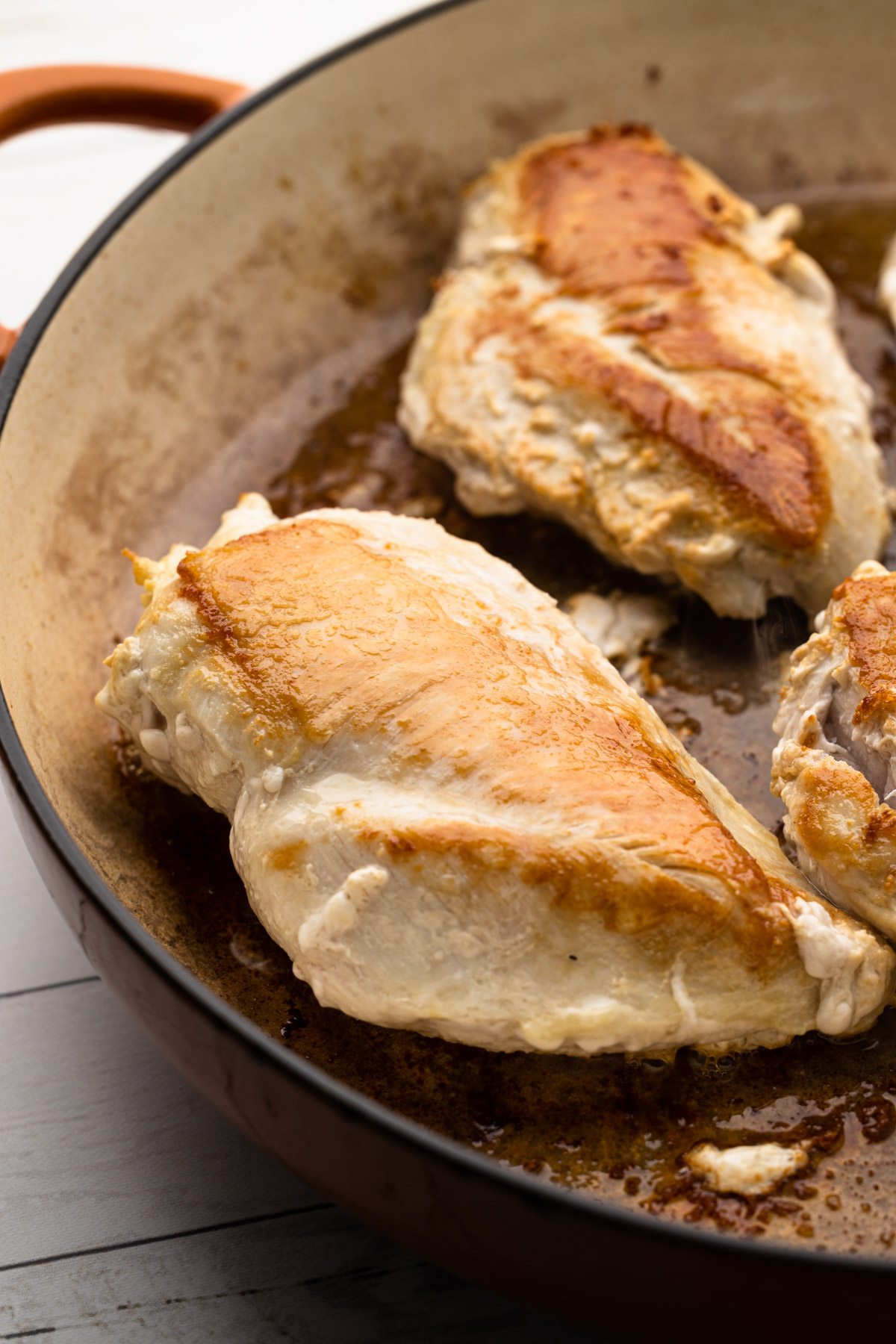 How this One Pot Orzo Dish Works
Traditionally we've been told to always cook pasta in large amounts of salted water to ensure the best possible outcome. But I love nothing more than bucking against tradition because one-pot pasta dishes are awesome! Cooking the pasta with a reduced amount of liquid (and not draining it) is beneficial because it skips a step in cooking but also adds value in terms of flavor and viscosity to the sauce for the pasta.
These ingredients in this cheesy orzo bake are added to a large oven safe skillet and baked until the chicken and orzo are cooked through. The pasta absorbs the water during the bake, resulting in a perfectly cooked noodle and a delicious surrounding sauce.
And less hands-on cooking, which is crucial in the battle of the busy weeknights.
When you first take the orzo out of the oven it might seem like it hasn't absorbed all of the liquid, but have no fear, as it cools it will continue to absorb the liquid to create the perfect sauce.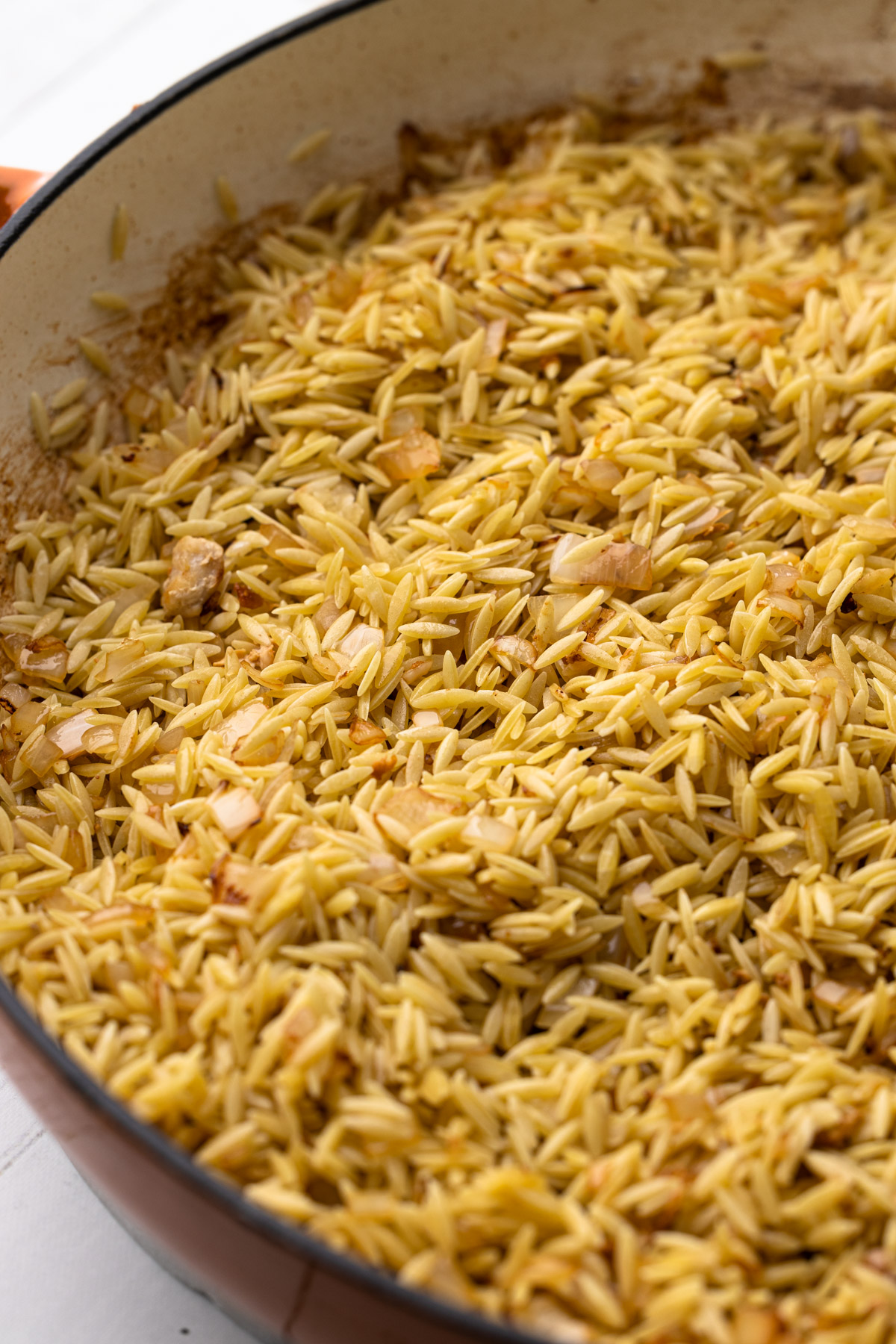 How to Serve It
As stated above, there are a few ways to serve this dish. The orzo can be serve separately on the side from the chicken (which can be sliced or shredded) or the chicken can be served mix together with the orzo!
Adding some fresh dill to the dish brightens things up (though I recommend only doing so if you are using havarti. If you are using cheddar in this dish, perhaps using some sliced chives or parsley would be good!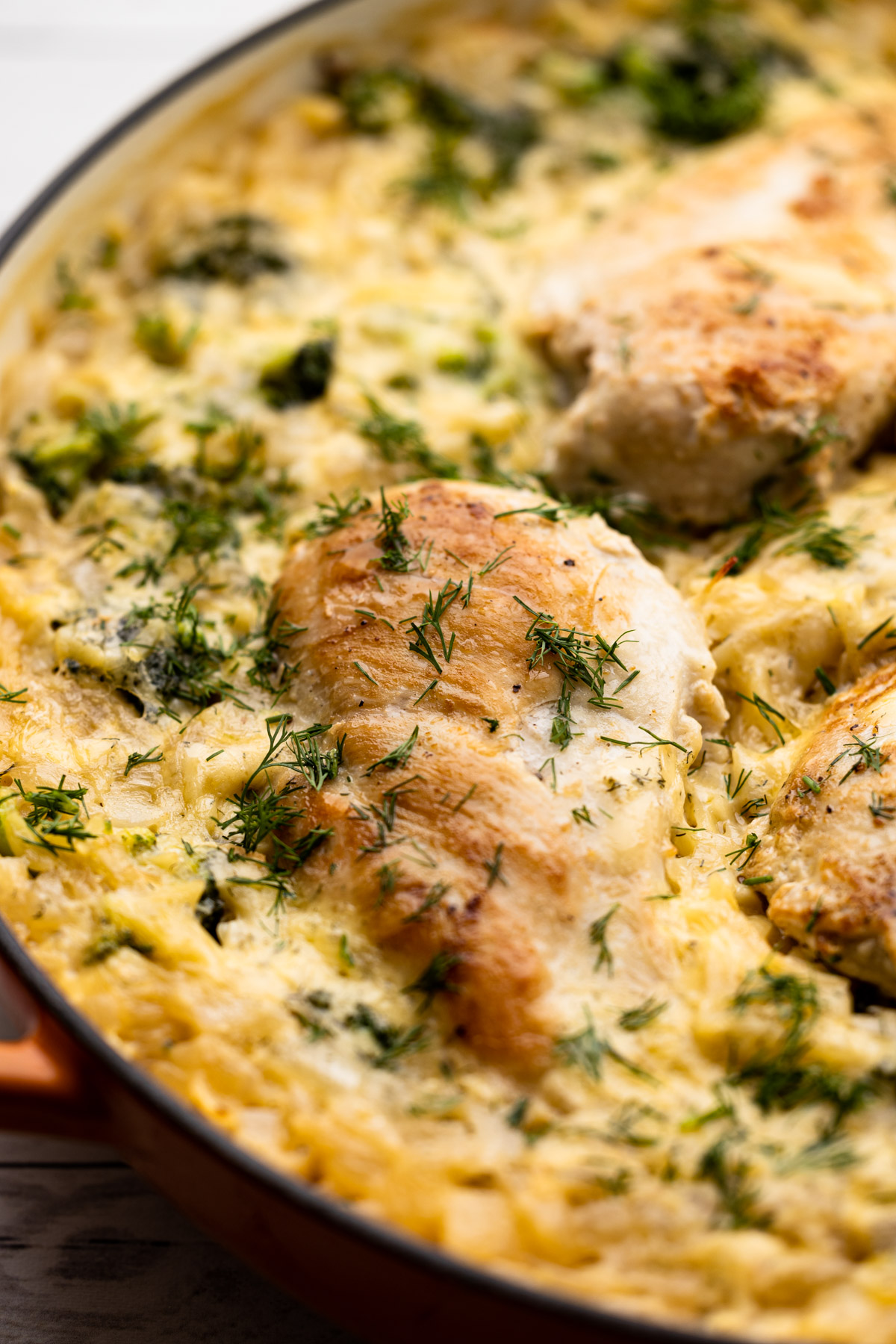 Storing Leftovers
To store leftovers, let the chicken and orzo cool completely. Transfer to an airtight container and store in the refrigerator. It's best eaten within 1-2 days.
To reheat, you can heat it in an oven-safe container in the oven or toaster oven. I love using Glass Pyrex Containers because they double as storage and baking dishes. Or, you can reheat briefly in the microwave until warmed through. Add a few tablespoons of water to the dish when reheating it.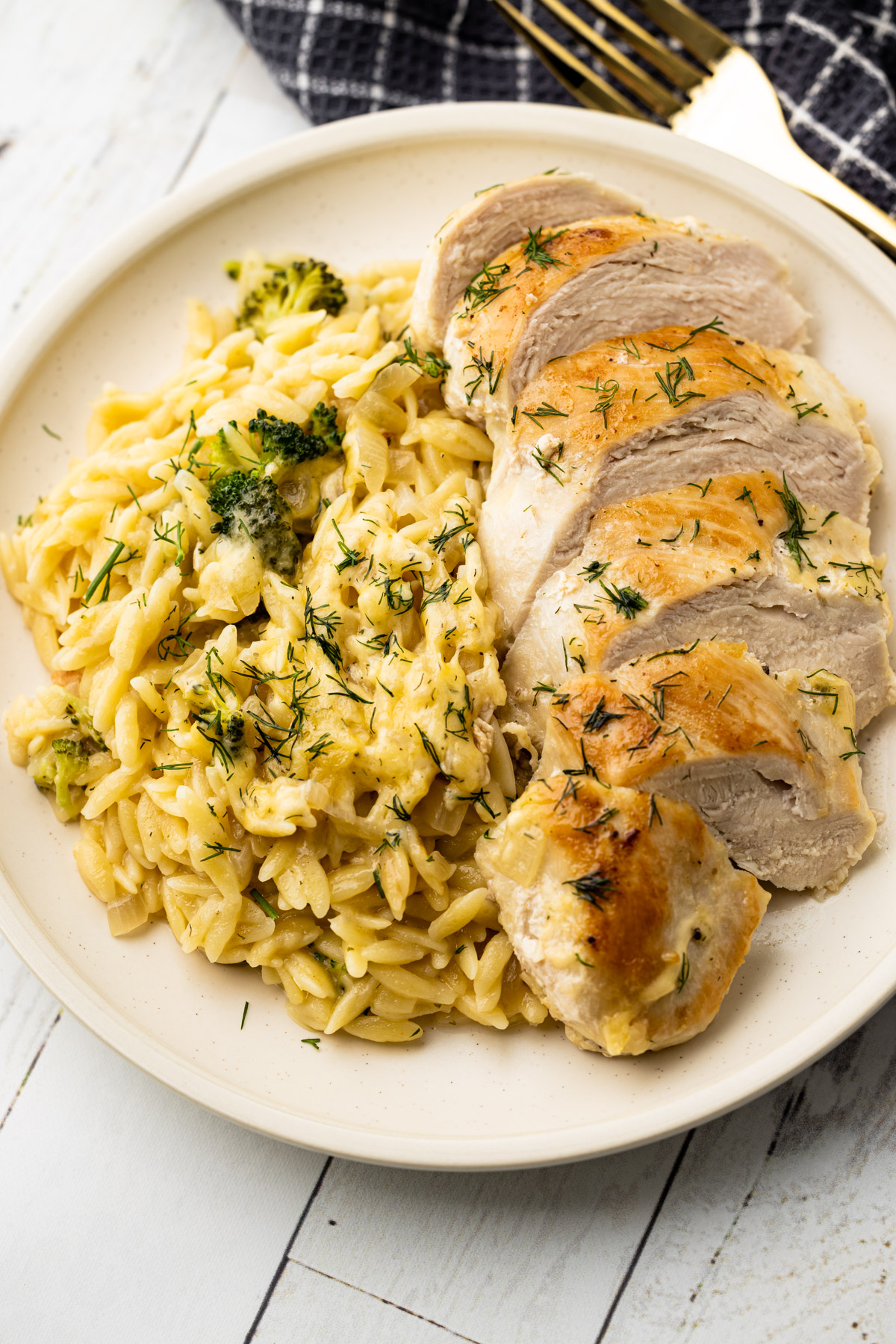 More Pasta Recipes
Making the recipe? Be sure to leave a comment with a star review on your experience! Have a question? Leave a comment below and I'll get back to you as quickly as I can!
Print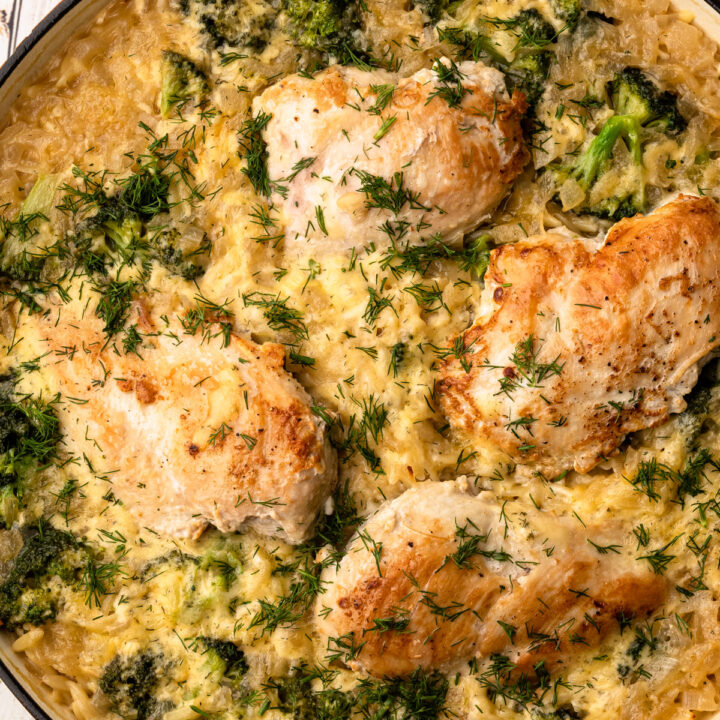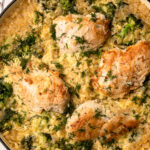 One-Pot Cheesy Chicken and Orzo Bake
Author:

Kelli Avila

Prep Time:

00:05

Resting time:

00:10

Cook Time:

00:25

Total Time:

40 minutes

Yield:

Serves

4

-6

1

x

Category:

Pasta
---
2 tablespoon

olive oil, divided

4

medium chicken breasts or 6 chicken thighs (see note)

1

large onion, finely diced

3

cloves garlic, minced

4 tablespoons

unsalted butter, diced

1 tablespoon

dijon mustard

1

lb

. orzo

5

cups

chicken stock

2 teaspoons

kosher salt

2

cups

broccoli florets (fresh or frozen both work well)

2

cups

shredded havarti (see note)
Fresh dill, for garnish (optional)
---
Instructions
Preheat oven to 400ºF. Season chicken.
Heat 1 tablespoon oil in a large 12" skillet over medium-high heat. Once hot, sear chicken until lightly golden, about 3-4 minutes per side. Remove chicken from the pan and lower the heat to medium.
Add in remaining 1 tablespoon oil to skillet, once hot add in onions, garlic and cook until starting to soften, stirring often. As the onions cook and it renders some liquid, begin to scrap up any browned bits from the chicken off the pot.
Add in the butter. Once melted add the dijon and orzo. Cook for 3 minutes until the orzo smells toasty.
Slowly stir in the chicken stock and salt, scrapping up any remaining brown bits from the bottom of the skillet. Add in the broccoli and bring the liquid to a boil.
Once boiling, shut off the heat. Stir in half the cheese. Return the chicken to the skillet, nestling it among the orzo. Sprinkle the remaining cheese on top.
Bake for 12-15 minutes until the chicken reaches a temperature of 165ºF and the pasta is cooked through.
Let cool for 10 minutes before serving. The sauce will thicken up during this time period. Serve warm with fresh dill. Shred or slice the chicken and serve alongside the cheesy orzo.
---
Notes
This dish can be made with chicken breasts or chicken thighs. Over time our family decided we prefer it with chicken thighs, but it's truly a matter of preference. It is more important to pay attention to the temperature of the chicken breasts when it's baking than chicken thighs.
Don't like havarti? Switch it out with cheddar! Both work equally well in this dish.
Keywords: Chicken and Orzo Bake