Upgrade breakfast with this Croissant French Toast recipe! Leftover butter croissants are split in half, soaked in a cinnamon-laced custard, and cooked until lightly golden. Serve with fresh fruit, maple syrup and a bit more butter for the ultimate start to the day.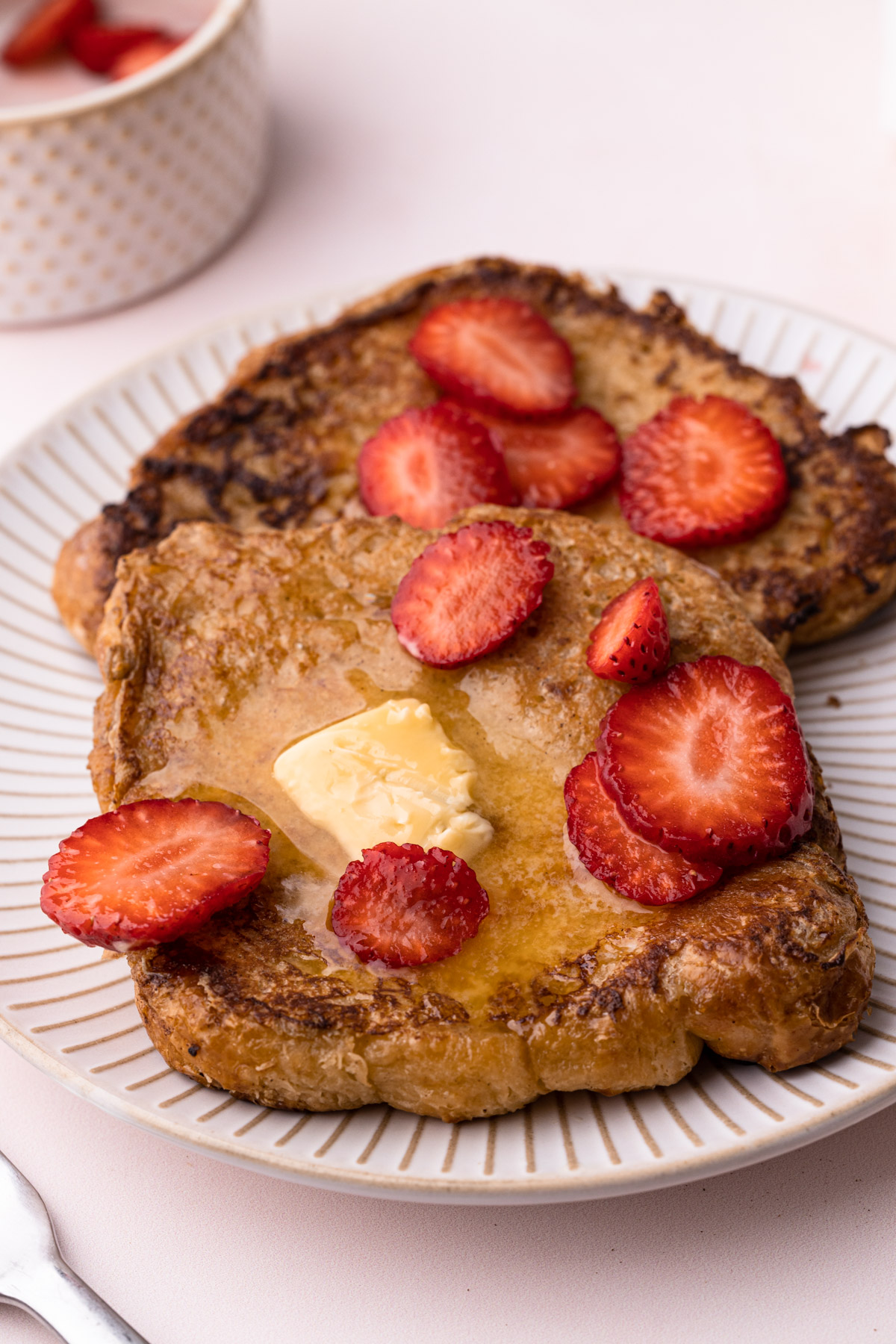 Over the last half of the year, my countertops have been covered in croissants as I was creating my Guide to Homemade Croissants over on my other website, Everyday Pie. While my family never tired of eating them plain, I'll gladly admit my preferred way to consume them was warm with butter and fruit after being dunked in a rich cinnamon custard and cooked in butter. I love French toast and when French toast is made up of croissants, it's that much more delicious.
I can't claim that putting the French toast treatment to croissants is revolutionary, but what I do know is that it's so crazy good that I couldn't help but share my recipe and methods here.
So let's get to making it! The text below offers some tips for making it, or you can scroll down to the bottom for the complete recipe.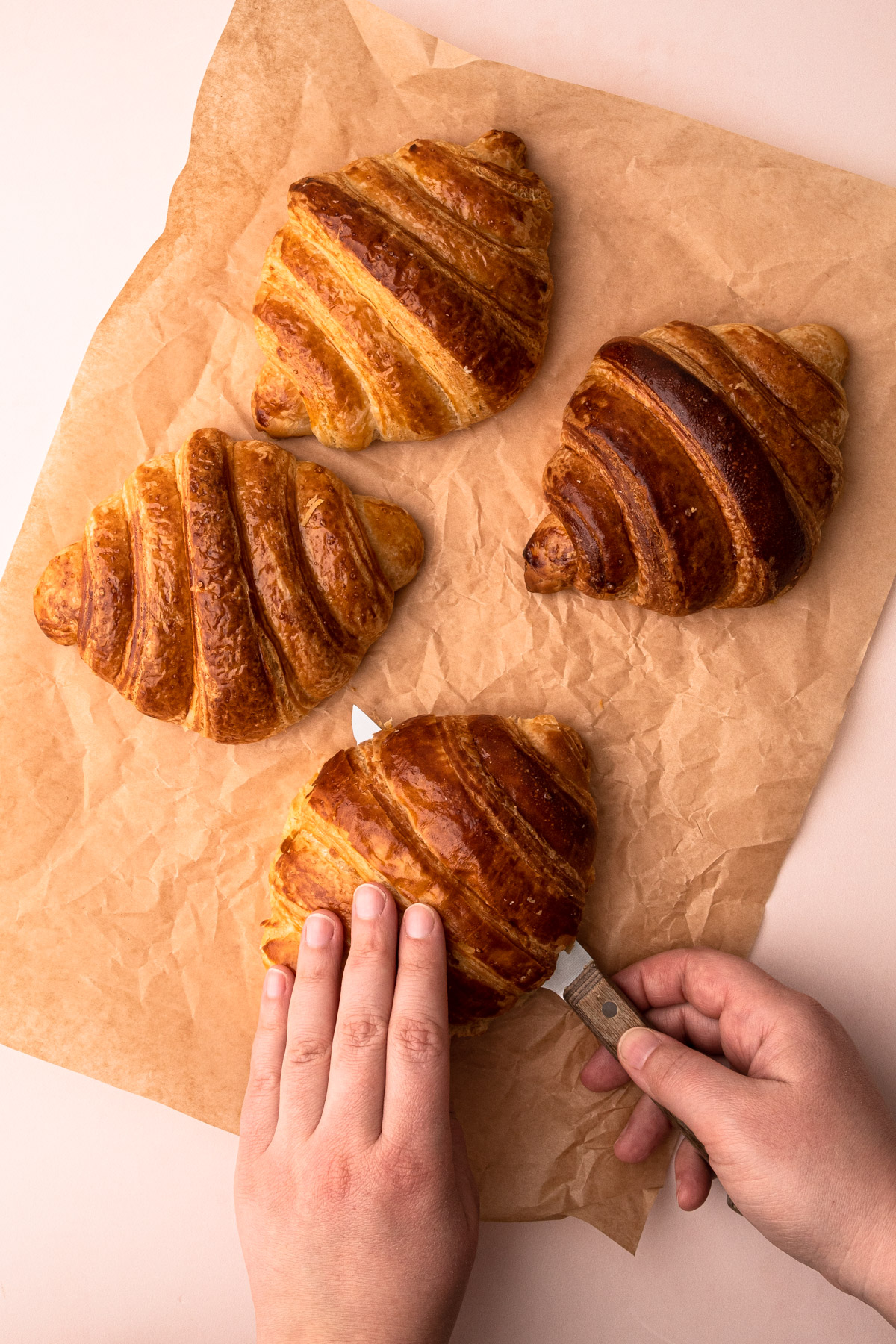 Ingredients Needed and Substitutions
Here is a brief overview of the ingredients needed for this recipe. The full recipe with quantities is listed below this text in the recipe card. If substitutions are available for this recipe, they'll be listed here. If you don't see a substitution you are looking for, please leave a comment below.
croissants (fresh or stale both work well, but check out the notes below for the dipping procedure for both)
maple syrup (or granulated sugar)
ground cinnamon
kosher salt
eggs
milk + cream (or half and half is fine too!)
high-heat oil (I use avocado)
butter
berries / powdered sugar (for serving)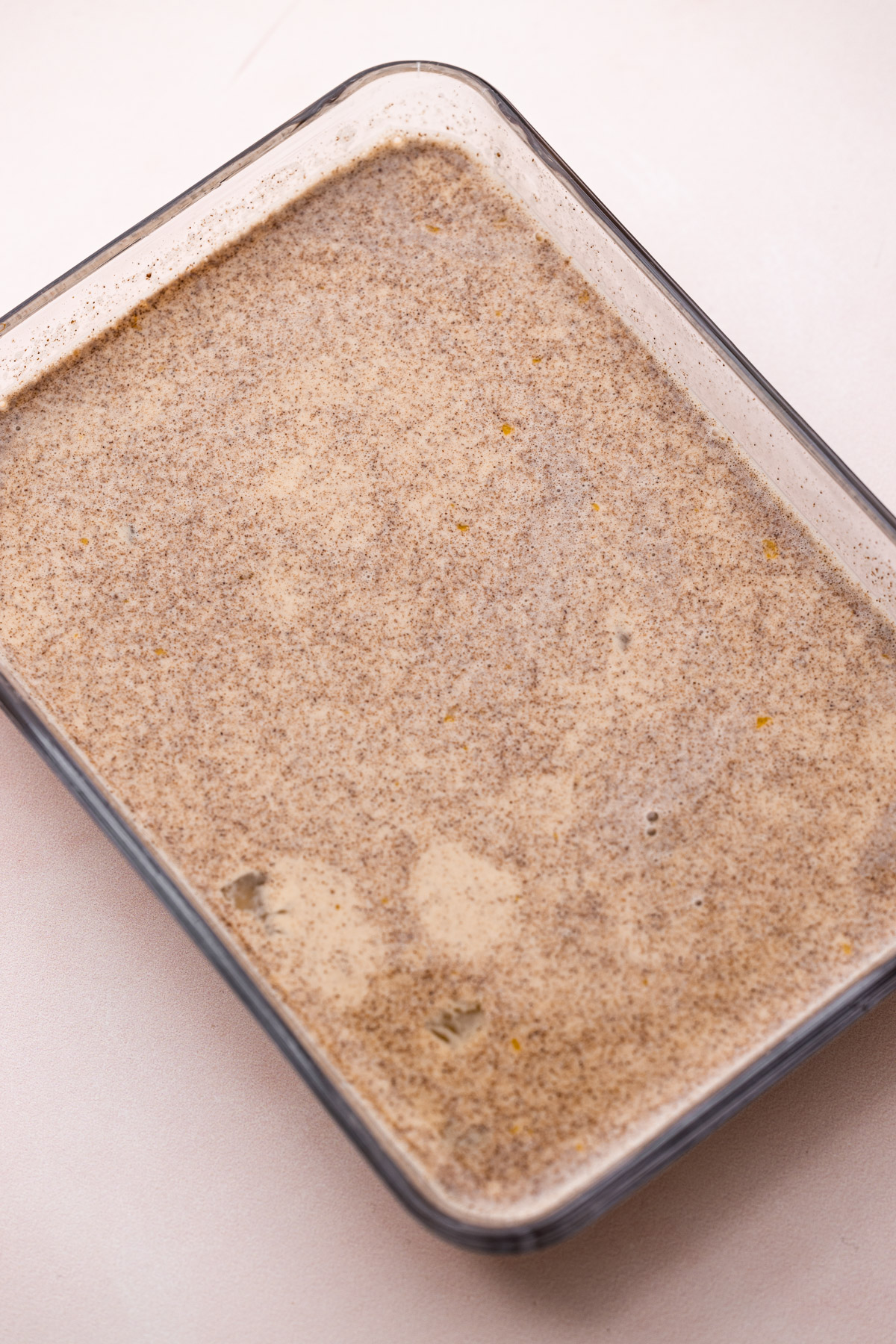 How to Make It
Making French toast isn't rocket science, but I do want to talk about a few key elements that can really make your French toast stand apart.
Let's get into the custard. Let me just first say you can use granulated sugar in place of maple syrup...but let's be real; maple syrup is going on that French toast, so you might as well use it as a sweetener in this custard.
The recipe calls for an unusual step of mixing together the cinnamon and maple syrup first. This step is necessary so that the cinnamon gets incorporated into the custard, instead of just floating on the top. Cinnamon is hydrophobic and it doesn't easily dissolve in water. Skipping this step will cause all the cinnamon to float on top, resulting in an uneven distribution.
In addition to the maple syrup and cinnamon, the custard is enriched with eggs and vanilla. All of these ingredients together result in a lovely flavor that translates through to the final French toast and none should be skipped.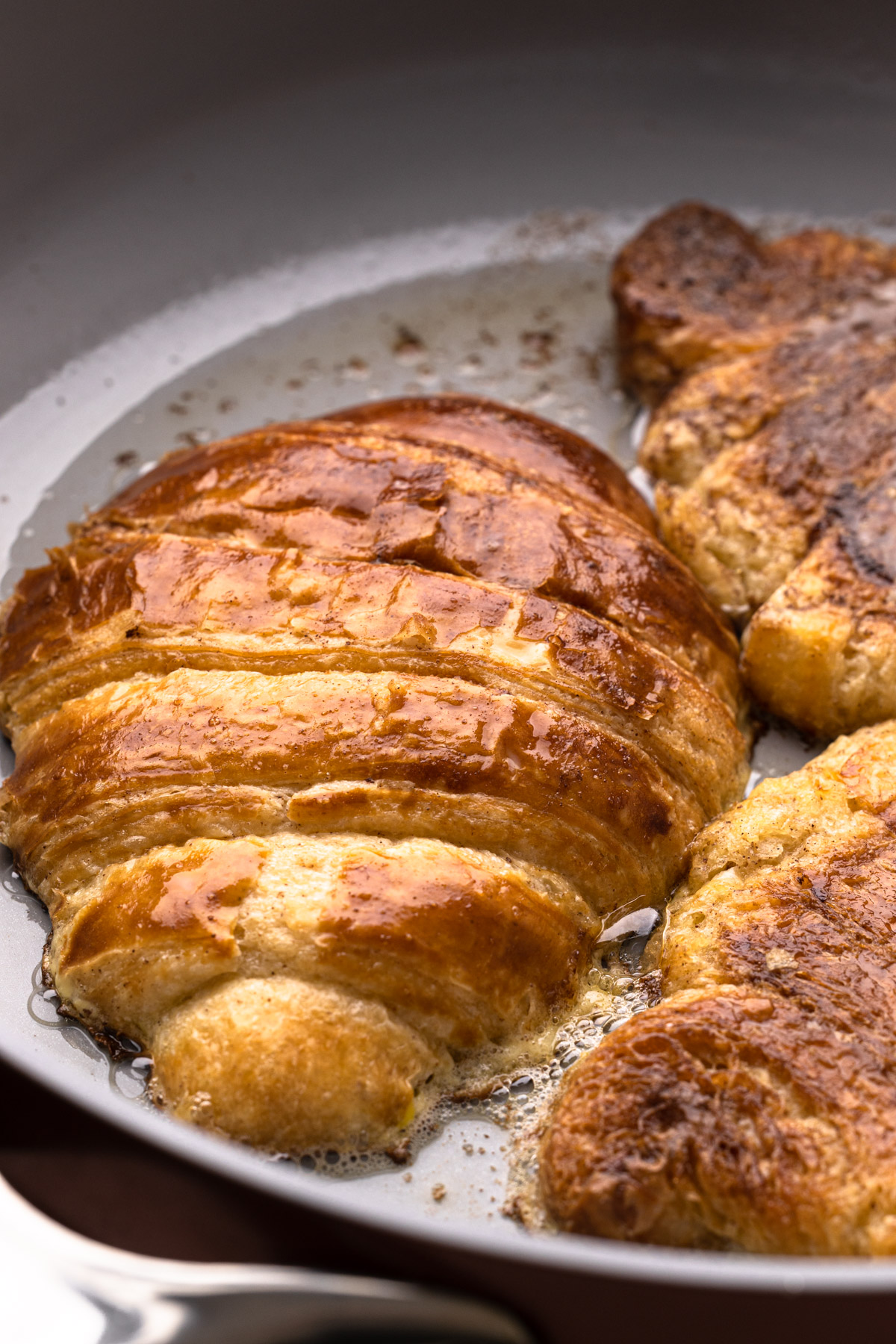 Preparing It
Now let's get into the dipping of the croissants into the custard. Dipping them too long will result in very soggy French toast, but conversely, dipping them for an inadequate amount of time results in dry French toast.
If your croissants are relatively fresh and moist, you just need a quick dunk in the custard on both sides and then pick up the croissant and let the excess custard fall off. Then, immediately move the croissant to the skillet (more on that in a minute).
If your croissants are stale, you'll need to let the custard soak up for a few seconds. Count to 5 with stale croissants for each side, and that should be sufficient. Again, let the excess drip off before moving the dredged croissant to the skillet.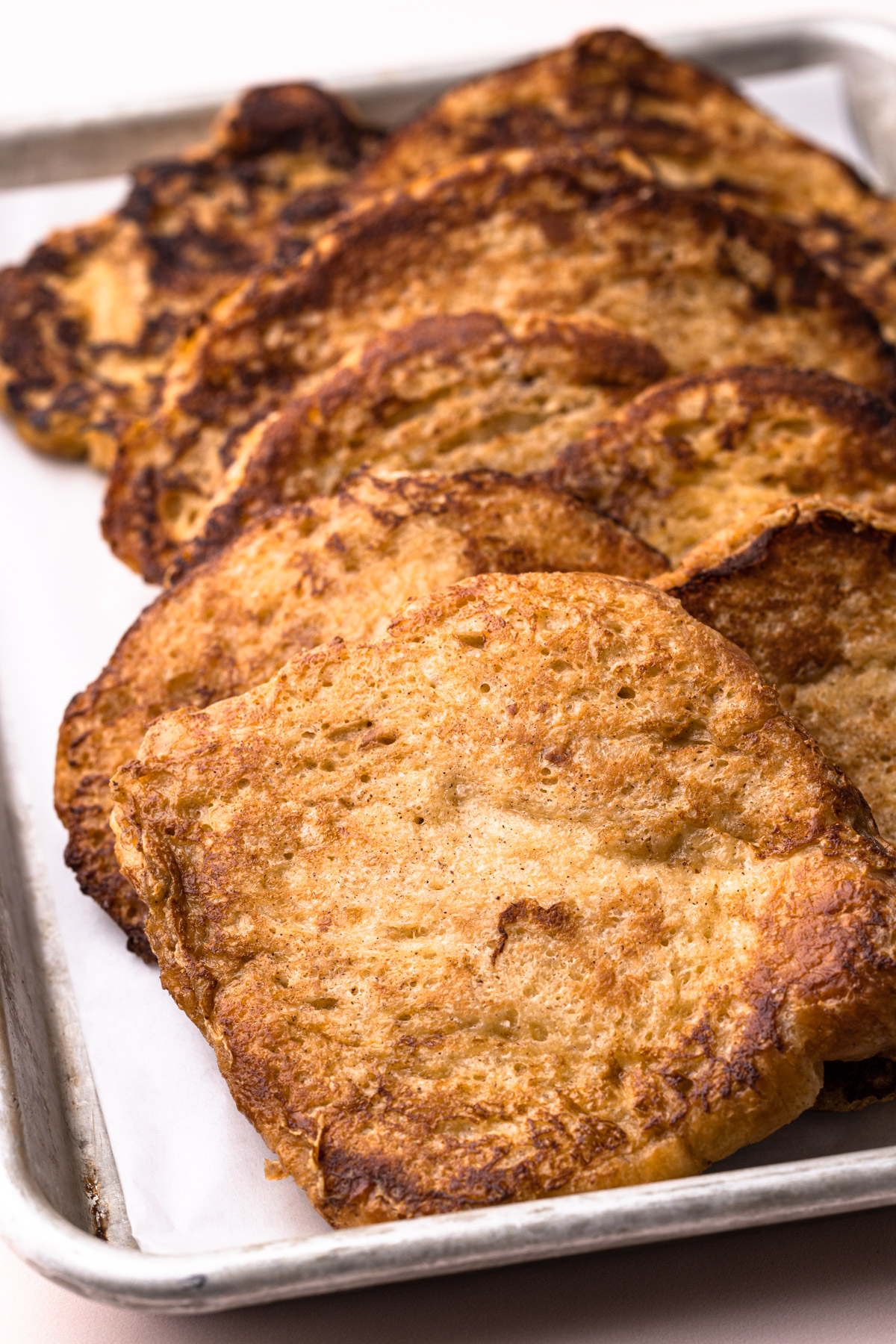 Cooking It
The goal of well-cooked French toast is to have the custard cooked through in the middle, and the exterior be golden brown and slightly crispy, but not burnt. Honestly, this task is easier said than done.
And in an ideal world, the French toast would be cooked in a combination of butter and a high heat oil. I typically use a little bit of 100% avocado spray and a bit of butter. This helps prevent the butter from burning.
Make sure the pan is preheated well, and then cook the french toast in the butter and oil combination over a medium, to medium low. It's better to cook the French toast in the skillet longer on a lower heat than to cook it quickly and have it burn.
Since the french toast needs to be made in batches, turn the oven setting to warm, and keep the french toast on a rack in the oven to stay warm.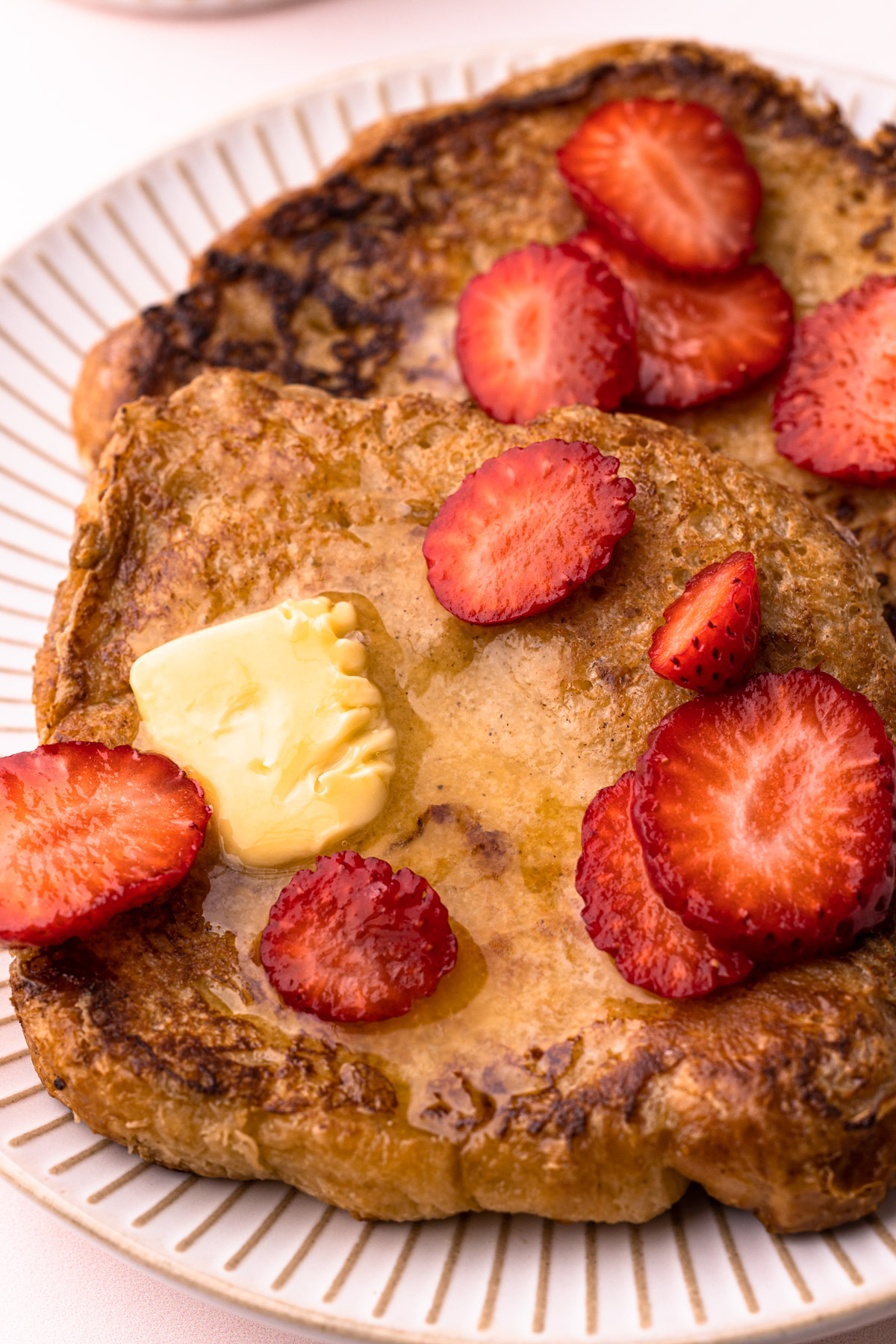 Serving Croissant French Toast
You know the drill when it comes to French toast: a little pat of butter, a few slices of strawberries or other berries, and a drizzle of maple syrup.
A sprinkle of powdered sugar is also welcome here, instead of the maple syrup.
Though, my kids often eat this plain without any extra adornment on busy mornings. There is plenty of flavor in the custard itself so eating it plain is ok too!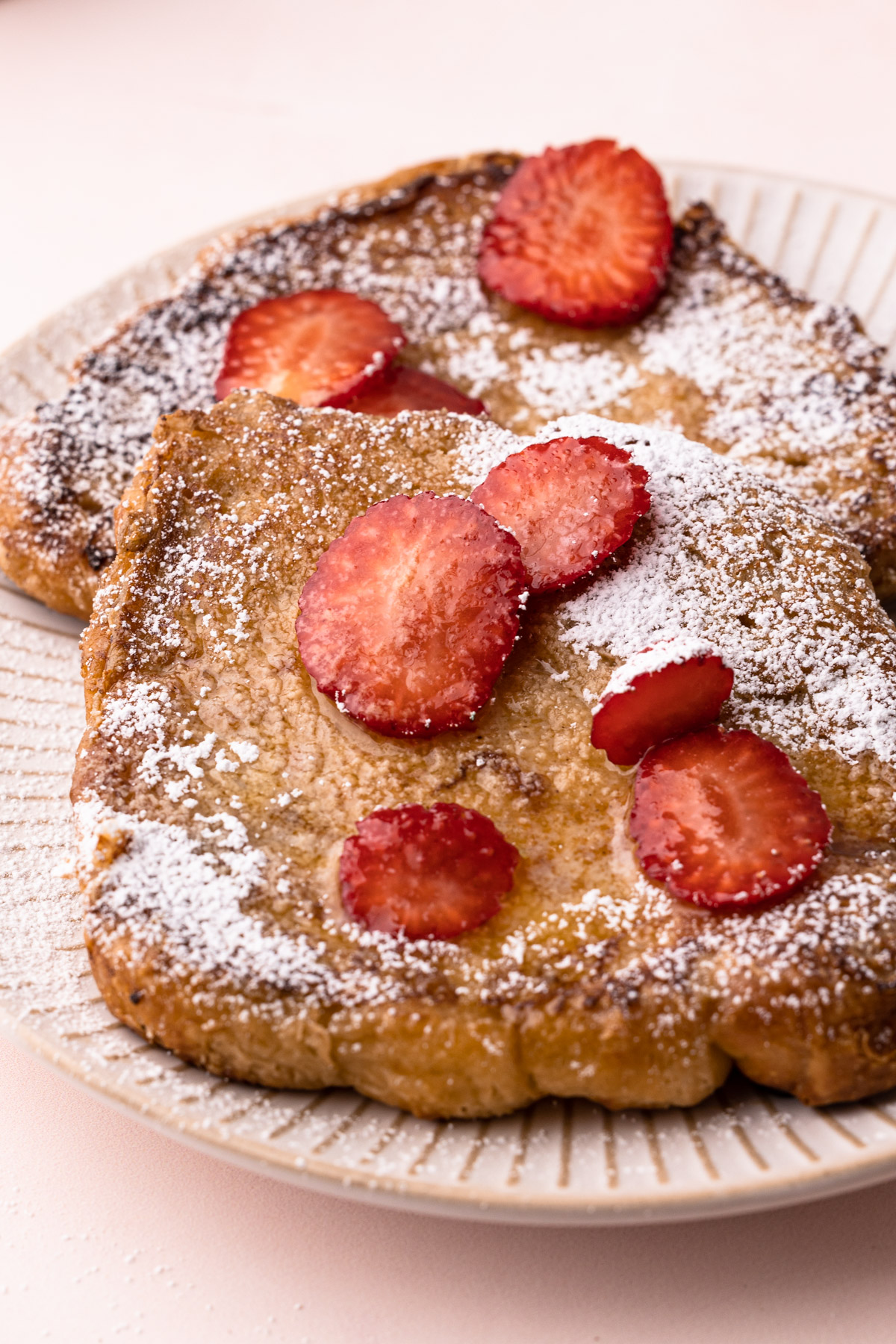 Freezing French Toast
French toast freezes really well and can be reheated gently in a toaster on a busy morning.
To freeze it, place the cooled French toast on a parchment-lined sheet tray without any pieces touching. Let it freeze for at least 12 hours, and then transfer to an air-tight container or plastic bag. It will keep well for 1-2 months.
Reheat and serve!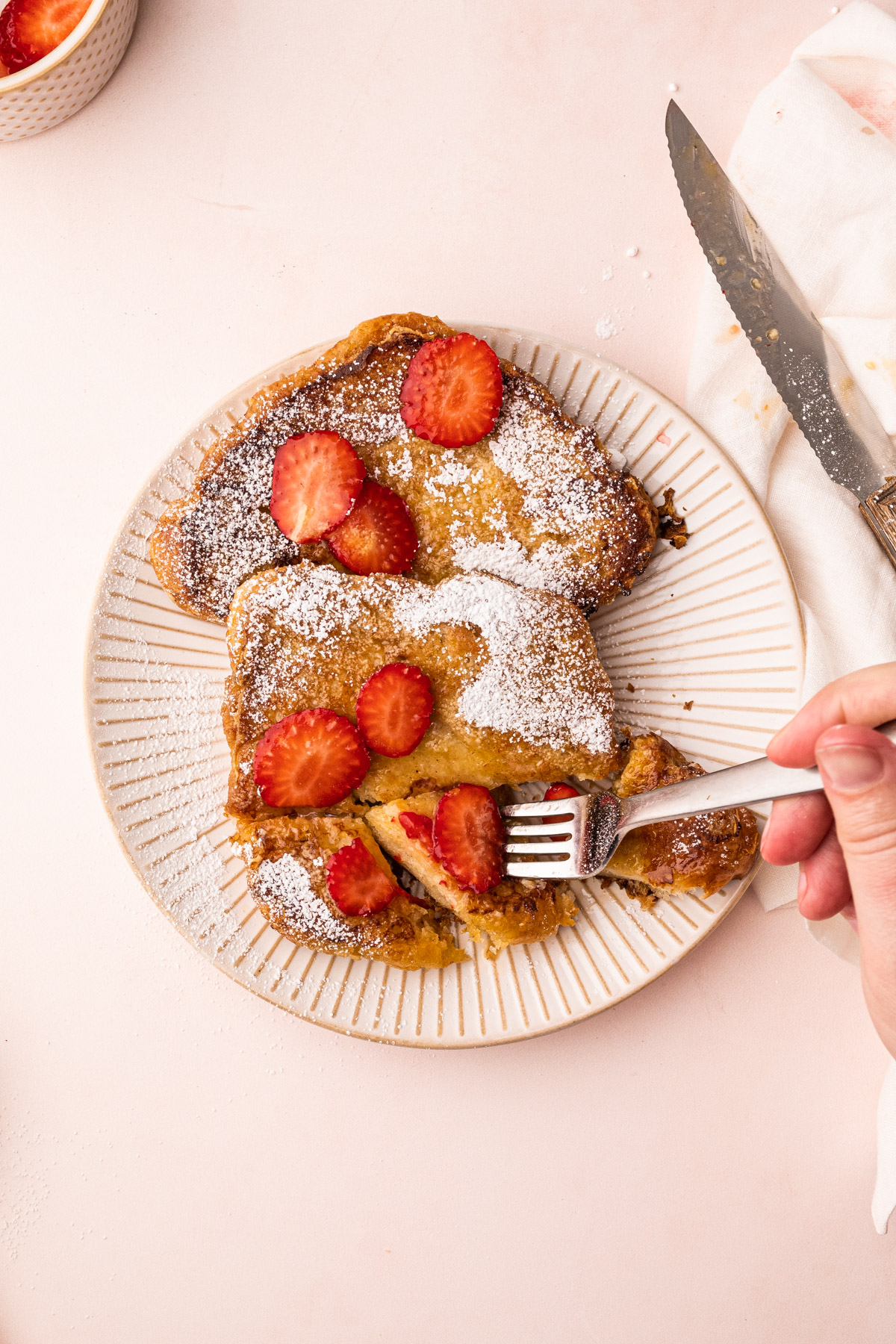 More Breakfast Recipes
Making the recipe? Be sure to leave a comment with a star review on your experience! Have a question? Leave a comment below and I'll get back to you as quickly as I can!
Print
Full Recipe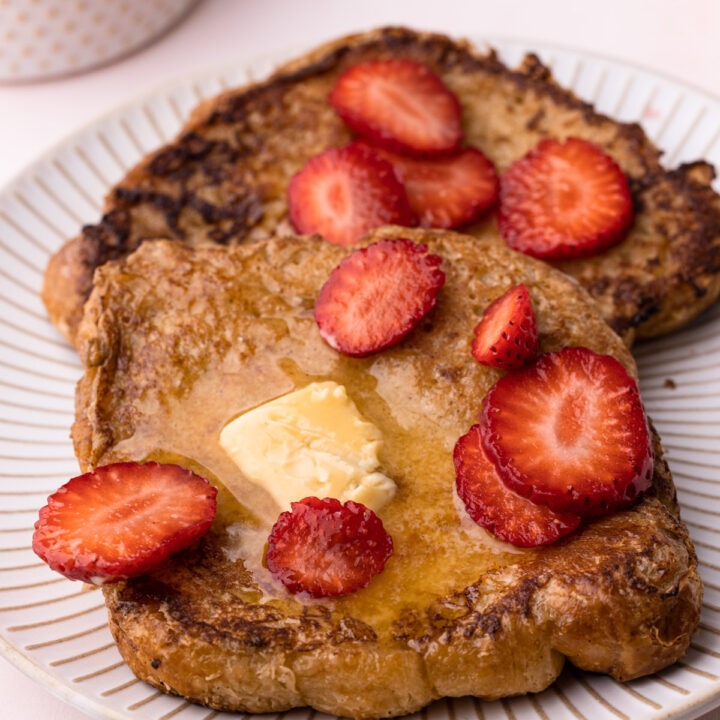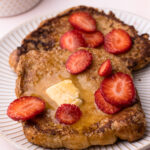 Croissant French Toast
Author:

Kelli Avila

Prep Time:

00:10

Cook Time:

00:15

Total Time:

25 minutes

Yield:

Serves 4

Category:

Breakfast

Method:

Stovetop

Cuisine:

American
---
Description
Upgrade breakfast with this Croissant French Toast recipe! Leftover butter croissants are split in half, soaked in a cinnamon-laced custard and cooked until lightly golden. Serve with fresh fruit, maple syrup and a bit more butter for the ultimate start to the day.
---
4

croissants

2 tablespoons

maple syrup (or granulated sugar)

1 teaspoon

ground cinnamon

¼ teaspoon

coarse kosher salt

3

large eggs

½

cup

whole milk

½

cup

heavy cream

1 teaspoon

vanilla extract
Avocado oil spray or similar neutral high-heat oil, for cooking
Butter, for cooking
Berries, Maple Syrup or Powdered Sugar, for serving
---
Instructions
Cut croissants in half lengthwise, set aside.
In a shallow bowl, mix together the maple syrup, cinnamon and salt until it's homogenized. Then whisk in the eggs, milk, cream and vanilla, until combined.
Heat a large heavy skillet over medium heat. Once hot, add a splash of high-heat oil and a small pat of butter. When the butter has stopped bubbling, the pan is ready.
Submerge both sides of the croissant half into the custard, then lift out and let any excess custard drip off. Place the croissant in the skillet. Repeat, placing as many croissants that will fit with the pan, leaving some space in between. Cook for 3-5 minutes on each side, until the exterior is lightly golden and the croissant has slightly puffed up, indicating that the egg inside has been cooked through. Make sure to moderate the temperature as the french toast cooks.
Remove the croissants, wipe the pan and and repeat the process, adding more oil and butter to the pan until all of the french toast is cooked.
Serve french toast immediately with a bit of butter, fruit and powdered sugar or maple syrup.
---
Keywords: Croissant french toast