Diced chicken thighs are coated with some Mexican-inspired seasoning and broiled on a sheet pan with fajita veggies in under 15 minutes to make for the perfect quick dinner. Serve these Sheet Pan Chicken Fajitas traditionally, or make it lighter by serving it over a salad.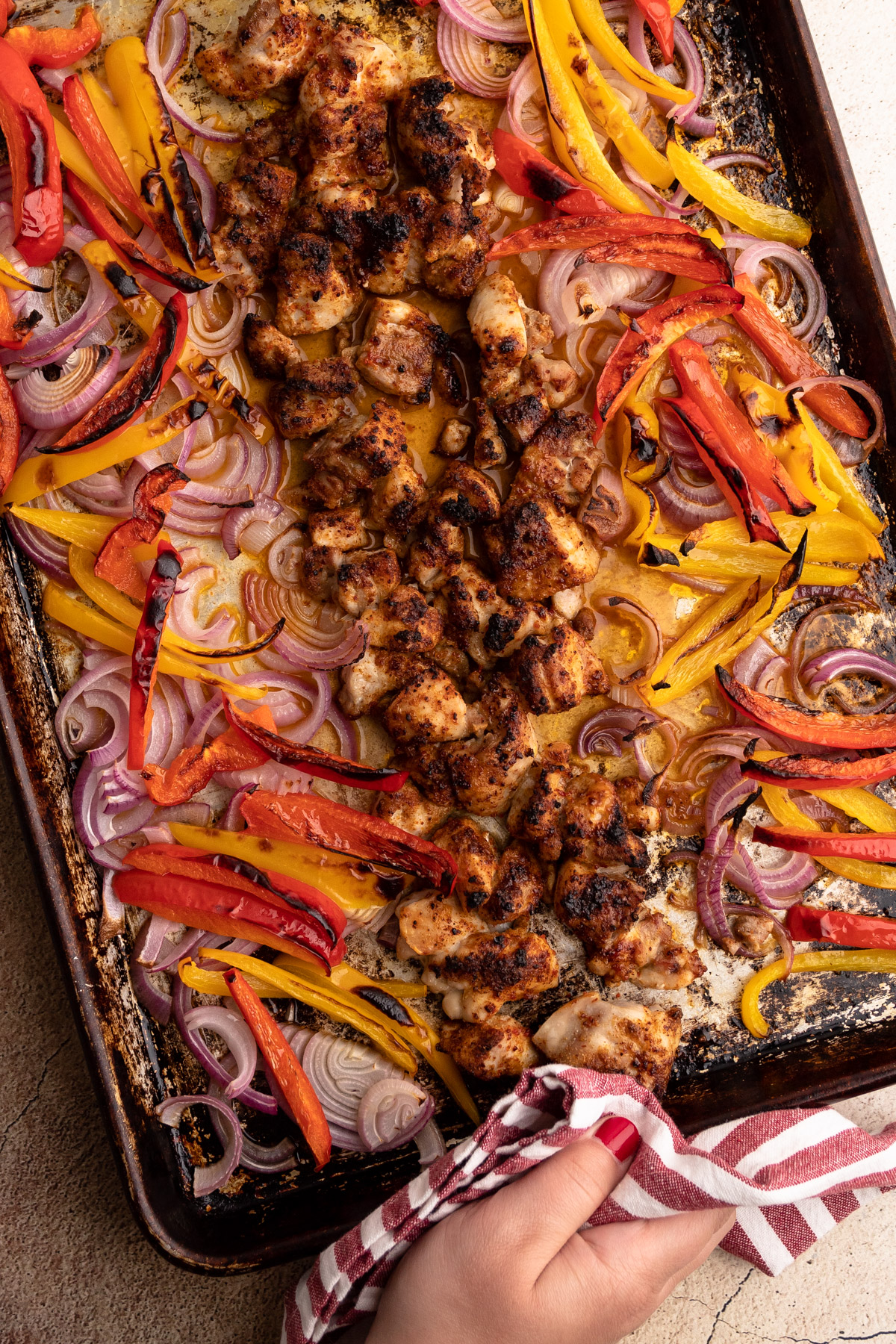 Quick Chicken Fajitas
There is no denying it, I love a sheet pan meal! And while chicken fajitas are already in and of themselves a quick dinner, making them under the broiler on the sheet pan makes them even less of a fuss because it's basically hands-off cooking.
For my version, chicken thighs are diced up and coated in some basic spices like chili powder, cumin, and garlic and then tossed with some fresh lime and orange juice to brighten up the dish. It's broiled for about 10 minutes alongside some onions and peppers to make for the easiest chicken fajita dinner. My kids love this with tortillas (of course) but I love mine with a bit of rice or a crunchy salad.
So let's get to making it! The text below offers some tips for making it, or you can scroll down to the bottom for the complete recipe.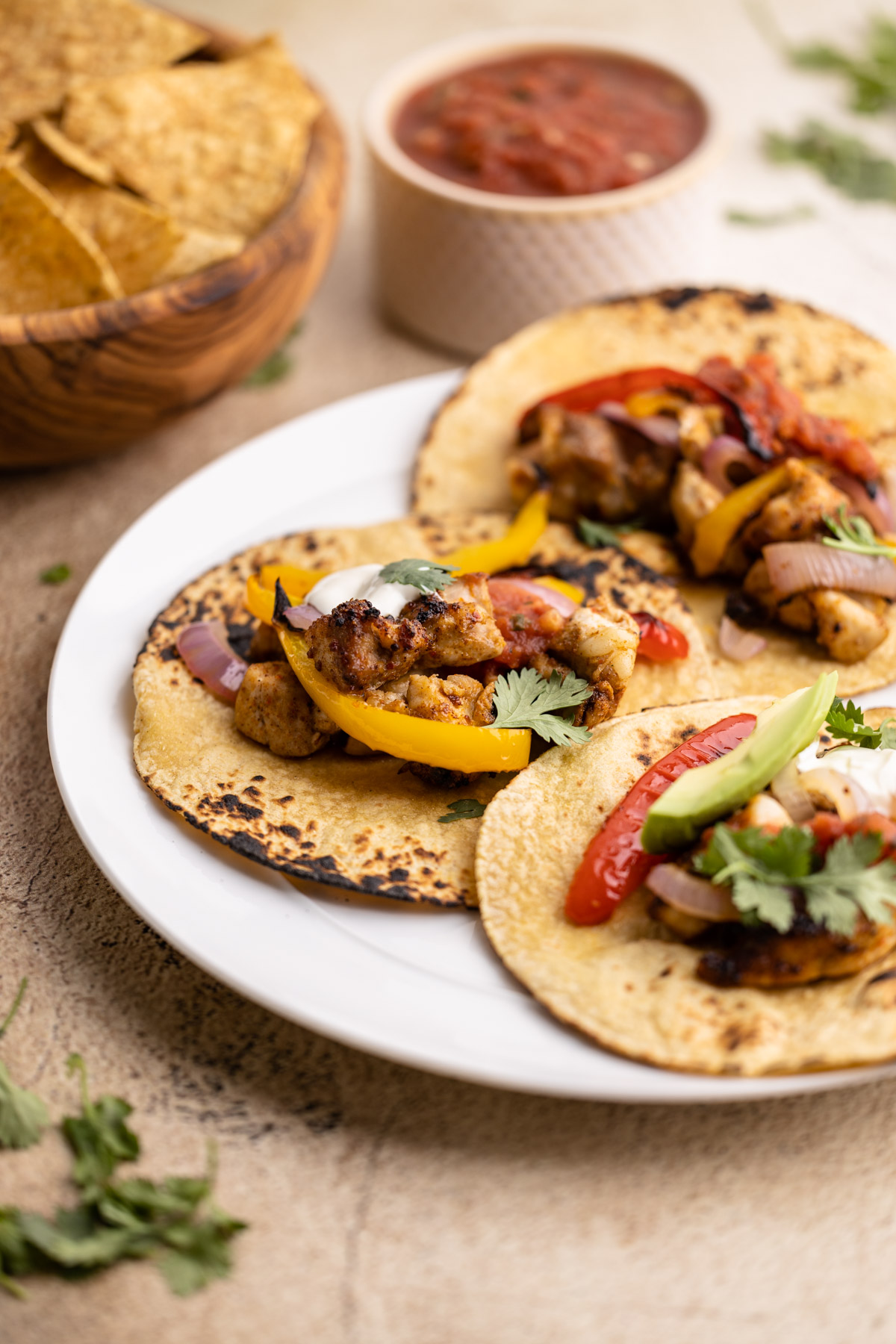 Ingredients Needed and Substitutions
Here is a brief overview of the ingredients needed for this recipe. The full recipe with quantities is listed below this text in the recipe card. If substitutions are available for this recipe, they'll be listed here. If you don't see a substitution you are looking for, please leave a comment below.
chicken thighs (feel free to swap in chicken breasts if you need to, but chicken thighs work best so they don't dry out)
chili powder
salt
garlic powder
cumin
lime juice
fresh orange juice (please use fresh here, it makes a big difference in the flavor)
onion
bell peppers
I intentionally kept the spices more on the mild side with this recipe, to make it more family-friendly. Want to kick up the heat or make it pack more of a punch? Play around with the spices, add in some cayenne or chilis, and season as you wish.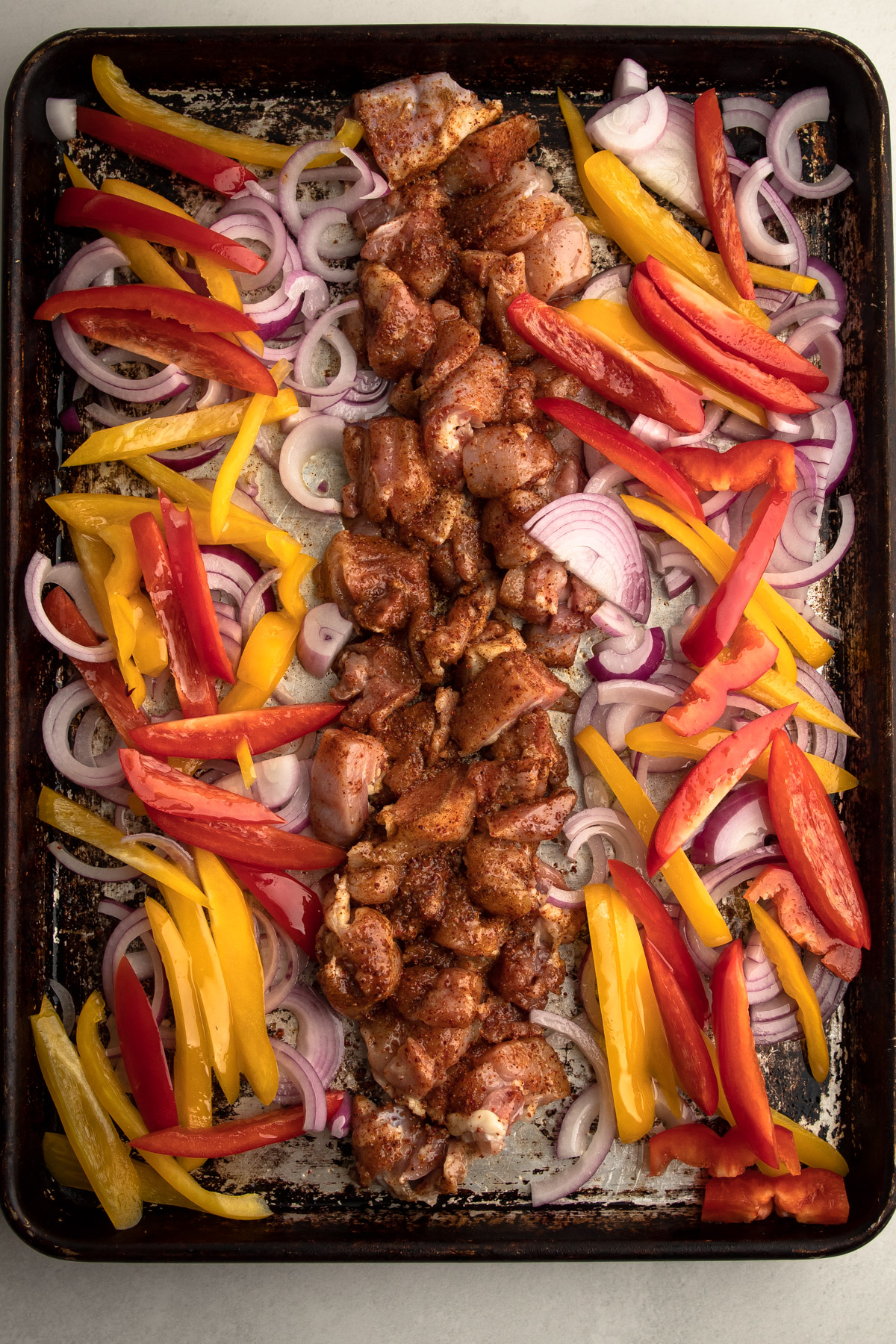 The Key To Making This Recipe Awesome
When making sheet pan dinners, the instructions usually call for precise timing or staggered ingredient additions, and that is because while we love sheet pan cooking for its ease and efficiency, it doesn't necessarily mean that all the ingredients will cook at the same time or to the same desired effect.
So that's my overall warning when it comes to making sheet pan dinners. And for this recipe, I'm equally as picky with the placement of the chicken on the sheet pan. That is because, it's important to get the chicken cooked all the way through, and crispy in sections by the time that the peppers and onions are finished cooking as well.
To achieve this, it's important to place the chicken on the sheet pan directly under where your broiler element is going to be. This is because I want the chicken to cook at the highest temperature (for crispness, and for fast cooking). So you'll notice in my photos that the chicken is in the middle in a straight line, and that is because that is where my broiler element is.
If your oven is different than mine, please place your chicken on your sheet pan matching up with where your broiler element is.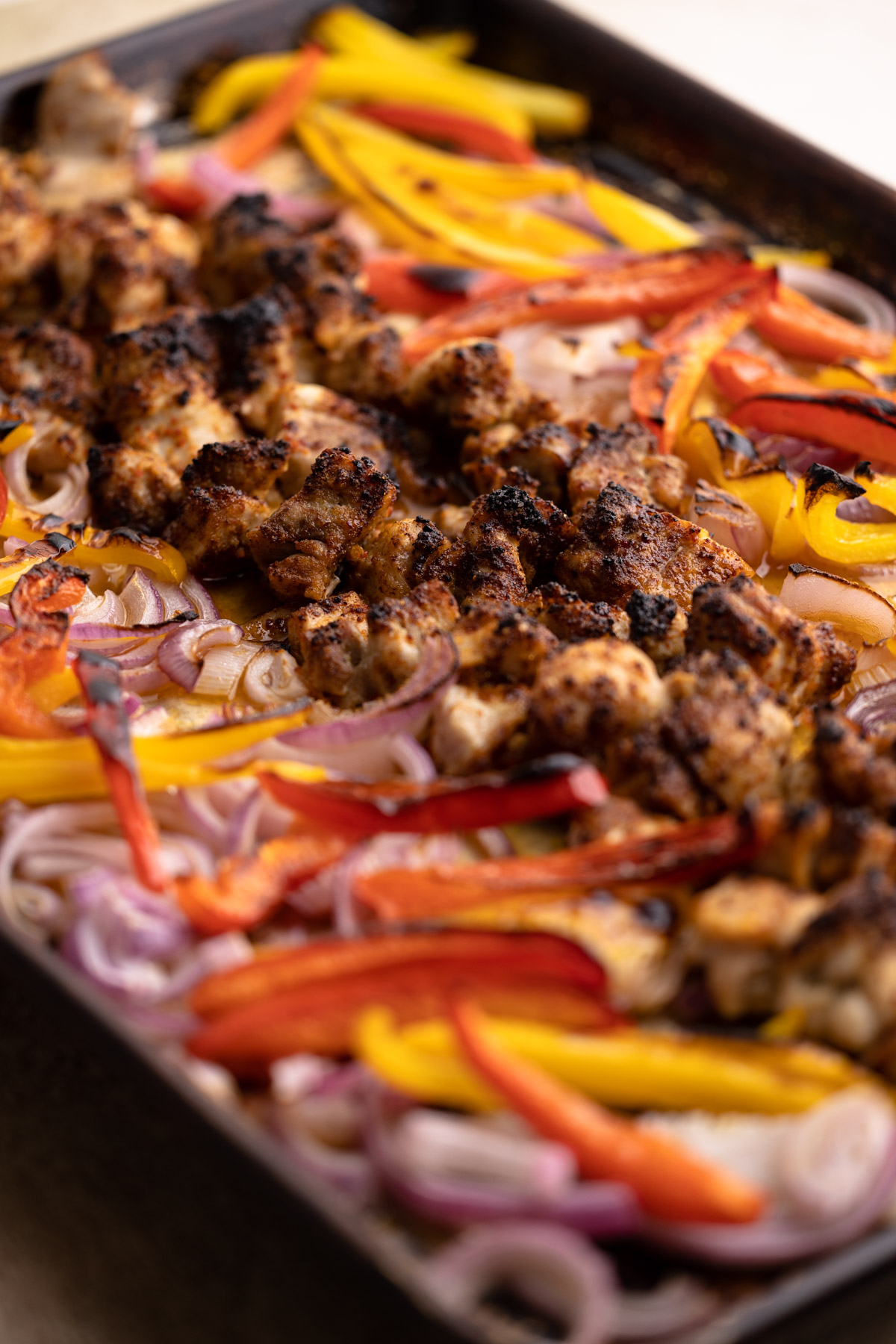 Speaking of Sheet Pans...
The beauty of this recipe is that you really just need a sheet pan to make it happen. And when I say sheet pan, I'm referring to what is known as a half-sheet pan, or a 13" by 18" rimmed baking sheet. Here is my favorite sheet pan I recommend (affiliate link). You'll need it to be rimmed so the juices don't leak off, and it shouldn't be any smaller than the size mentioned before, or else you will overcrowd the fajitas.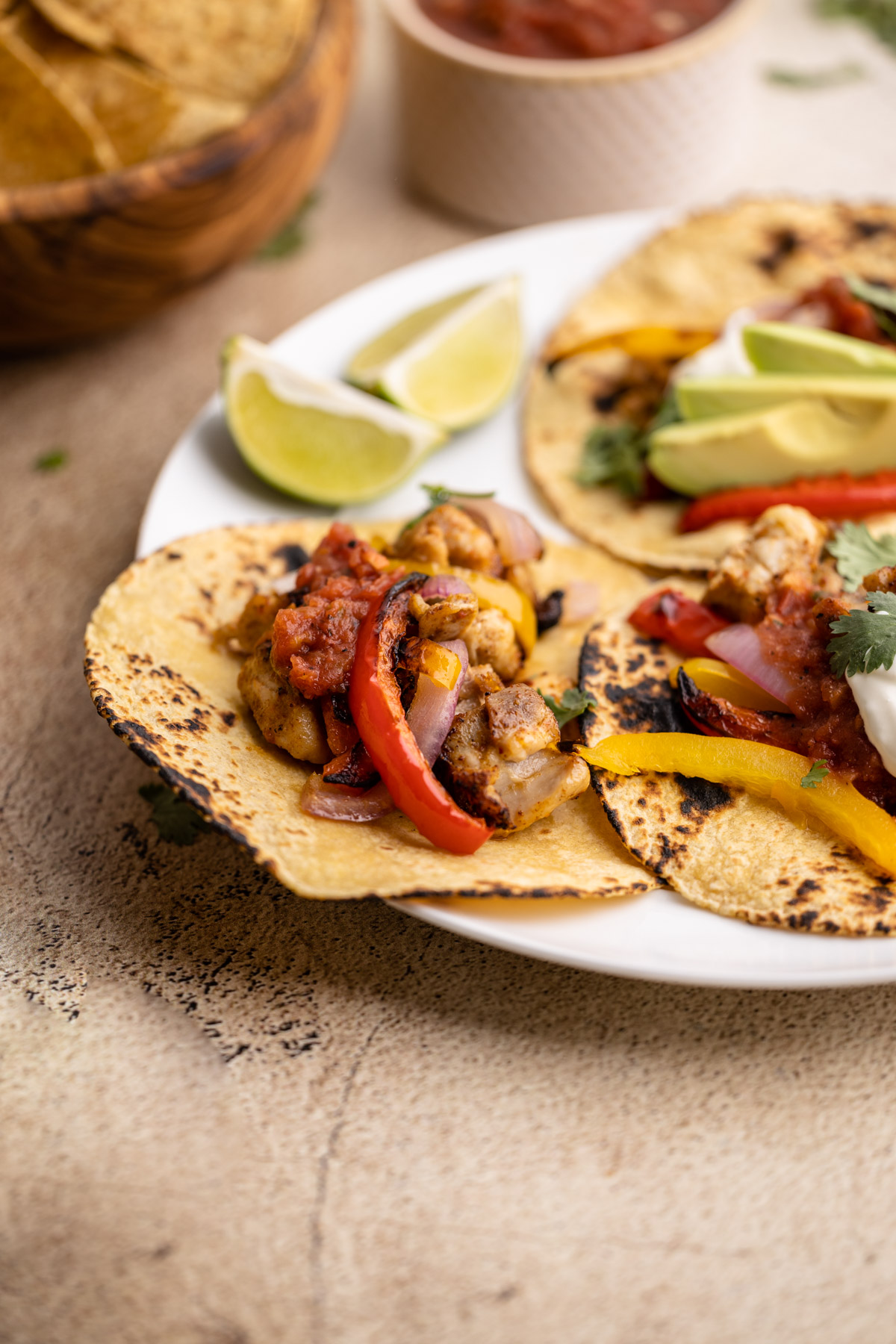 Preparing this Dish Ahead of Time
There isn't much to making this meal, except for the prep involved with cutting up the chicken and veggies, gathering the seasonings, and preparing the side items like rice or beans, if you want them.
But we all know how hectic dinner time can get. So if you have time the night before, you can prepare the chicken and marinate it in the citrus juice and seasonings. The onions and peppers can be cut ahead too, but don't combine them with the chicken. Keep them separate.
Do not marinate the chicken any longer than the day before. It will get tough from the citrus juice.
Serving Ideas
Obviously, we all know fajitas are traditionally eaten in a tortilla with some additional fixings like:
rice
crema
beans
salsa
lime
and that's obviously delicious! But you can also serve this dish as is, with a salad or with additional veggies!
My kids would argue though that the tortilla is the right move to go.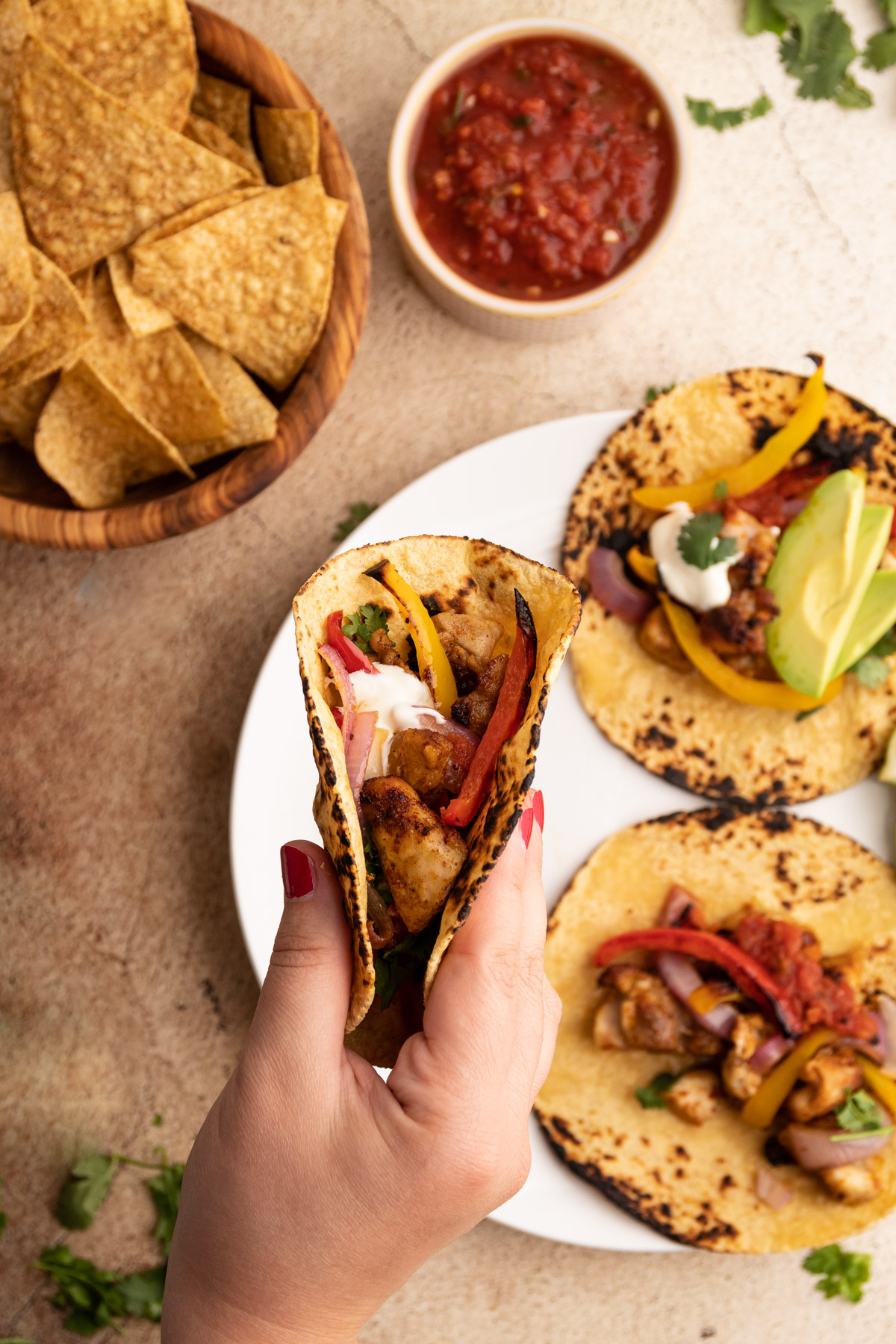 Leftover Storage
Chicken fajitas are best served right after it is made.
However, leftovers can be stored in the refrigerator for about 3 days. Reheat in a microwave or in a toaster oven.
More Sheet Pan Dinner Ideas:
Making the recipe? Be sure to leave a comment with a star review on your experience! Have a question? Leave a comment below and I'll get back to you as quickly as I can!
Print
Full Recipe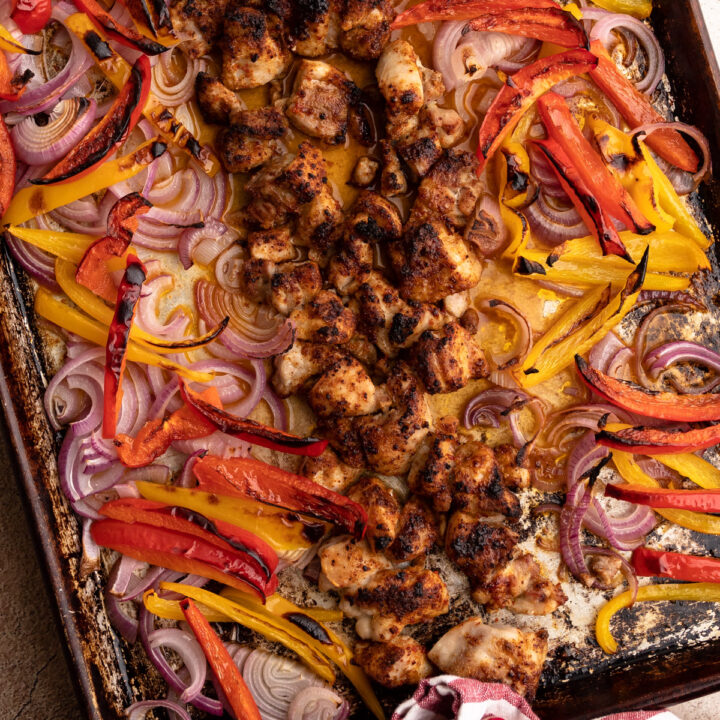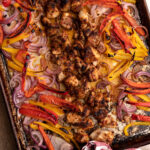 Sheet Pan Chicken Fajitas
Author:

Kelli Avila

Prep Time:

00:10

Cook Time:

00:15

Total Time:

25 minutes

Yield:

Serves 4

Category:

Dinner
---
Description
Diced chicken thighs are coated with some Mexican-inspired seasoning and broiled on a sheet pan with fajita veggies in under 15 minutes to make for the perfect quick dinner. Serve these Sheet Pan Chicken Fajitas traditionally, or make it lighter by serving it over a salad.
---
1

-

2

tablespoons olive oil

1

-

½

pounds

chicken thighs, cut into bite sized pieces

2 teaspoons

chili powder

1 teaspoon

salt

1 teaspoon

garlic powder

½ teaspoon

cumin

1 tablespoons

fresh lime juice

1 tablespoon

fresh orange juice

2

bell peppers, sliced

1

large onion, sliced
---
Instructions
Pre-heat the broiler to 500 Fº and lightly oil a rimmed baking sheet.
Add chicken, chili powder, salt and garlic powder to the baking sheet. Toss the chicken around with the spices until evenly coated and then place the chicken in the middle of the sheetpan (or wherever your broiler element is closest to when the sheetpan is in the oven).
Place the vegetables to each side of the meat and drizzle the lime and orange juice and an additional sprinkle of salt over the veggies and chicken.
Place the sheet pan on top rack directly below the broiler (remember, the chicken should be closest to the broiler) and broil for 10-15 minutes, or until the chicken is a bit crispy and cooked through.
Remove from oven and serve as desired, with avocado, sour cream and tortillas, fresh cilantro and cheese (or over rice or a salad).
---
Keywords: Sheet Pan Chicken Fajitas