Looking for a hands-off way to make many grilled cheese sandwiches at once? This Sheet Pan Grilled Cheese recipe is the easiest way to make a grilled cheese for your whole family!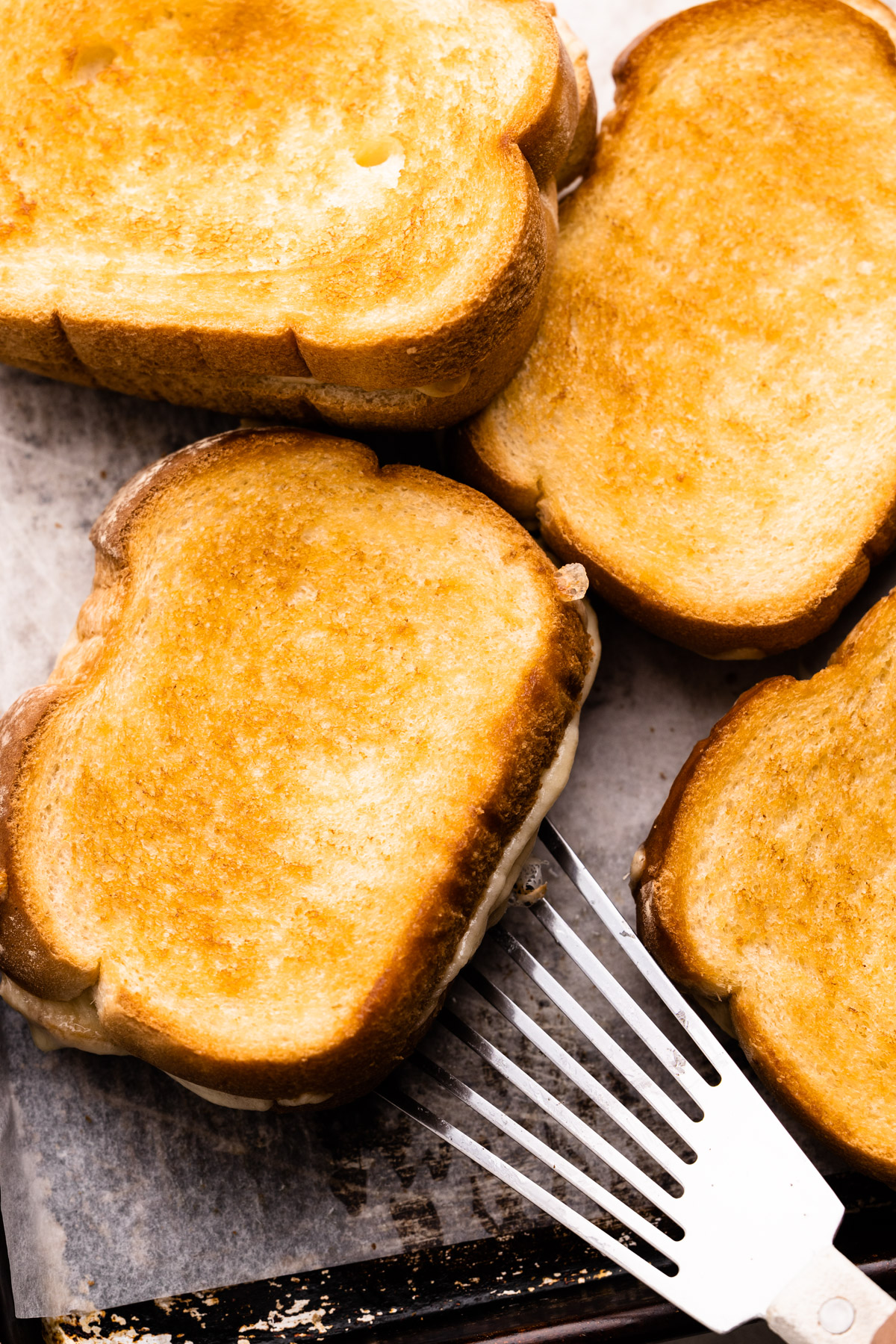 Grilled cheese is already a pretty simple recipe to make, right? Well, one night I found myself in a serious SOS moment at dinner time. While I came up with the idea to just make grilled cheese, I realized I didn't even have the bandwidth at that moment to individually cook them up, standing at the stove flipping one sandwich at a time. And let's be honest, if you don't pay good enough attention when you are making your grilled cheese, it can go from golden brown to burnt in a minute.
On a whim, I fired up the oven and without knowing if it would work, put some unassembled grilled cheese components on a sheet pan and crossed my fingers that an edible sandwich would emerge at the end. When I took it out a few minutes later, I was pleasantly surprised to find that this hands-off method of making grilled cheese was actually the best way to make them. I haven't looked back since; happily ever after!
Admittedly, this is more of a technique than a recipe. Because the type of bread and type of cheese you use is ultimately up to you, though I do give some guidance on which of each to choose. Worth noting: I've tried this technique with so many different types of bread and cheese, and have never been unhappy with the results. That means it really does come down to personal preference.
So let's get to making it! The text below offers some tips for making it, or you can scroll down to the bottom for the complete recipe.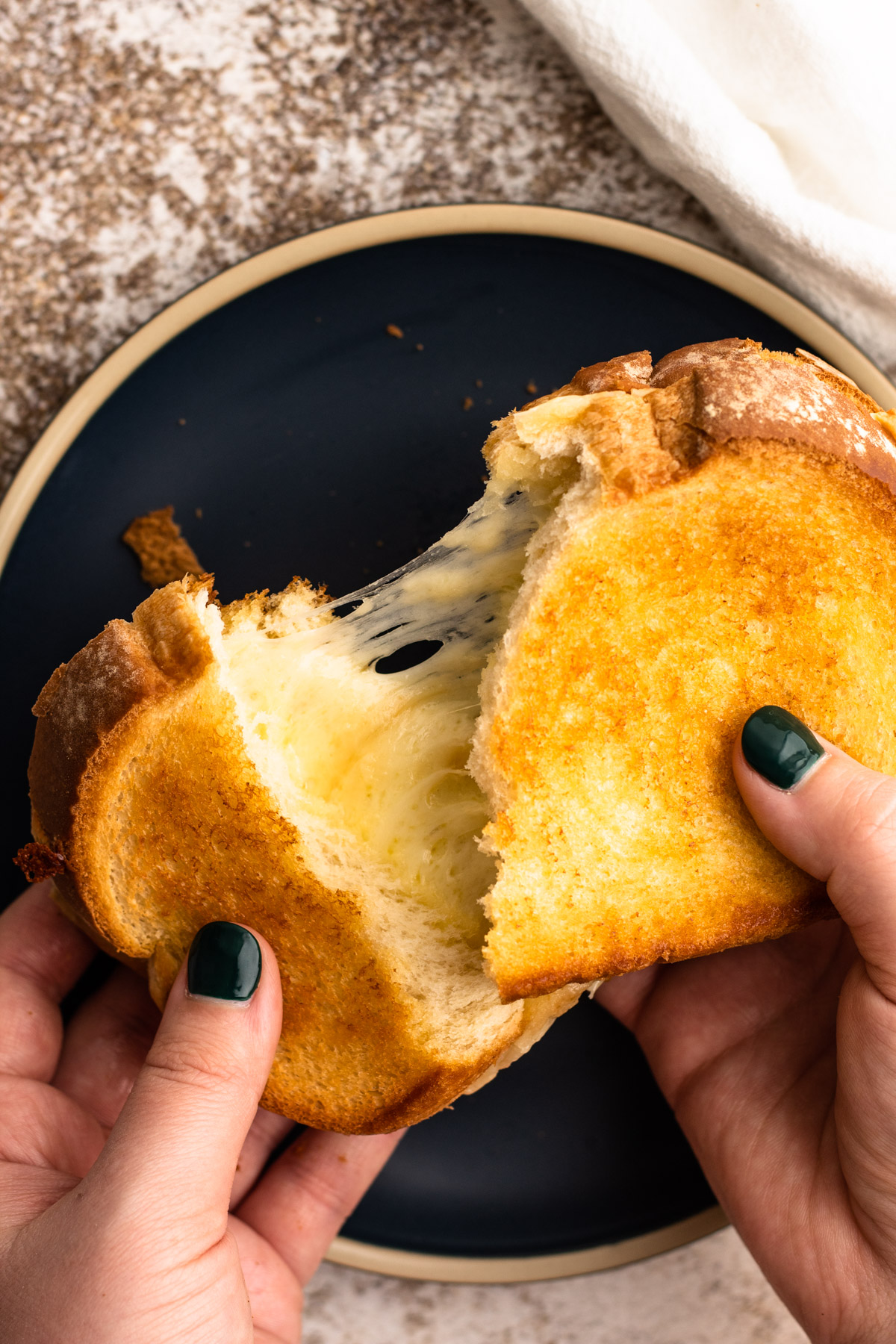 Best Type of Cheese to Use
You truly can use any type of cheese you want to make a grilled cheese, but in our home when we are looking for that classic childhood grilled cheese taste, we love to use a combination of sharp cheddar and American-style cheese.
The sharp cheddar gives a really nice boost of flavor, and the American cheese adds the creamy factor.
Some other good cheese for sheet pan grilled cheese:
havarti
gouda
mozzarella (this gives a really good cheese pull but make sure to pair it with another cheese since it has a more mild flavor)
provolone
gruyere
Best Type of Bread to Use
For that classic grilled cheese taste, use thick white bread. I've been loving the thick-sliced white bread from Nature's Own lately, and it is so good on a grilled cheese. It also turns a beautiful golden color in the oven.
Sourdough is also a pretty delicious bread to use for grilled cheese, though it doesn't brown as nicely as the white bread.
Some other bread options:
sliced brioche bread
sliced italian bread
sliced french bread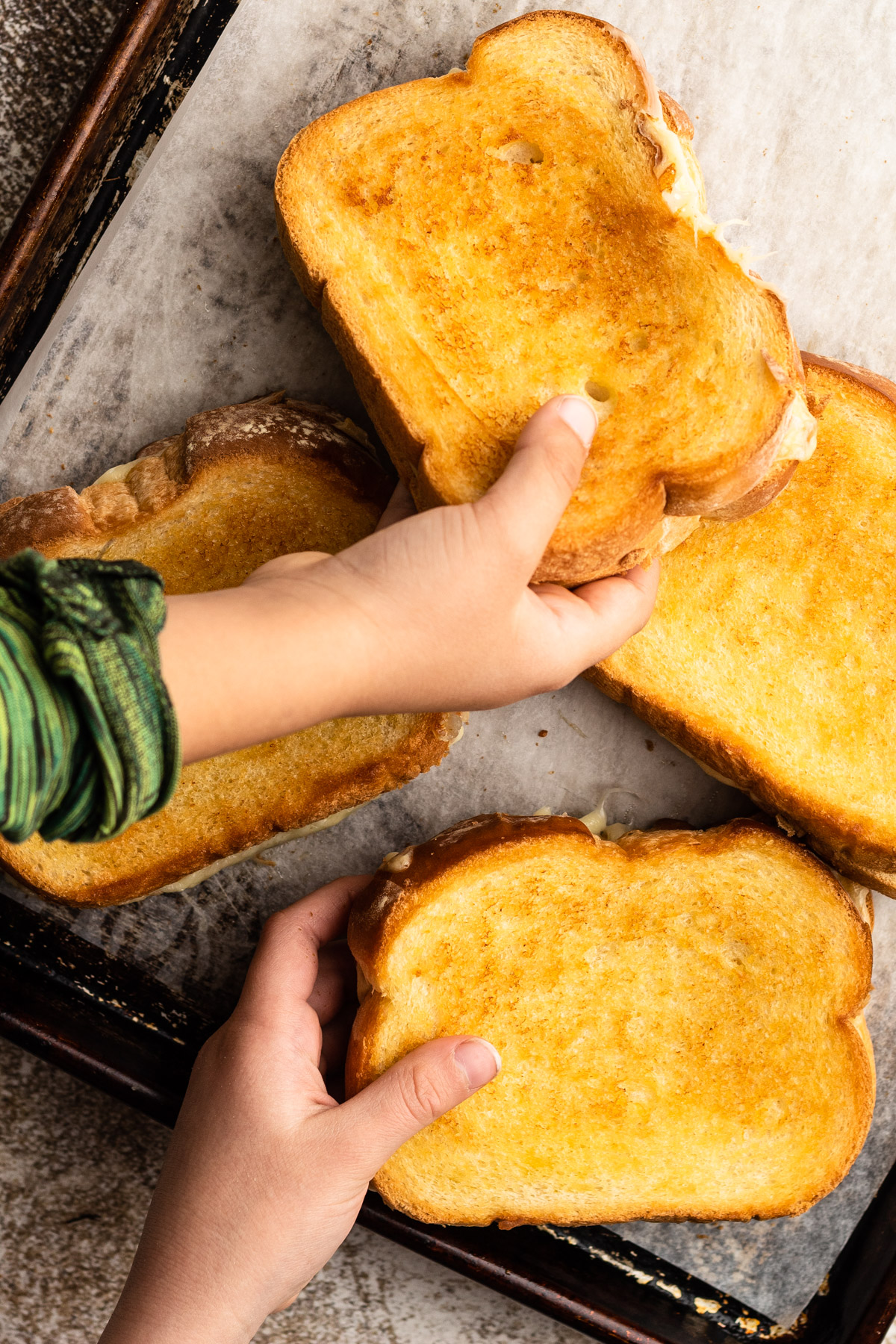 Tips for Make Grilled Cheese in the Oven
This technique is super easy, but here are a few tips I've learned after making countless batches of grilled cheese in the oven:
Make sure to preheat your oven. Admittedly this is the step that takes the most time!
Use a thin sheet pan. A thicker, or heavier sheetpan doesn't transmit the heat as quickly as a thin sheetpan does. Because the bread is only in the oven for a few minutes, the quicker it transmits the heat, the better your grilled cheese. To fit 8 slices of bread, you likely need a 13" by 18" sheetpan or bigger.
Cook the grilled cheese in the lowest part of the oven. This helps get that nice golden color on your bread since it's directly above the heat source. Of course, if your oven doesn't transmit heat from the bottom, this tip won't work for you.
Start checking your grilled cheese at the 5 minute mark. Breads that have a higher sugar contant, such as white breads, will cook faster than breads with little to no sugar, like french bread.
Look for puffy cheese! The grilled cheese is likely done when the cheese has puffed or bubbled up!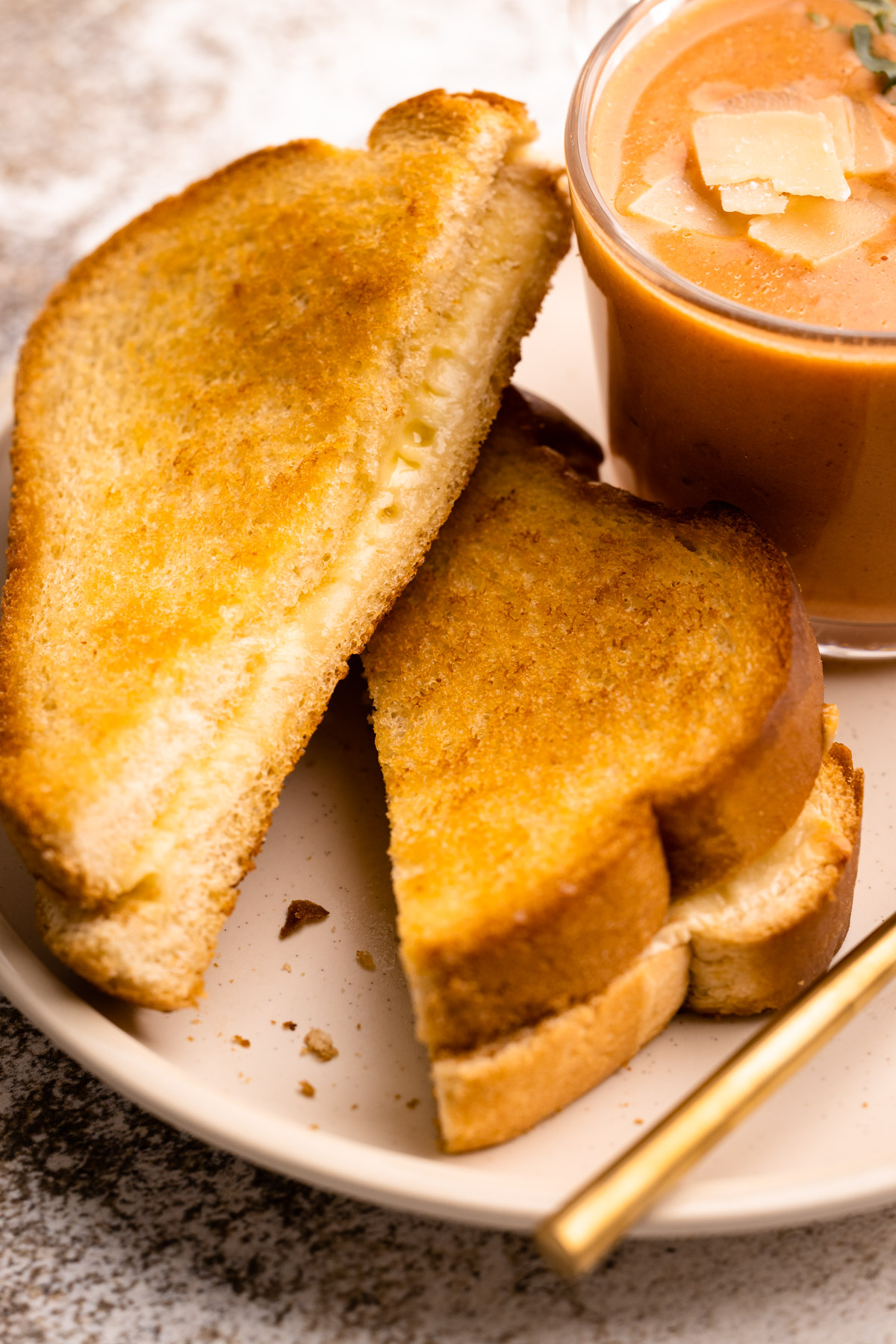 Watch it: Sheet Pan Grilled Cheese Tutorial
Making the recipe? Be sure to leave a comment with a star review on your experience! Have a question? Leave a comment below and I'll get back to you as quickly as I can!
Print
Full Recipe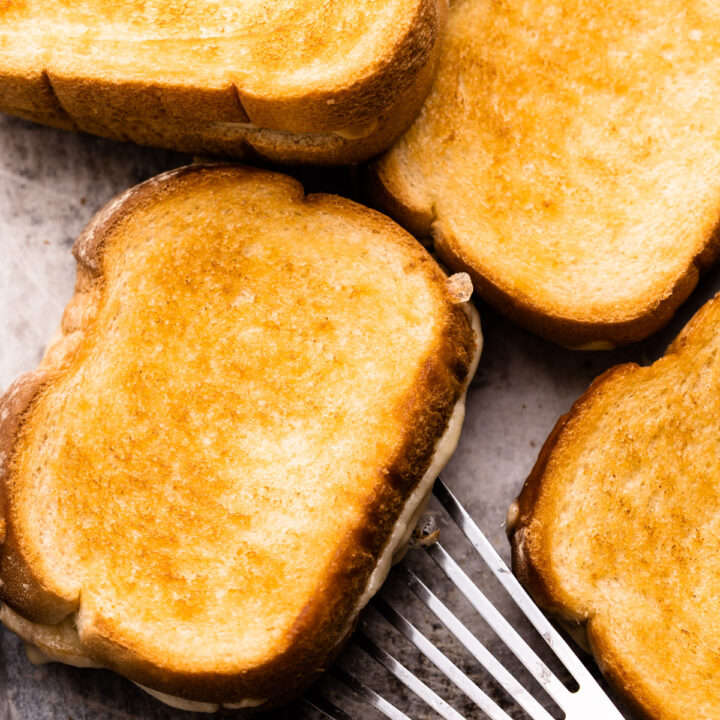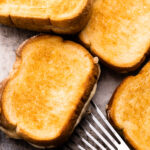 Sheet Pan Grilled Cheese
Author:

Kelli Avila

Prep Time:

00:05

Cook Time:

00:05

Total Time:

10 minutes

Yield:

4

Sandwiches

1

x

Category:

Dinner

Method:

Oven
---
Description
Looking for a hands-off way to make many grilled cheese sandwiches at once? This Sheet Pan Grilled Cheese recipe is the easiest way to make a grilled cheese for your whole family!
---
8

slices of bread

¼

cup

of butter, softened (more as needed)

16

slices of cheese
---
Instructions
Preheat oven to 400ºF.
Generously butter one side of each slice of bread.
Place the bread, butter side down, on a 13"x18" sheet pan.
Place 2 slices of cheese on each piece of bread.
Bake in the preheated oven for 5-8 minutes, or until the cheese is bubbly and the bread is toasted.
Remove from the oven and carefully, using a spatula, sandwich the bread together.
Serve immediately.
---
Keywords: Sheet Pan Grilled Cheese