Carne en Bistec is a classic Colombian steak dish that is braised with tomatoes and onions, making it a simple and delicious weeknight dinner recipe.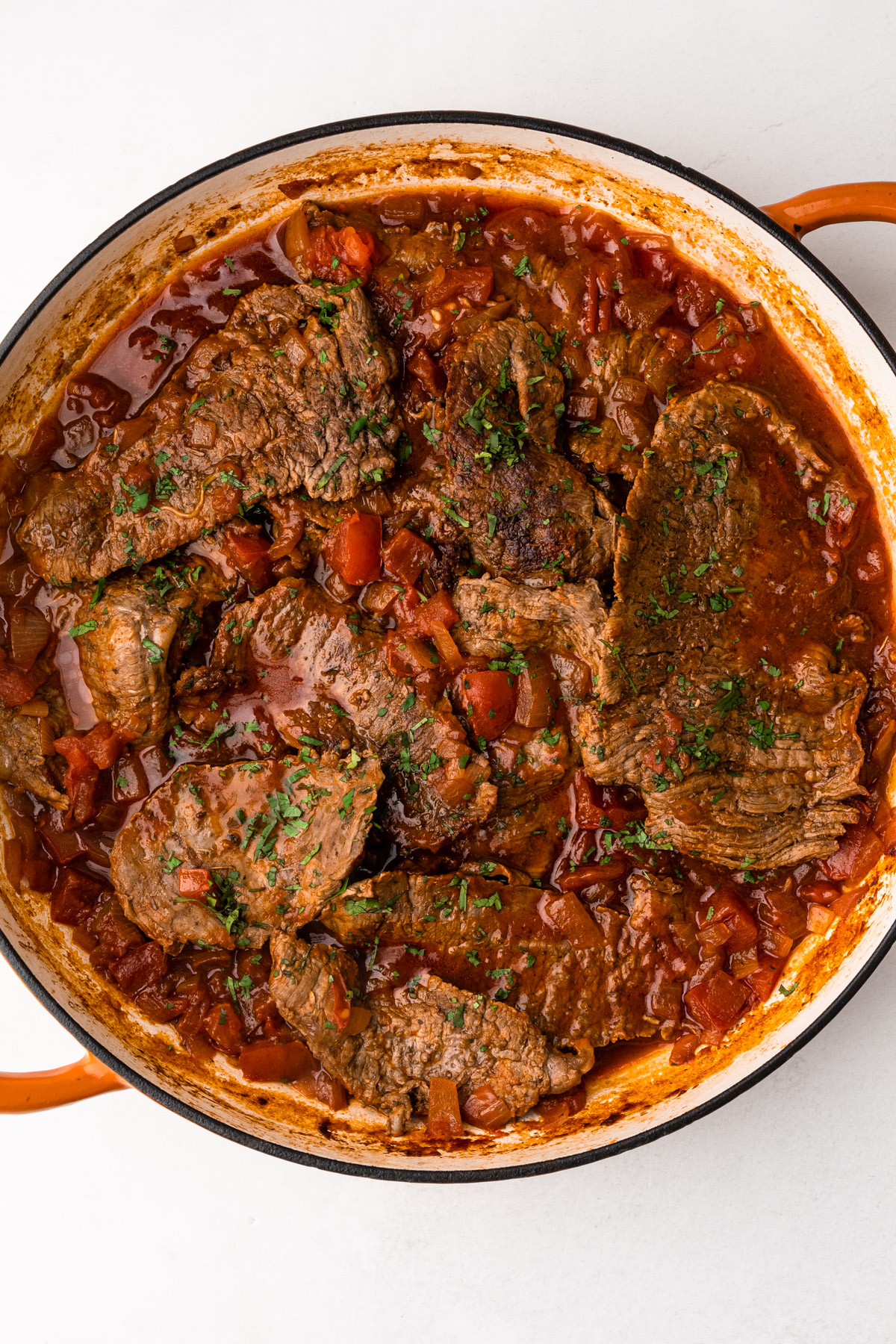 Carne Bistec Recipe
During the Fall of 2022, I completed a huge bucket list item in my adult life by enrolling in culinary school as part of my Gastronomy master's degree program at BU. It was something I had been dreaming of for over a decade. However, completing the program would have been impossible without the support of my family, given that I am a full-time food blogger and a mother to two young children with equally busy schedules. My husband and I would have struggled to do it all alone.
Fortunately, we were able to enlist the help of my sister-in-law, Mercedes, who flew all the way from Colombia to stay with us for the duration of my program. She took on all the household tasks I couldn't handle, the most significant being cooking dinner for the family on school nights. As you might imagine, given my chosen career, that's a task I happily take on for my family under normal circumstances, but that semester had me returning home sometimes after 7 pm and made it truly impossible.
We cherished having her stay with us for such a long trip because we love her, but also because it gave us the chance to enjoy Colombian cooking more frequently. Among the dishes she prepared, my absolute favorite was Carne en Bistec. She would prepare it for us every week, knowing how much I relished it. After a tiring day at culinary school, returning home to this comforting meal was a true blessing.
Before she left, she taught me how to make this dish, and it has quickly become a classic at our home. We eat this every few weeks and everyone loves it. What's not to love anyway? It's quick, flavorful, and a dish even the pickiest eaters can get behind.
So let's get to making it! The text below offers some tips for making it, or you can scroll down to the bottom for the complete recipe.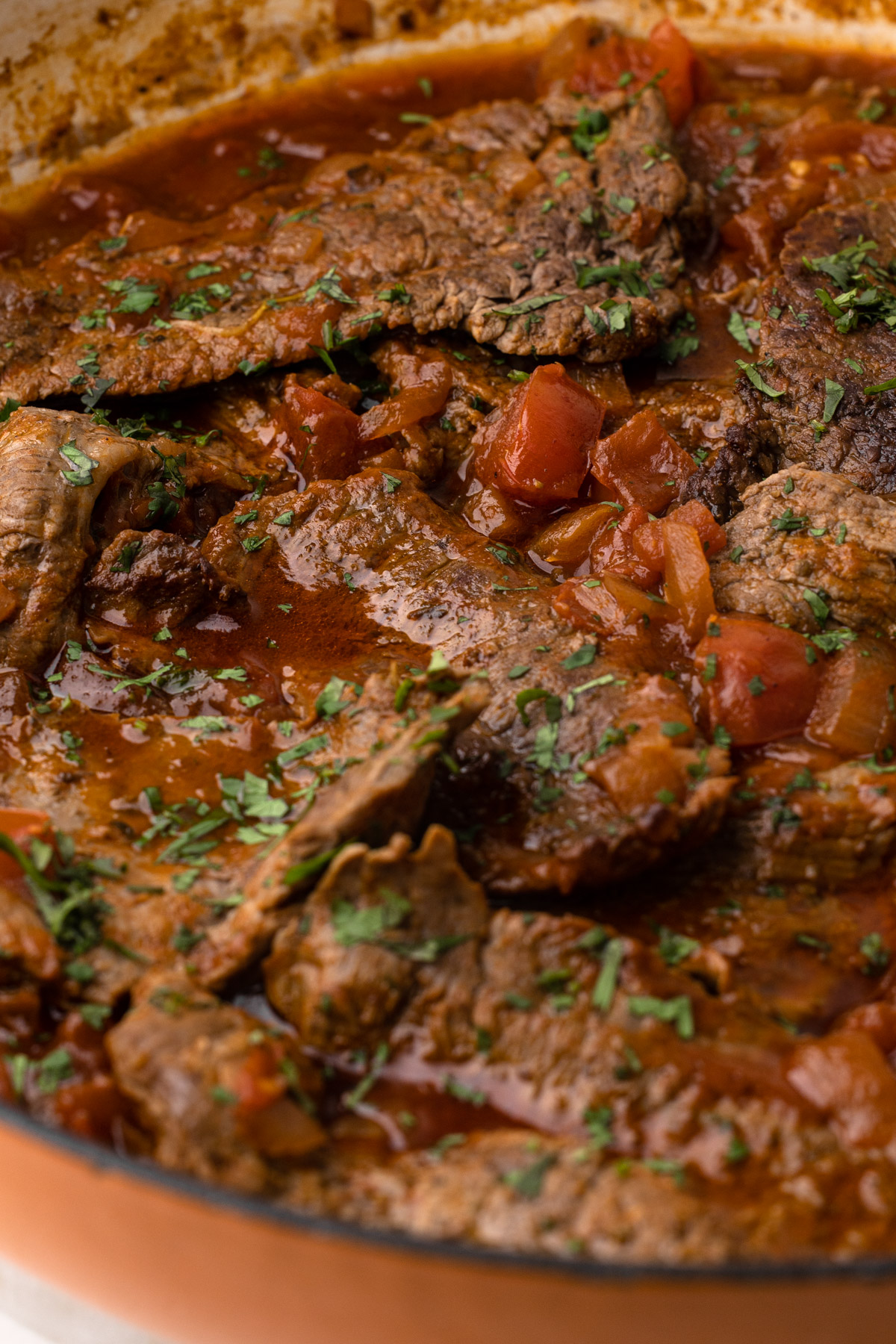 Carne en Bistec is a very typical Colombian dish. While there are a lot of variations on this dish (including Carne Bistec a Caballo which is similar, but served with an egg), this is the one my husband most grew up with. Steak is often served very thin and tender in typical Colombian dishes, and that is true for Carne Bistec too.
Ingredients Needed and Substitutions
Here is a brief overview of the ingredients needed for this recipe. The full recipe with quantities is listed below this text in the recipe card. If substitutions are available for this recipe, they'll be listed here. If you don't see a substitution you are looking for, please leave a comment below.
flank steak (alternatives to this cut of meat would be skirt steak and flat iron steak, in that order)
spices: oregano + cumin
red wine vinegar
yellow or sweet onion
fresh tomato (or if you don't have any in season, use diced canned tomatoes)
beef broth (it will really alter the flavor of the dish if you swap out the beef broth, but in a pinch chicken stock, veggie stock, or even water can do the trick)
salt and pepper
cilantro or parsley (to garnish, optional)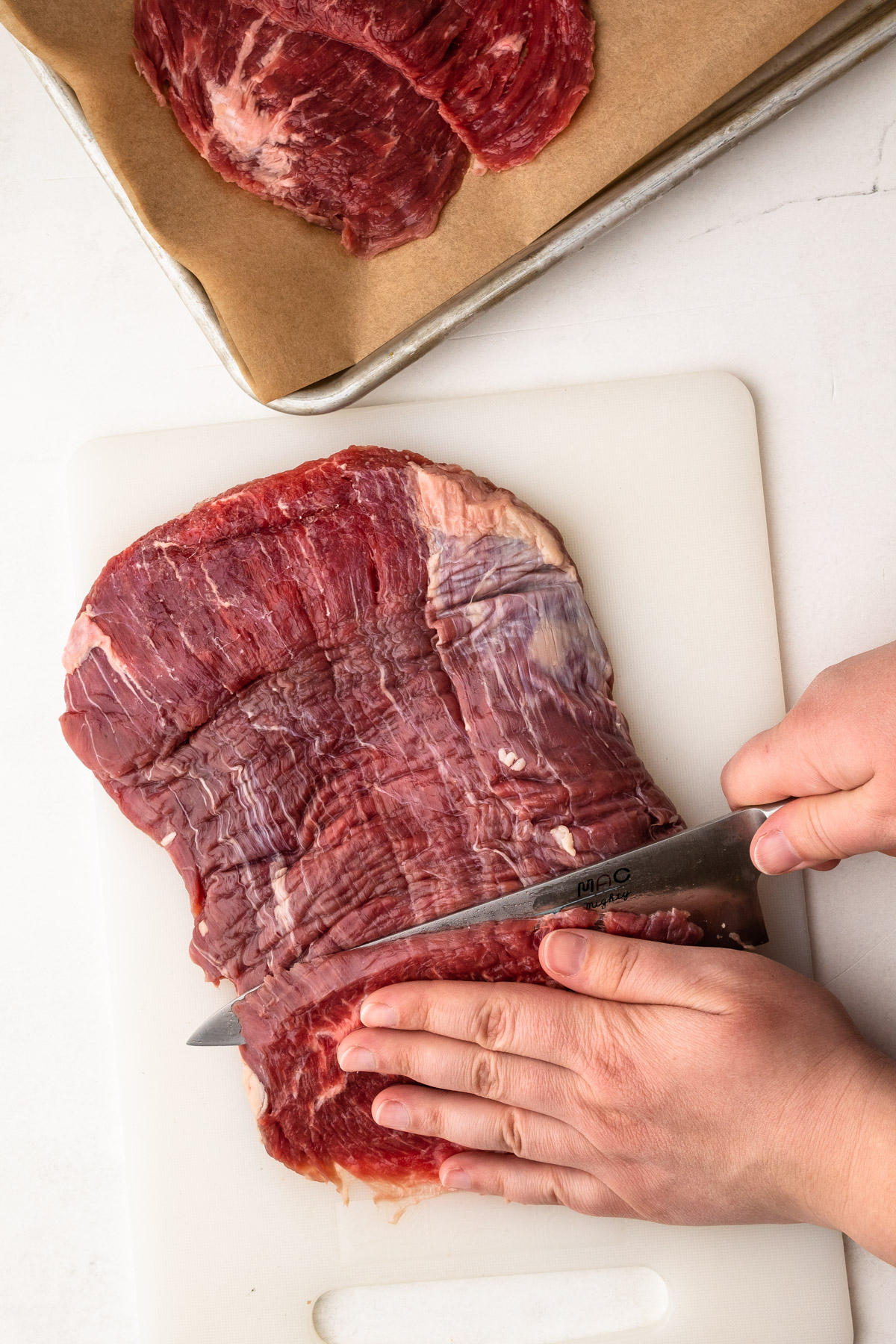 Useful Tools for Making It
Here are the tools used in this recipe. You won't necessarily choose to use them all, but sometimes tools make for quicker work in the kitchen! Some of these links may contain affiliate links.
a good sharp knife: the steak needs to be cut thinly, and the best way to do that is to have a super sharp knife
cutting board
medium bowl
tongs
large heavy skillet with a tight-fitting lid: I use a 14-inch enameled cast iron skillet with a lid that is perfect size, though a smaller one can work too.
wooden spoon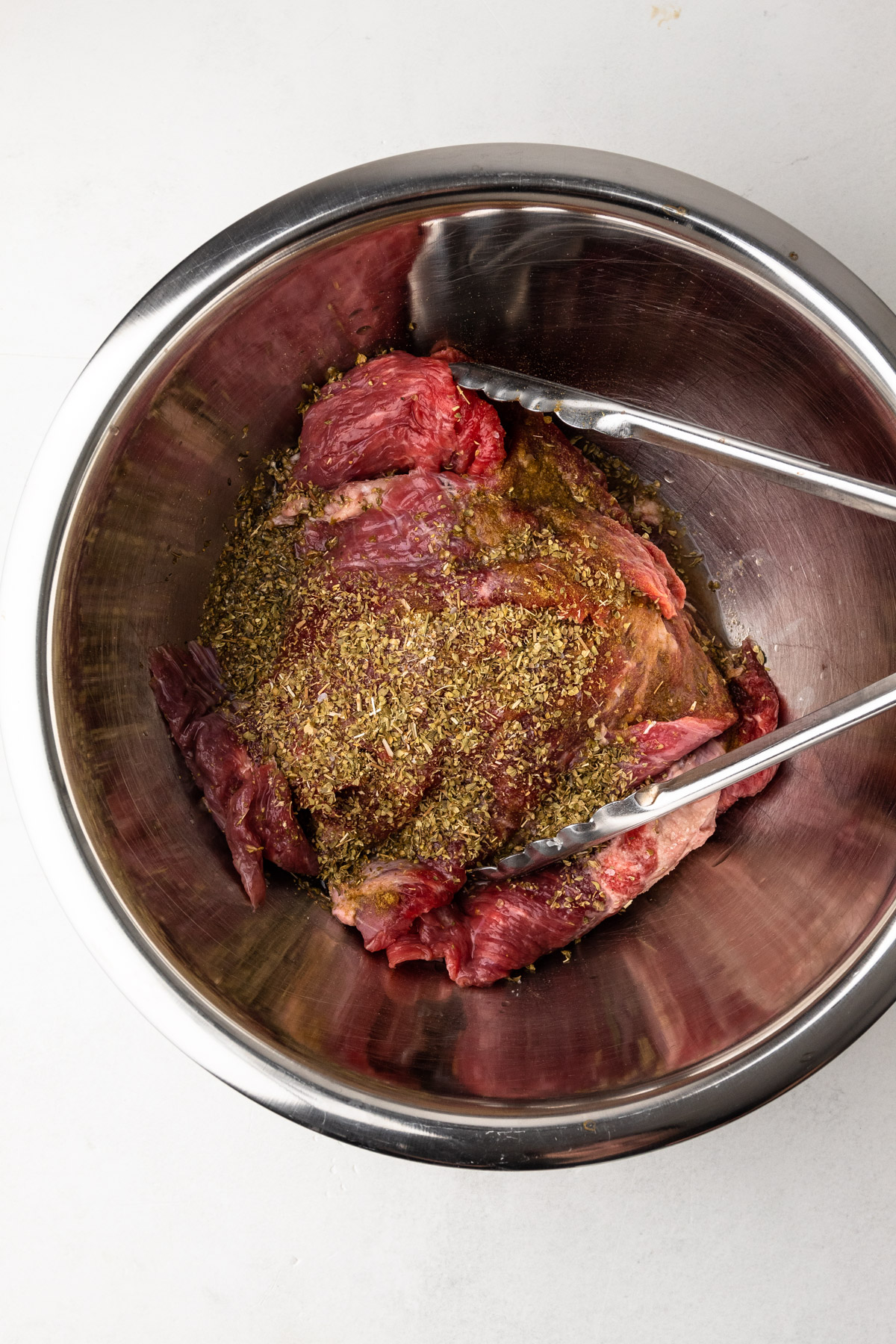 How to Make It
This is an overview of the steps and some explanation behind why the recipe calls for each of them. If you are looking for the full recipe, keep scrolling!
Slice steak
Marinate steak for 10 minutes
Sear steak, remove from pan
Cook onions then deglaze the pan with tomatoes and beef broth
Add the steak back in and braise for just 10 minutes
Serve!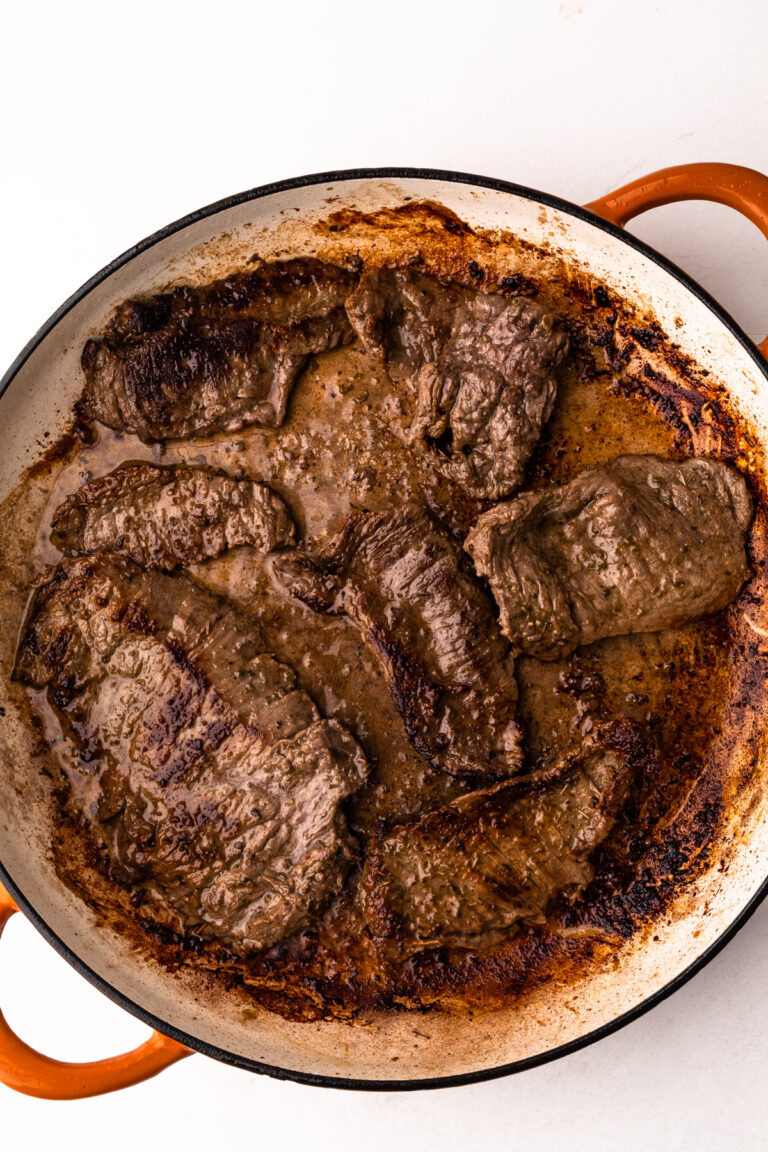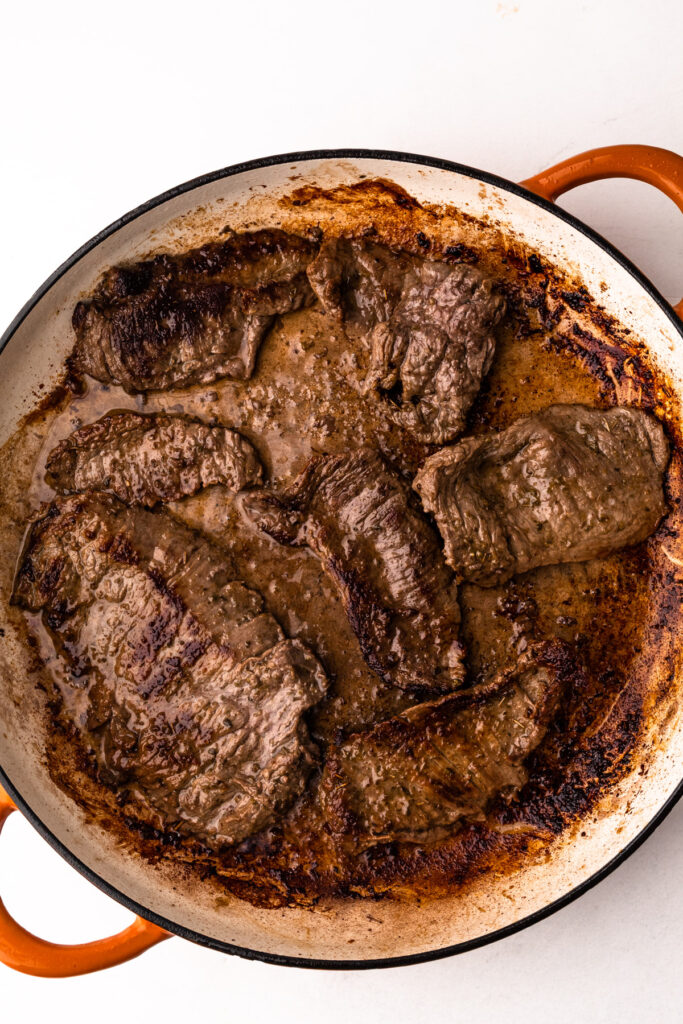 How to Serve It
This dish should be served immediately after it is finished cooking. It's lovely served with rice (which can be cooked in a pot on the stove and finished in just the same amount of time as the meat) and a few slices of avocado or cucumber.
The meat is flavorful enough on its own, but a little sprinkle of parsley or cilantro also adds a nice finish to it.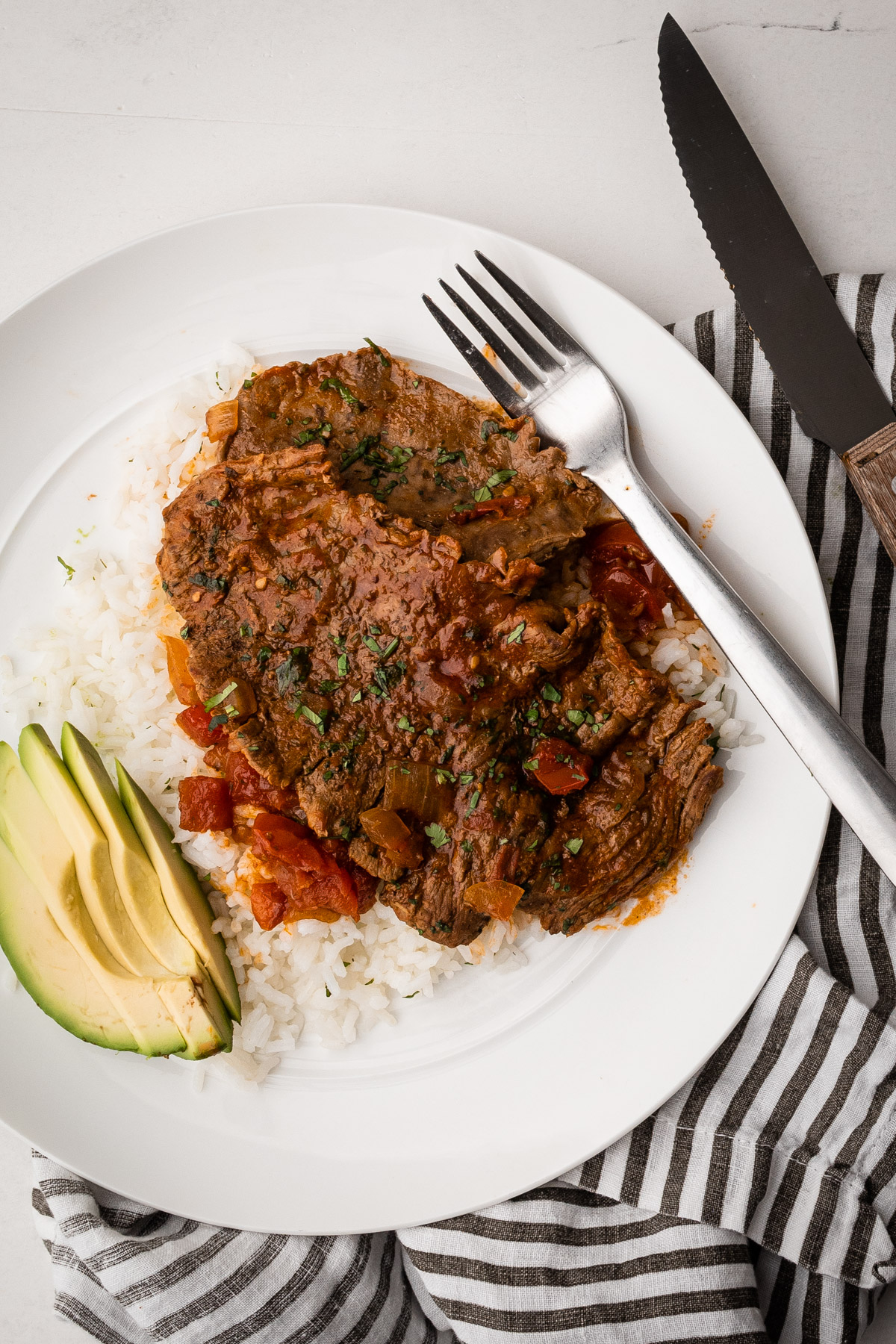 Storage and Leftover Tips
This meal is best eaten right after it's made, however, leftovers are pretty delicious too. Store in an air-tight container for 1-2 days and reheat in a toaster oven to serve again.
More Easy Dinner Ideas
Making the recipe? Be sure to leave a comment with a star review on your experience! Have a question? Leave a comment below and I'll get back to you as quickly as I can!
Print
Full Recipe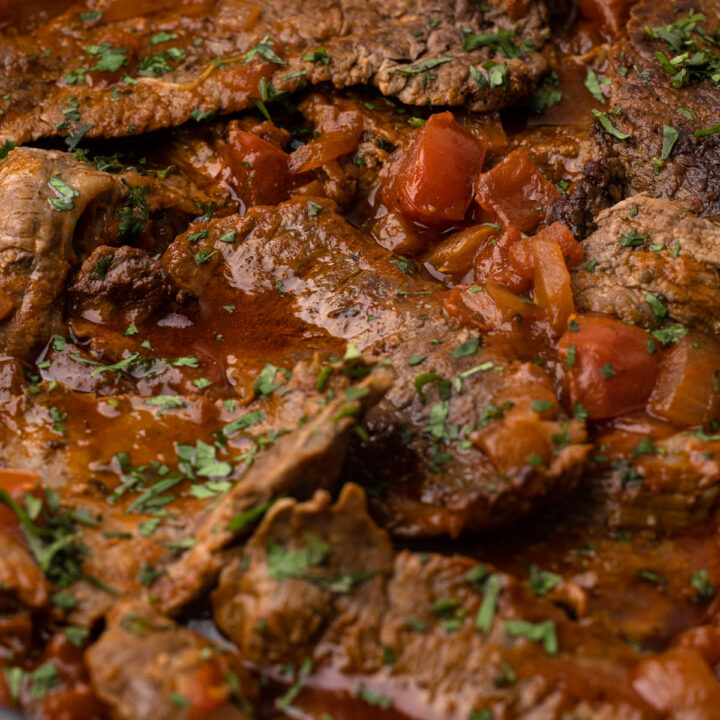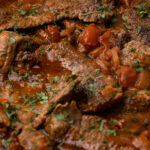 Carne en Bistec (Colombian Steak with Tomatoes and Onions)
---
1.5

-

pound

flank steak, cut thinly against the grain (see note)
Big pinch of salt

½ teaspoon

dried oregano

¼

ground cumin

2 teaspoons

red wine vinegar

1

onion, sliced thin

1

large tomato or (15-ounce can diced tomatoes, drained)

1

cup

beef broth, more as needed
Salt and pepper to taste
---
Instructions
Pat steak dry with paper towels and slice thinly against the grain, aiming for ¼" thickness. Place the steak slices in a bowl and add a big pinch of salt, dried oregano, cumin, and red wine vinegar. Let the steak marinate in the bowl for about 10 minutes.
Heat a heavy skillet that measures around 12-14 inches over medium-high heat. An enameled cast iron braiser is recommended for this step. When the pan is very hot add a splash of oil and then carefully sear the steak pieces, about 3 minutes per side, or until a deep brown crust is formed.
Remove the steaks from the pan and set aside. Lower the heat to medium-low. Add the onions and cook until they are starting to turn translucent, stirring frequently for about 5 minutes.
Add the tomatoes, a big pinch of salt and pepper, and the beef broth. Use a wooden spoon to scrape up any browned bits on the bottom of the pot.
Return the steak slices and any released juices back to the skillet. Cover and cook on low for 10 minutes.
Remove the cover. The sauce should be thickened and nicely coat the steak. If the sauce is too thin, cook with the cover off for a few minutes until it's reached the desired consistency.
Serve hot with white rice and sliced avocado and a sprinkle of cilantro or parsley.
---
Notes
This recipe requires the steak to be sliced as thinly as possible - aim for about ¼ inch thickness. To make slicing easier, ensure that the meat is cold and that your knife is sharp. If you find it difficult to cut the meat to the required thickness, using a meat mallet to pound it out evenly instead.
Use fresh tomatoes when they are in season. However, when fresh tomatoes aren't available, a 15-ounce can of diced tomatoes can be substituted. Just be sure to drain and discard the tomato juice as using it can result in an overly tomato-flavored sauce.